ingredients
Milk

300 ml

• 49 kcal

Flour

125 grams

Eggs

2

• 130 kcal

Butter or oil

as much as is needed

Renette or Golden apples

3

Sugar

3 tablespoons

• 470 kcal

Butter

50 grams

• 717 kcal

Raisins

as much as is needed

Cinnamon

1 teaspoon

Vanilla Extract

½ teaspoon
Calories refers to 100 gr of product
Apple crêpes are a delicious and easy to make dessert: caramelized with butter and sugar, you will absolutely not regret the most famous chocolate crêpes. Apple crêpes are perfect for a tasty snack, but also for breakfast, when you want to treat yourself to a gift, perhaps on Sunday. But you can also present them as a dessert, at the end of a dinner with friends. If you prefer a crunchy effect, add coarsely chopped dried fruit and you will have an exquisite dessert.
How to prepare apple crêpes
Prepare the crêpes: beat the eggs with the flour and dilute the mixture with the milk (1).
Moisten a paper napkin with oil or softened butter, then use it to lightly grease the pan where you will cook the crepes (2).
Pour very little mixture, in order to have a thin crêpes (3). Cook on one side and when you see it coming off the edge, turn it over. Proceed to finish the mixture.
Peel the apples after washing them (4), remove the core and cut them into cubes of about 1 cm.
Melt the butter over medium heat in a pan. Add the apples, sugar, flavorings and if you want the raisins (5).
Cook the apples for about 10 minutes: they must be caramelized but don't break them (6).
Put a few apples inside each crêpes (7), and close it folding it into 4.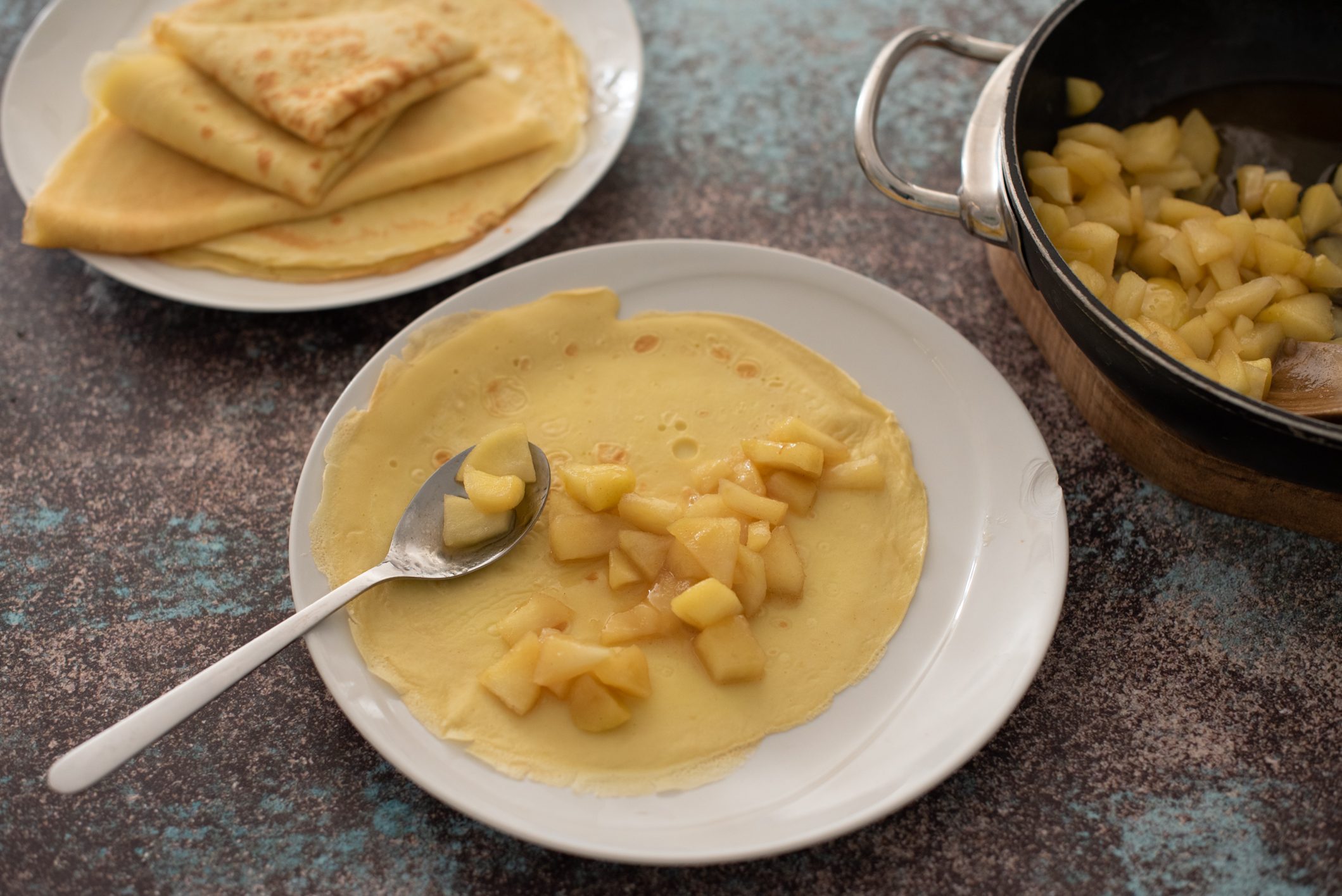 Arrange the crêpes on the serving plates. Sprinkle them with the syrup and the remaining apples and serve the still hot crêpes (8).
Tips
You can enrich this recipe as you prefer: by adding other fruit such as chopped pears, or strawberries. For a more rustic flavor, use brown sugar instead of classic sugar; you can also vary the flour, using half type 00 flour and half chestnut flour, or rice flour. Then decorate the crêpes as you like: you can cover them only with maple syrup, with chocolate chips or even with dried fruit.
If you prefer a lighter preparation, try the egg-free crêpes recipe. For those who suffer from celiac disease, here is the recipe for gluten-free crêpes and, again, that of milk-free crêpes, for those who are lactose intolerant. And if you love savory preparations, here is the recipe for savory crêpes or crêpes pie with ham and cheese.
Preservation
You can preserve the crepes not yet stuffed for 12-24 hours in the refrigerator, well covered with a cloth, so that they can breathe but without drying out. Once stuffed, we advise you to eat them immediately