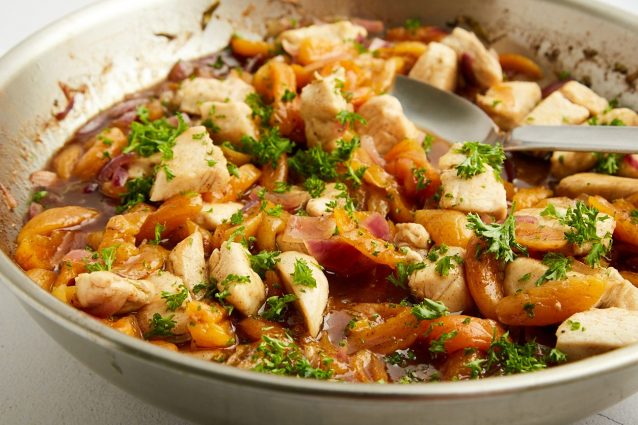 ingredients
Apricots

1 1/2 pounds , stones removed, and flesh cut into 3/4 inch pieces

Sugar

1/4 cup

• 470 kcal

cider vinegar

2 tbsp

Chicken breasts

2 pounds boneless, skinless , cut into 1 to 2-inch pieces

salt to taste

butter or olive oil

1 tbsp unsalted

Extra virgin olive oil

3 tbsp

Onion

1, chopped (about 1 1/2 cups)

Chicken stock

2 cups

Fresh rosemary

1 tbsp chopped

Cinnamon

1 teaspoon

Tabasco or other hot sauce of choice

2 teaspoons

Black pepper to taste

fresh parsley to garnish

2 tbsp chopped
Calories refers to 100 gr of product
Change up your weeknight dinners with this apricot chicken recipe! Chicken, apricots, rosemary, cinnamon, and Tabasco combine to make this dish amazingly tasty and different.
It's perfect if you have fresh apricots to use up, and is on the table in under an hour. If you don't have fresh apricots, you can use dried ones instead in this versatile dish.
Instructions
In a large bowl, add the apricots, sugar, and the vinegar together, then stir. Let the mixture sit while you get on with browning the chicken.
In a large sauté pan over medium-high heat, add 1 tablespoon of butter and 2 tablespoons of the olive oil and heat until hot.
Brown the chicken pieces on each side, adding in batches so as not to crowd the pan. As the chicken cooks, sprinkle it with salt.
When the chicken is browned, remove the pieces from the pan and set aside.
Add the remaining 1 tablespoon of olive oil to the pan, and sauté the onions until they start to brown.
As the onions cook, use a flat edged spatula or wooden spoon to scrape off the browned bits in the bottom of the pan from the chicken. If the pan becomes too dry, add water a tablespoon at a time to help stop the onions from sticking to the bottom of the pan.
Once the onions have browned a little, add the chicken stock and lower the heat to medium.
If using dried apricots:
If you don't have fresh apricots, you can use a combination of dried pitted apricots and apricot jam. Chop up around a dozen dried apricots and mix with half a cup of apricot jam, and add them to the stock. Skip the next step for blending the apricots if using dried ones.
If using fresh apricots:
Set aside 1 2/3 cups of the fresh apricots for the finished dish. Then, in a blender, purée the remaining apricots, along with any juice they have. Pour the purée into the pan with the stock and onions and mix up.
Stir the cinnamon, rosemary, and Tabasco into the sauce, then bring to a simmer.
Lower the heat and gently simmer for 10-20 minutes, or until the sauce thickens slightly. Taste and add more seasoning or Tabasco if needed.
Just before serving, add the chicken and the reserved apricot pieces to the pan and mix through.
Simmer gently for 5 minutes, or until the sauce is hot and the chicken is cooked.
Sprinkle with chopped parsley and serve with rice or noodles if desired.