ingredients
Dough

Warm water

230 g

Dry yeast

10 g

Sugar

1 tbsp

• 470 kcal

Plain flour

350 g

corn flour (also known as corn meal, not corn starch)

70 g

Salt

1 ½ tsp

• 1 kcal

Baking powder

5 g

• 156 kcal

Oil

70 ml + 2 tbsp
Sauce

Tomato sauce

780 g

onion, chopped

1/2

crushed red pepper flakes

Oregano

Tomato puree

2-3 tbsp

Sugar

1 tbsp

• 470 kcal

Olive oil

Cheese
Calories refers to 100 gr of product
Chances are, you've heard about the Chicago Style Deep Dish Pizza. What's so special about it? Well, it's a pizza style you'd typically find in Chicago, unlike other flat, thin based pizzas, this one has a thick, buttery crust, lots of rich tomato sauce, and of course, cheese. It's made in a deeper pan, which makes its sides somewhat higher than your average flat pizza. This also means that the pizza's crunchy crust can hold lots of sauce and cheese…and who doesn't love a saucy, cheesy pizza? You can also add other toppings and customize it to your liking. This pizza recipe is definitely one for the books!
What is a Chicago Style Deep Dish Pizza?
Chicago Style Deep Dish Pizza is definitely not the same as your average pizza. It's baked in a deep dish pan (hence the name) and where the cheese usually goes on top of the sauce, this recipe has the sauce sandwiched between two layers of cheese… yum! The pizza dough also gets a little cornmeal, which gives it an added crunch, not to mention it's super buttery. It's not the type of pizza you eat by hand (it gets quite messy, but is definitely worth it), so for this one, it's better to get your fork ready.
Tips for making the Best Chicago Style Deep Dish Pizza
– The key to a great Chicago Style Deep Dish Pizza is getting the layering right. Don't skip this step by adding all the toppings at once. Create distinct layers with each of the toppings. If you add any other toppings (meat or veg), create a separate layer for them too.
– Feel free to add more toppings. We like adding chopped bacon, sliced pepperoni, crumbled sausage, green peppers, or mushrooms.
– A cast iron will work great if you don't have a deep dish cake pan. In fact, you might find that you like it better when made in the cast iron. Because the pan can get super-hot, it makes the crust even crunchier.
– While it might not taste as good as the real thing, you can make this pizza in a keto version. Simply use any keto pizza dough recipe and cook it according to the Chicago style. These usually contain psyllium husk, almond flour, and parmesan cheese.
Can I store Chicago Style Deep Dish Pizza?
In case there are leftovers (we don't think there will be!), you need to store them correctly. Wrap the slices tightly in aluminum foil or plastic wrap. Reheat the pizza in the oven. You can reheat it in the microwave too, but this will make the crust soggy.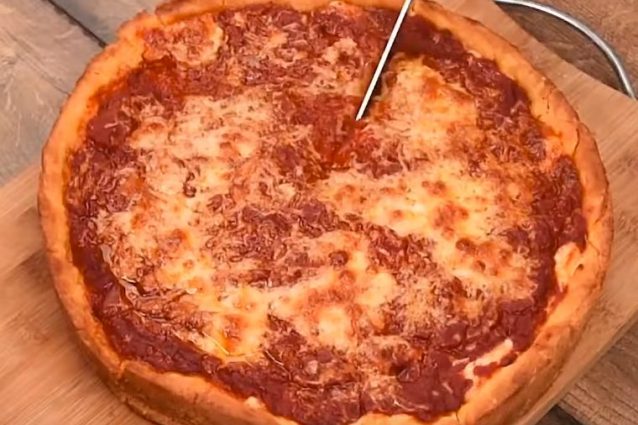 How to make Best Chicago Style Deep Dish Pizza
In bowl pour water, add dry yeast and sugar. Stir and leave it for few minutes.
Add flour, corn flour, baking powder, salt, and oil.
Mix with your hands until a smooth dough forms. Cover and allow to rest for an hour.
In the meanwhile, make the topping. Add oil to a pan over medium heat and sauté for about 30 seconds until fragrant.
Add the tomato puree and seasoning and stir.
Add the tomato sauce and sugar and cook until the mixture thickens.
Put the dough in the pan and stretch it. Leave it for another 30 minutes.
Once rested, add the cheese slices to the flattened dough.
Pour over the tomato sauce and use the back of a spoon to smooth it over the cheese.
Add more cheese to the top.
Drizzle with olive oil. Bake 180°C/360° for 25-35 minutes. Serve.
Notes
Make sure to cook the tomato sauce properly until it thickens. If it's too watery, the pizza crust will become soggy.