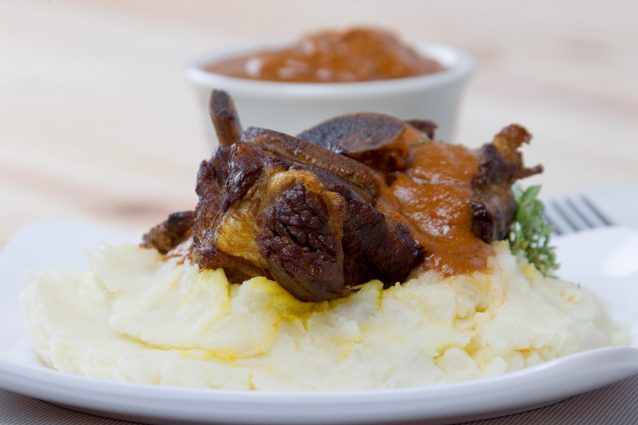 ingredients
Bone-in short ribs

8

Salt

1 tsp

• 1 kcal

Olive oil

2 tbsps

Onion

1 large

Carrots

2

Vegetable broth

2 cups

Red wine

1 cup

Tomato juice

2 cups

Stalks celery

2

Garlic

2 cloves, smashed

Water

1 cup

Fresh marjoram

1 bunch

Fresh thyme

1 bunch
Calories refers to 100 gr of product
This recipe requires a little work and patience, but the end result is exquisite, you will enjoy a meat with a delicious flavor and very tender, which will reward all your effort. The secret to achieve a wonderful dish is in the cooking time of the ribs and not to stop removing the fat at the end, otherwise the meat will be very greasy and will not be pleasant. We will start cooking the ribs in the burner and to make them deliciously tender, we will spend it in the oven for a long time, this is where we must have patience and know how to wait to taste delicious dish that will not disappoint you.
Remove excess fat from the ribs, wash thoroughly under running water and dry with kitchen towels. Season the ribs with garlic, salt and pepper. In a thick-bottomed pan, put the oil and when it is very hot, add the ribs and brown on all sides. It is important that the pan is kept very hot so it is better to brown the ribs in pairs. Then in the same pan, put the onions and stir fry until they are transparent; add carrots and celery, and cook for 5 more minutes.
Then add thyme, marjoram, vegetable broth, wine and water, bring to a boil and cook covered for about 15 minutes. Remove the thyme and marjoram and beat in the blender for at least 3 minutes until the sauce has a completely homogeneous consistency.
Put the ribs on a baking sheet, cover with the whole sauce and bake on low heat for two to three hours. If you wish you can cover the tray with aluminum foil so that the ribs are more tender. The meat of the ribs should be very soft but not get rid of.
Servings: 6 Amount per serving   Calories 455 % Daily Value* Total Fat 30.6g 39% Saturated Fat 12.8g 64% Cholesterol 120mg 40% Sodium 1016mg 44% Total Carbohydrate 10g 4% Dietary Fiber 1.7g 6% Total Sugars 5.7g   Protein 29.6g