ingredients
Large pork sausages

4

Large onion

1

Large green bell pepper

1

Grated cheddar cheese

2 cups

medium corn tortillas

10

Large eggs

8

Sour cream

1 cup

Wheat flour

1 tbsp

Black pepper

1 tsp

Salt

a pinch

• 1 kcal
Calories refers to 100 gr of product
Breakfast enchiladas is an easy recipe everyone will love. Enjoy it at breakfast or brunch and start the day with a new load of energy. Packed with Mexican flavors, corn tortillas are stuffed with sausage, bell peppers, cheese and sour cream. This breakfast enchiladas are creamy on the inside and slightly crispy on the outside.
The secret to this recipe is that you can easily prepare it in advance the night before. Assemble all the ingredients together in a casserole dish, let it rest in the fridge overnight and bake it the next morning. This breakfast enchiladas recipe is an easy, fast and delicious way to make a very complete breakfast or brunch. It is a true delight that you will want to enjoy all week long.
Breakfast Enchiladas Ingredients
You need few simple ingredients to make this flavorful breakfast enchiladas recipe. The corn tortillas serve as a base, then add ingredients that give a strong flavor such as sausage, cheddar and bell pepper.
On the other hand, the sour cream is perfect to balance the flavors and give a little creaminess to the dish together with eggs.
Tips for making Overnight Breakfast Enchiladas
You can customize this recipe as you want by adding new extra ingredients like potatoes, bacon or salsa verde.
For a vegetarian version of the breakfast enchiladas, leave out the sausage.
How to store Breakfast Enchiladas
You can store breakfast enchiladas in an airtight container in the refrigerator for up to 5 days.
More Recipes You'll Like
Instructions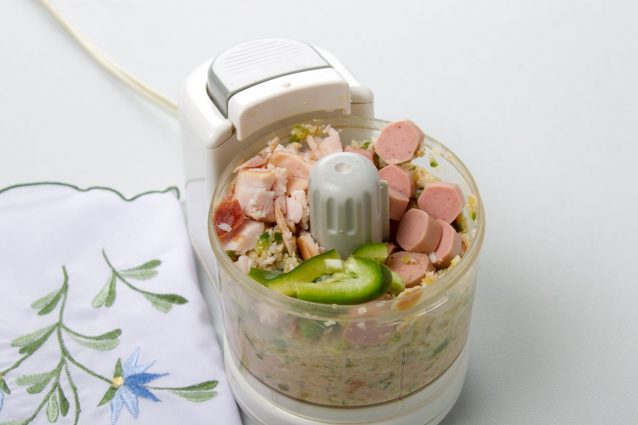 Cut the sausages into small pieces. Peel the onion and cut it into very small pieces. Wash the bell pepper, remove the seeds and the stem. Then, chop into very small pieces. In a large mixing bowl, add the sausages, onion, green bell pepper and a cup of grated cheddar cheese.
Prepare a rectangular baking sheet, half-deep and cover with a layer of butter. Place the tortillas one by one on a board and fill with three to four generous tablespoons of mixture. Stack the tortillas side by side in the baking sheet.
In the blender, mix the 8 eggs, the cream of milk, the tablespoon of wheat flour, salt and pepper. Beat for two or three minutes.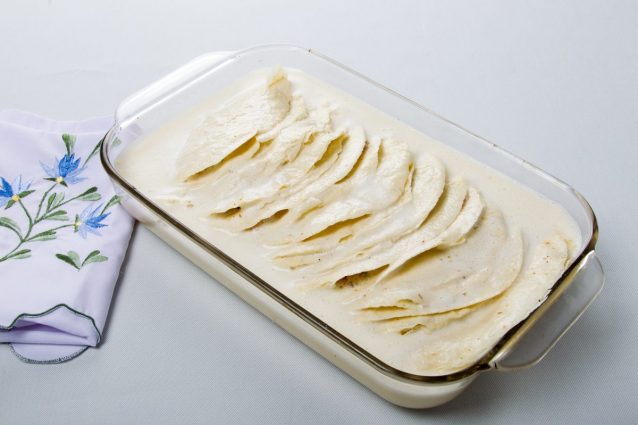 Pour this mixture on the baking tray and let it sit in the refrigerator for 8 hours. Preheat the oven to 300F and bake the enchiladas for 30 to 40 minutes.
About 5 minutes before time is up, remove the tray from the oven and cover with the remaining cheddar cheese, then let it finish baking until the cheese melts.
Serve and enjoy!