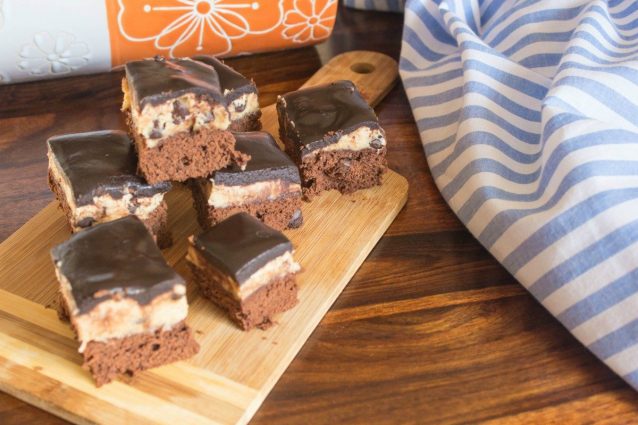 ingredients
Vegetable Oil

1 tsp, to grease the spring form pan

Salted butter

½ cup, softened to room temperature

Powdered white sugar

1 cup

Vanilla Extract

2 tsps

Whole large eggs

2

Flour

¾ cup

Cocoa powder

½ cup, unsweetened

Dark chocolate chips

½ cup

Salted butter

½ cup, softened to room temperature

Powdered white sugar

¼ cup, for cookie dough

Brown sugar

1/3 cup, for cookie dough

Full fat milk

2 tbsps, for cookie dough

Flour

½ cup, for cookie dough

Dark chocolate chips

½ cup, for cookie dough

Heavy Cream

½ cup, for chocolate syrup

Butter

1 tbsp, for chocolate syrup

• 717 kcal

Dark chocolate chips

1 cup, for chocolate syrup
Calories refers to 100 gr of product
Even though this recipe takes considerably longer to prepare, but trust me it is totally worth the efforts involved. After all, where will you get to taste this incredibly delicious chocolate trinity of chocolate brownies, chocolate chip cookie dough, and chocolate syrup!
Instructions
Preheat the oven to 190 degrees C and lightly grease a spring form pan. Line the pan with butter paper on all sides and at the base. In a large bowl, add ½ cup melted butter, powdered white sugar, vanilla extract and whisk it all until light and fluffy. Add eggs to the butter mixture and whisk it again until the eggs are well blended. Add flour, cocoa powder to the egg mixture and whisk it all again until the mixture is well combined and no lumps are present.
Fold in the dark chocolate chips into the flour mixture and transfer the batter in to the prepared spring form pan. Bake the brownie for about 20 minutes or until it cooks at the center. Remove the pan from the oven and cool the brownie to room temperature. Meanwhile, add ½ cup butter, powdered white sugar, brown sugar and whisk it all the mixture is creamy in consistency. Add milk to the batter and whisk it all again until the mixture is smooth. Add flour and chocolate chips to the batter and mix everything well. Spread the cookie dough evenly over the cooled brownie and let it chill in the refrigerator for about 30 minutes or until the dough is well set over the brownie. Meanwhile, add a heavy cream and butter to a small pan and heat it until the cream is just about to boil. Remove pan from the heat and add dark chocolate chips to the hot cream.
Let the chips melt in the pan for 5 minutes and then stir the chocolate chips to blend well with the hot cream until the mix is smooth and syrupy in consistency. Cool the chocolate syrup to room temperature and then pour it over the layer of cookie dough. Again cool the cookie dough brownies at room temperature for about 30 minutes. Slice and enjoy!
Tips
Make sure you move your hands in only one direction while you whisk the eggs and heavy cream. In case you use hand blender/whisk, again make sure that the gadget moves in one circular direction only. Maintain the baking temperature as recommended, you might need to keep a watch in the final minutes of baking. Make sure that you carefully remove the egg shells while you break the egg open. A wiser technique would be to break the egg in to a separate bowl first and then use that broken egg for the recipe. Repeat if you need more than one egg for the recipe.
Nutritional information (per serving): 480 Calories, 32.3g Total fat (20g Saturated fat, 1.1g Polyunsaturated fat, 7g Monounsaturated fat), 103.4mg Cholesterol, 161.9mg Sodium, 131.4mg Potassium, 50.1g Total carbohydrates (3.4g Dietary fiber, 30.9g Sugars), 4.2g Protein