ingredients
large zucchini (courgettes)

3-4

Bread crumbs

1 cup – panko, Italian or a mixture of both

Grated parmesan cheese

1/4 cup, optional

Eggs

2

• 130 kcal

Olive oil

2 tablespoons

Garlic powder

1/2 tsp, optional

salt and pepper to taste
Calories refers to 100 gr of product
These tasty and easy-to-make fries are a much healthier alternative to potato ones, and they're baked, not fried. The parmesan and crispy breadcrumbs give a satisfying crunch, and they're super-easy to make.
Instructions:
Pre-heat oven to 425F/200C fan/gas mark7.
Line a baking sheet with foil or parchment paper and lightly grease with oil. Set aside.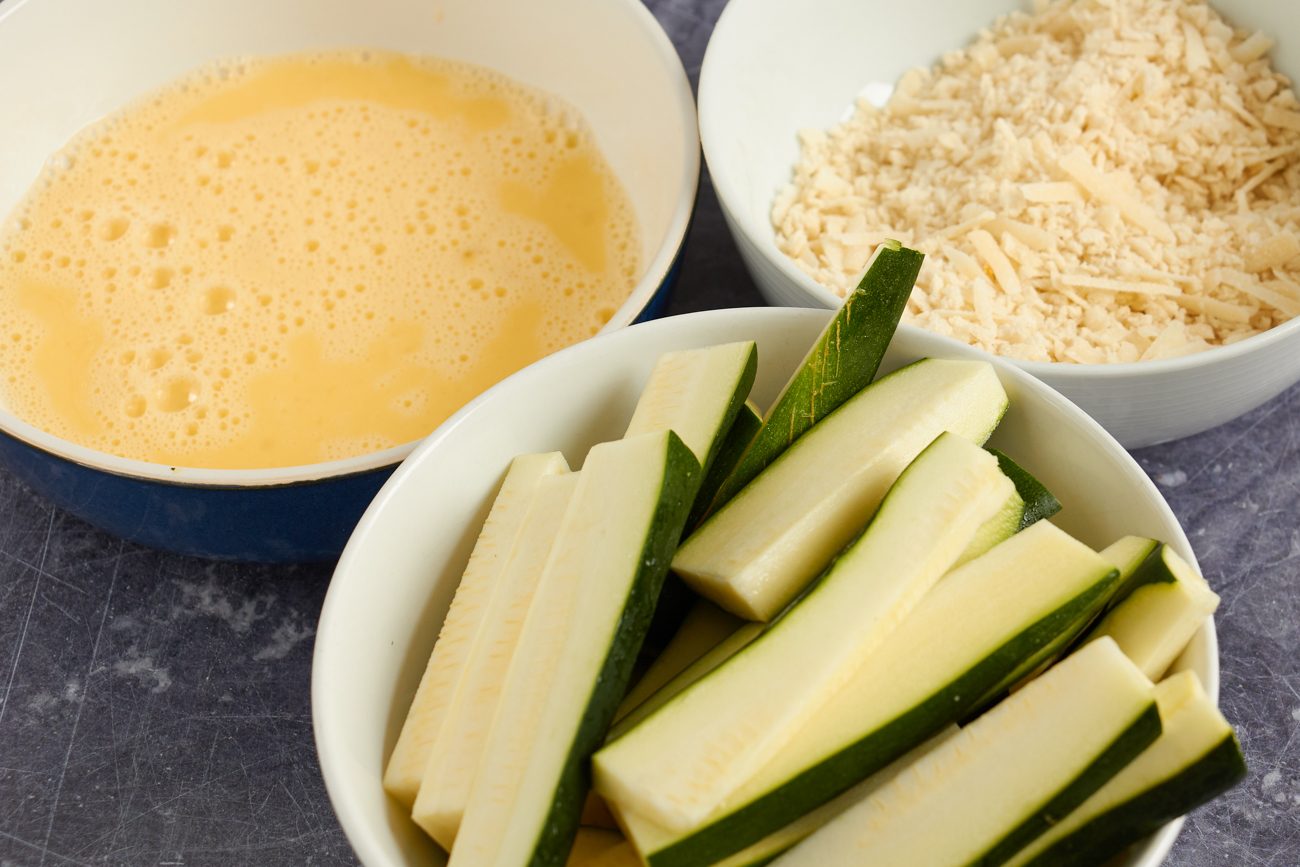 Combine 2 eggs in a small shallow bowl and set aside. Combine the breadcrumbs and parmesan cheese in another bowl. Prepare zucchini/courgettes by trimming the ends and cutting into 1/2-inch strips or slices.
Dip zucchini strips into egg mixture then in the breadcrumb mixture and transfer to pre-greased baking sheet. Repeat until all the zucchini strips are coated with egg and breadcrumbs.
Seasoning with salt, pepper and garlic powder then drizzle with olive oil or generously spray with cooking spray.
Bake in the preheated oven, turning once, until golden and crisp, 30 to 35 minutes or until golden and crispy. Enjoy them hot, with your favorite dipping sauce.
Notes:
Try a different hard cheese such as pecorino, or add some herbs or spices to the breadcrumbs for a change.
Make sure your oven is properly heated up before putting the fries in, or they will go soggy.