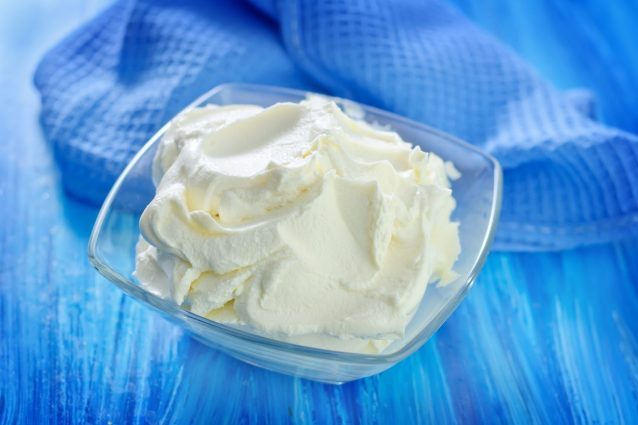 ingredients
Mascarpone cheese

250 grams

Whipping cream

250 grams

Vanilla powdered sugar

100 grams
The egg-free mascarpone cream is an easy and delicious dessert, a variant of the classic mascarpone cream, made without adding raw eggs but only with mascarpone cheese, whipping cream and powdered sugar. It can be made in a few minutes, without cooking, excellent to serve as a dessert, to decorate cakes, desserts, egg-free tiramisu but also to accompany a fruit salad or pandoro and panettone. Its dense compactness also makes it perfect for decorating your preparations. So let's see how to do it.
How to prepare egg-free mascarpone cream
Whip the cream until stiff with 50 grams of powdered sugar (1). In a separate bowl, whip the cold and well drained mascarpone with the rest of the powdered sugar until you will  have obtained a smooth and creamy mixture. Add the mascarpone cream and mix with a spatula (2) with movements from the bottom up, until the cream is thick and soft. Your mascarpone cream is ready to be enjoyed as it is or to fill your desserts (3).
Tips
The cream must be very cold to be whipped in the best way; cool the bowl and the whips in the refrigerator to obtain an excellent result.
If you don't have to immediately serve the egg-free mascarpone cream, put it in the refrigerator and keep it at room temperature at least half an hour before using it.
You can flavor the egg-free mascarpone cream with some orange zest and 1 tablespoon of liqueur or you can add 1 tablespoon of sifted bitter cocoa to make a chocolate mascarpone cream. You can also decorate your egg-free mascarpone cream with hazelnut, pistachio or almond chips or with chocolate chips or drops.
If you are intolerant to dairy products, you can use lactose-free mascarpone and lactose-free cream; your mascarponecream will still be delicious.
Preservation
You can preserve the egg-free mascarpone cream in the refrigerator for a maximum of 3 days in an airtight container.