ingredients
Chicken breast

500 g, diced into small pieces

White bread

4 slices

ginger paste

1/2 tbsp

garlic paste

1/2 tbsp

Soya sauce

1 tbsp

smoked Paprika powder

1/2 tsp
For Coating

Egg

• 130 kcal

Milk

1 tbsp

• 49 kcal

salt and pepper

to taste

Seasoned breadcrumbs
Calories refers to 100 gr of product
Grind your own flavorful ground chicken for breaded and fried homemade chicken nuggets. A protein-packed, crispy snack you can enjoy any time of day.
Serve these crisp and flavor-packed nuggets with ketchup or another favorite dipping sauce. Barbecue, honey mustard or even green goddess dressing all add a nice pairing with your nuggets. Or, complete the fast-food experience at home by pairing the nuggets with french fries!
How to Make Crispy Baked Chicken Nuggets: Step-by-Step Instructions
Remove the crusts from four slices of white bread, then cut into cubes.
Place the bread cubes in a large mixing bowl and use an immersion blender to grind into breadcrumbs.
Add diced chicken breast, ginger paste, garlic paste, soy sauce, pepper, paprika powder, and salt. Stir to combine.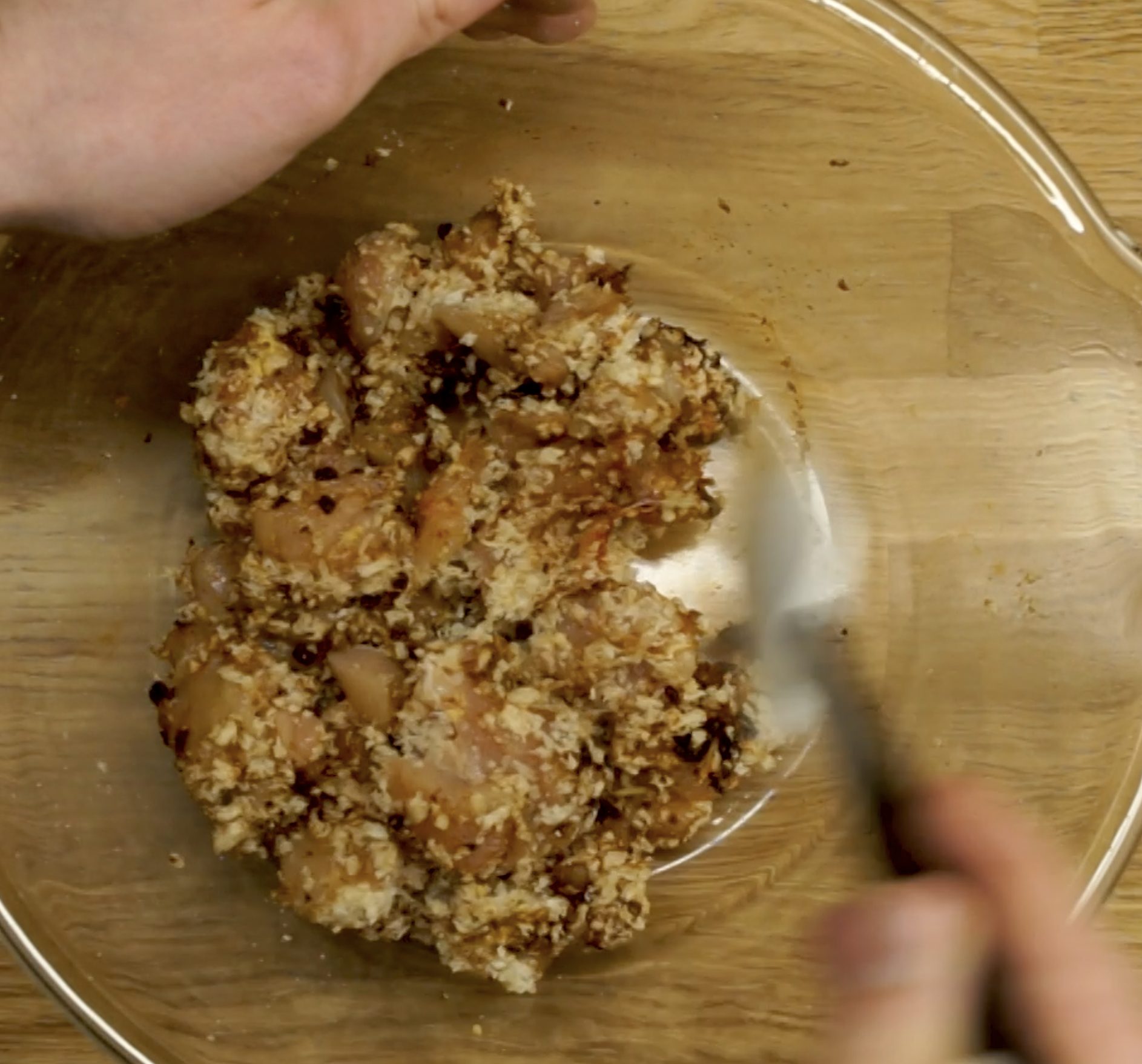 Use the immersion blender to blend the chicken into a paste.
Transfer the chicken mixture to a cutting board. Drizzle with oil then press into a flat rectangle.
Slice the mixture into even rectangles.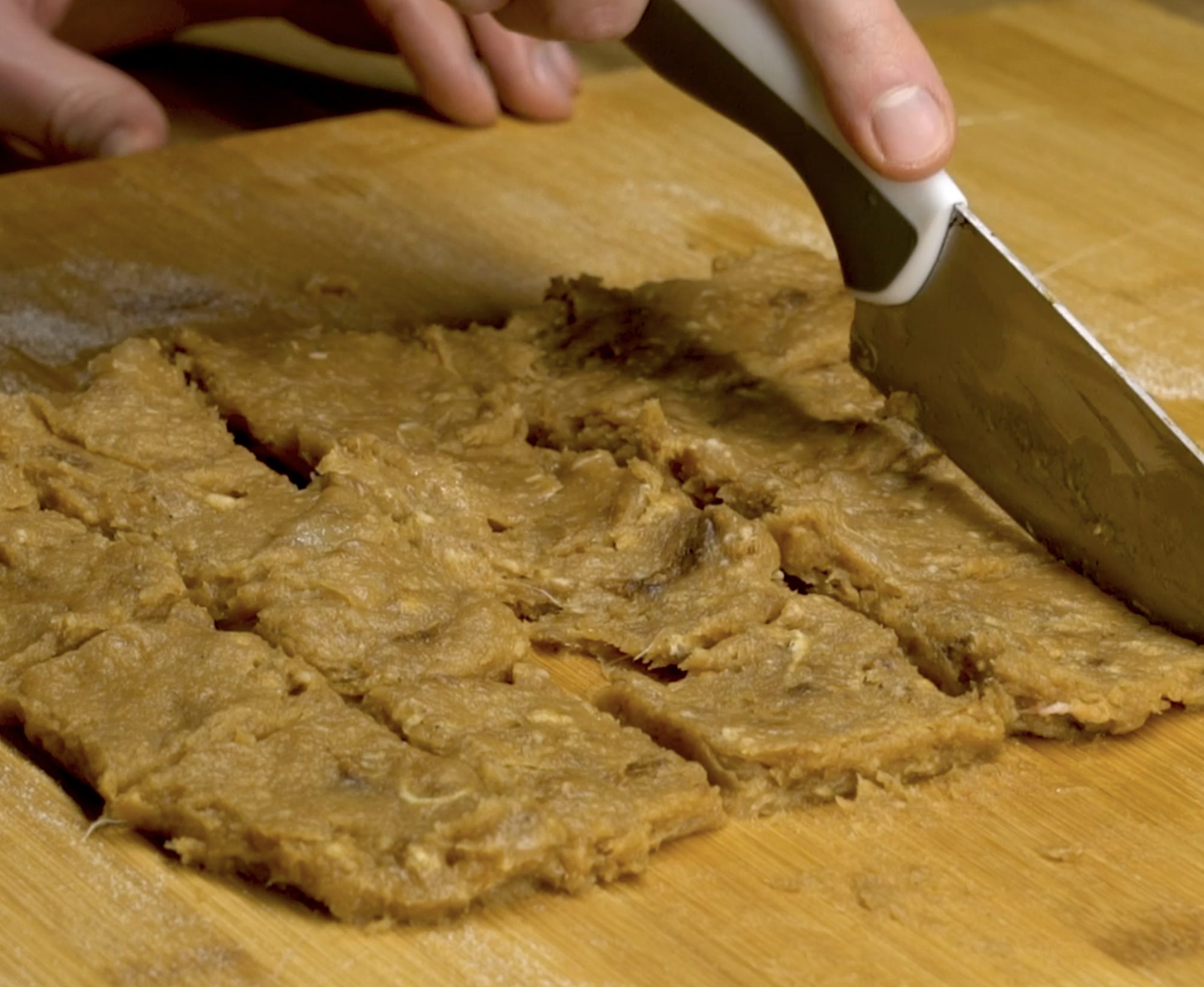 In a small bowl, whisk together an egg, salt, pepper and milk until smooth.
Add the chicken pieces, one at a time, and turn to coat in the egg mixture.
Coat each chicken piece in breadcrumbs.
Fry until crisp and golden brown on both sides.
Ingredients for Homemade Chicken Nuggets
The ingredients for this easy recipe are mostly pantry staples. You'll start with diced chicken breast. You'll flavor this with paprika, ginger, garlic, soy sauce, salt and pepper. Diced bread cubes bind this chicken mixture together.
Then, you'll need an egg, milk, salt and pepper, along with seasoned breadcrumbs to coat and dredge the homemade ground chicken nuggets. Fry in neutral-flavored oil for a delicious and crunchy homemade chicken nugget recipe.
How to make in a deep fryer
You can make these nuggets in a shallow pan, as described in this recipe, or using a deep fryer. In fact, the instructions and cook time would be no different. You will not need to flip the chicken during cooking, as the nuggets should be fully submerged in the frying oil in a deep fryer.
How to long to fry Breaded Chicken Nuggets
Fry the chicken nuggets until they're golden brown on both sides, about 5 minutes per side. Test one by breaking it open. The chicken should be all one color inside, with no visible raw parts.
Can you bake chicken nuggets?
Yes, you can skip the frying and bake these chicken nuggets. Simply follow the instructions as written, until the frying step. Instead, place the chicken pieces on a baking sheet and roast in a 450°F oven for 10 minutes, or until golden brown and cooked through.
Can you freeze chicken nuggets?
Yes, you can freeze these before or after cooking. Simly lace them on a baking sheet and freeze for an hour before transferring to a n airtight container. You can cook the chicken nuggest from frozen, just add about 5 minutes to the cooking time. You can alos heat up pre-cooked, frozen chicken nuggets in a 350°F oven until heated through. You can use the microwave as well, but the results will not be as crisp.
Instructions
Cut the bread into squares and grind it in a food processor or with an immersion blender. Add the chicken, ginger and garlic paste, soya sauce, and paprika powder and grind it again to combine.
Put the mixture on a table and cut it into small square pieces.
In a small bowl, whisk together the egg, milk salt, and pepper. Coat each piece of chicken in the egg mixture, then dredge in the breadcrumbls.
Heat 1 inch of oil in a large skillet ot 275°F. Fry the nuggets until golden on both sides.
Notes
Any kind of milk will work for this recipeYou can substitute chicken thighs for chicken breast if you like. For gluten-free chicken nuggets, use gluten-free sandwich bread and gluten-free breadcrumbs for coating. Seasoned breadcrumbs add flavor, but unseasoned will also work.