ingredients
Dough

Flour

250g

Cup Sugar

20g

Salt

3g

• 1 kcal

Milk

120ml

• 49 kcal

Water

60ml

Dry yeast

3g

Butter

20g

• 717 kcal

Filling and topping

Cream Cheese

100g

Melted butter

1 tsp

Minced garlic

1 clove

Olive oil

1 tsp

Drying basil

1 tsp
Calories refers to 100 gr of product
Homemade Garlic Rolls are light as air, easy to make yeasted bread rolls covered in herby garlic butter. They're a delicious side dish with your favorite entree, from pasta to meat to soups.
And it's easier than you think to make yeasted garlic bread rolls at home, even for beginner bakers. This recipe uses a few simple pantry ingredients and no special equipment, so it's a great way to try cooking with yeast if it's new to you.
How to Prepare Homemade Garlic Rolls
In a mixing bowl, place 120 ml milk.
Add 20 grams of white sugar.
Then mix in 3 grams of dry yeast.
Stir well to break up any clumps of yeast.
Add in 3 grams of salt.
And 20 grams of butter, at room temperature.
Add in 2 cups of white all-purpose flour.
And sir to form a wet dough, using a rubber spatula.
Transfer the dough to a lightly floured work surface.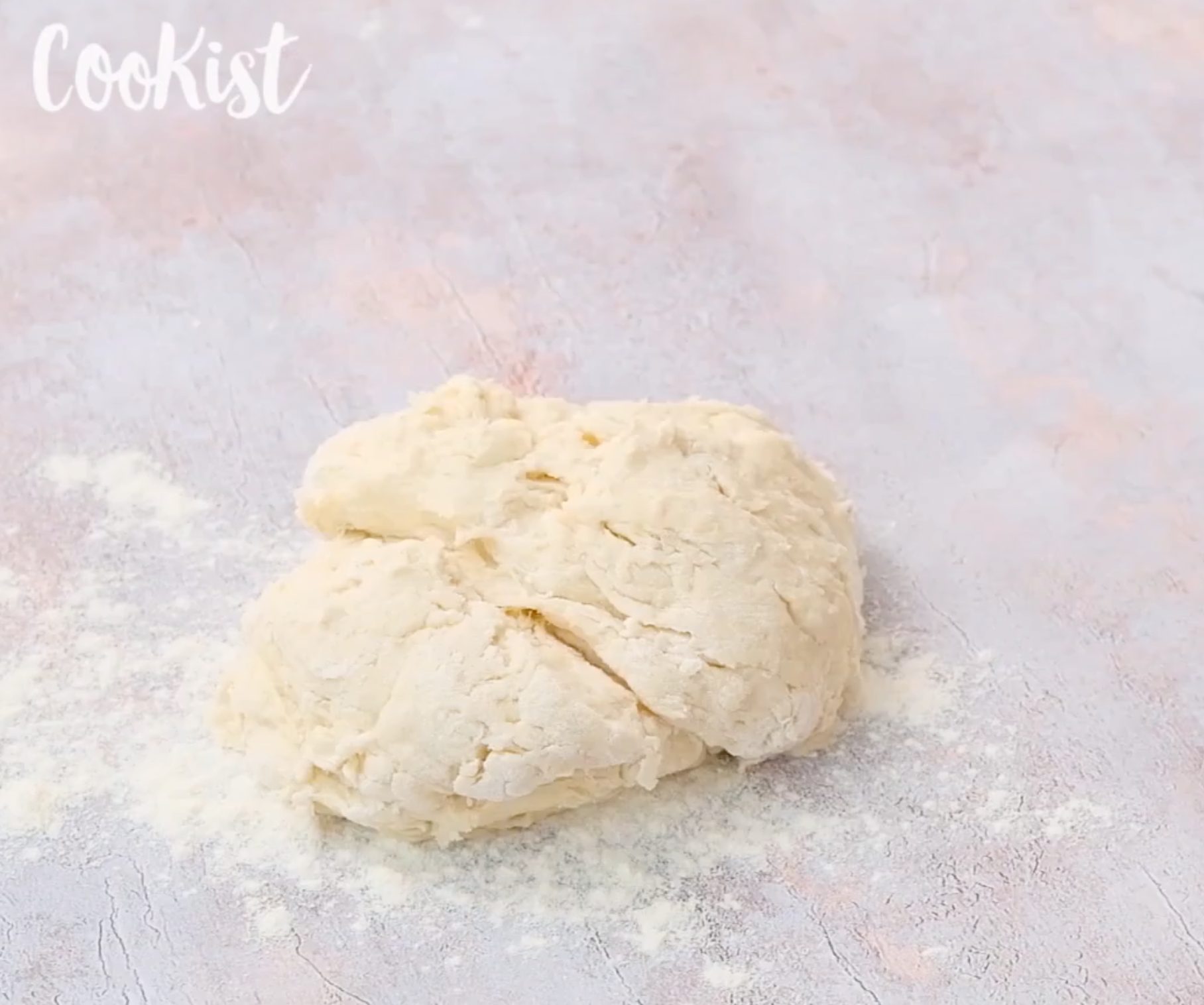 Knead the dough until it's smooth, then transfer to a greased mixing bowl to rise for 1 hour.
The dough should be risen and fluffy after one hour.
Flatten the dough into a circle on a lightly floured work surface and use a knife or a bench scraper to divide the dough into equal sized wedges.
Shape each piece of dough into a smooth ball.
Cover the balls and let them rise at room temperature for 15 minutes.
After rising, flatten each ball slightly and place a cube of cream cheese inside.
Pinch each ball to seal the cheese inside and roll to smooth out any seams.
Place the filled balls of dough into a parchment paper-lined baking dish.
Cover with a dish towel and let rise for 40 minutes. Preheat the oven to 180°C.
After rising, uncover and bake the bread rolls in the preheated oven for 18 minutes.
Meanwhile, melt 1 tablespoon of butter in a small bowl.
Add 1 teaspoon olive oil.
And stir in 1 teaspoon dried basil.
Mince 1 clove of garlic and add that to the butter mixture as well.
Stir to combine the melted butter-garlic mixture well.
When the bread is finished baking, remove it from the baking dish.
Brush with the herb and garlic butter.
Dig in!
Rising Homemade Bread with Yeast
There are a few important steps to this garlic roll recipe. You'll need to rise the dough three times. The first rise is right after you mix the dough. Transfer the dough to a clean mixing bowl that you've sprayed with cooking spray or brushed with olive oil. It's important to have a slick surface for the dough to rise up without sticking to the sides. Cover the dough with plastic wrap and place in a warm spot to rise for one hour. After an hour, your dough should be visibly larger in volume and bubbly.
The second rise happens after you shape the dough into equal-sized balls. You can leave them right on the counter, toss a clean dish towel on top, and let them rest for a short 15 minutes. This allows the dough to relax so it's easier to fill with cheese.
Finally, the last rise comes after you've filled each ball of dough with a piece of cream cheese. Close the balls up and place them into the baking dish you'll cook them in. Cover with a dish towel and rise until they're light and fluffy. After about 40 minutes, your garlic rolls are ready to bake!
How To Ensure Your Bread Rises Well
To make sure that you get the most volume out of your bread and a solid rise each time, it's important to use the right kind of yeast. This recipe calls for instant yeast, which means that it's ready to use as soon as you add it to the dough. Other kinds of yeast need activation with warm water, so be sure that you're not using active dry or fresh yeast for your garlic rolls.
Secondly, opt for a warm spot for rising the dough. On a hot day, your countertop is perfectly fine. But in the colder weather, you can place the dough inside your oven (as long as it's off).
Homemade Garlic Rolls Recipe
Mix all of the dough ingredients and knead on a floured work surface to make a soft dough.
Let the dough rise in a covered mixing bowl for one hour.
Divide the dough into 16 pieces and roll into balls. Let the balls rise for 15 minutes on the counter.
Put a piece of cream cheese into each ball. Roll to seal the balls closed.
Place the filled balls in a baking dish lined with parchment. Let rise for 40 minutes. Bake for 18 minutes at 180 ° C / 350 ° F.
Meanwhile, combine the butter, olive oil, garlic and basil. Brush the buns with this mixture as soon as they come out of the oven.