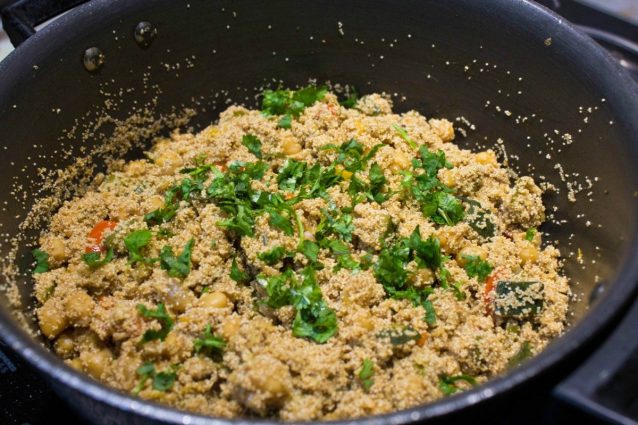 ingredients
Cumin powder

1 tsp

Clove powder

1/4 tsp

Ginger

1/4 tsp, peeled and grated

Cayenne pepper

1/4 tsp

Coriander powder

1/4 tsp

Cardamom powder

1/4 tsp

All spice

1/4 tsp

Olive oil

1 1/2 tbsps

Red onion

1 medium, peeled and thinly sliced

Red bell pepper

1/4, medium size cubes

Green bell pepper

1/4, medium size cubes

Yellow bell pepper

1/4, medium size cubes

Green zucchini

1, halved lengthwise and cubed

Raisins

1/4 cup

Salt

1 tsp

• 1 kcal

Orange zest

1 tbsp

Garbanzo beans

1 cup, drained

Chicken broth

1 cup

Fresh orange juice

1/2 cup

Couscous

1 1/2 cup

Fresh mint leaves

2 tbsps, roughly chopped (optional)

Fresh coriander leaves

2 tbsps, roughly chopped
Calories refers to 100 gr of product
This highly aromatic and heavenly spiced Mediterranean preparation is so fragrant that your entire neighborhood will definitely get inquisitive and ask you "what's cooking tonight?"
Do not get baffled by the long list of ingredients and spices, it is these mini flavor bombs that make a huge difference to this otherwise very simple preparation. The citrusy flavors at the back drop of aromatic spices and herbs is so heavenly and turns this dish to a drool worthy fare!
Serve this dish after an appetizing spread of hummus, pita, falafel, and you are sorted to host a Mediterranean theme party for your dear ones… So, try out this preparation and share with me your experiences!
In a heavy bottomed pot, heat the oil over medium heat. Add cumin powder, clove powder, grated ginger, cayenne pepper, coriander powder, cardamom powder, all spice, and stir all the spices for about a minute in hot oil. Stir in the sliced red onion and cook it for about 4 to 5 minutes or until the onions become a little soft. Add the cubes of red bell pepper, green bell pepper, yellow bell pepper, zucchini, and sauté the vegetables for another 4 to 5 minutes or until the vegetables turn a bit tender.
Stir in the raisins, salt, orange zest, and garbanzo beans and cook everything for another 2 minutes. Pour in the chicken broth, orange juice, cover the pot and cook everything until the liquid starts to boil. Uncover and stir in the couscous. Give everything a nice stir, cover the pot and turn the heat off. Let the pot stay covered for 5 minutes. After 5 minutes, uncover and fluff the couscous with a fork. Garnish with the fresh mint and coriander leaves. Serve and enjoy!
Tips
Make sure to not over cook the vegetables and cook them only for a couple of minutes. You may increase the quantity of orange juice by about one fourth of a cup, if you find the couscous to be a bit dry, and then cover again for another 5 minutes. You may need to adjust the seasonings to your taste.
Nutritional information (per serving): 311 Calories, 8.6g Total fat (3.1g Saturated fat, 0.9g Polyunsaturated fat, 3.9g Monounsaturated fat), 11.2mg Cholesterol, 676.7mg Sodium, 368mg Potassium, 51.6g Total carbohydrates (5.2g Dietary fiber, 7.5g Sugars), 8.5g Protein