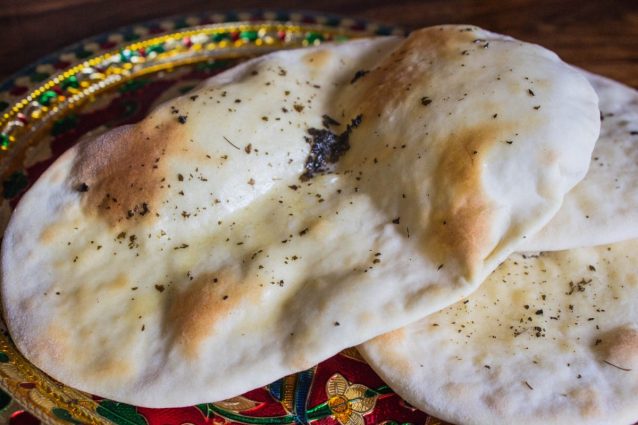 ingredients
Flour

1 cup

Powdered white sugar

1 teaspoon

Salt

¼ teaspoon

• 1 kcal

Baking powder

¼ teaspoon

• 156 kcal

Milk

¼ cup

• 49 kcal

Any vegetable oil

1 tablespoon

Kasuri methi, butter, sesame seeds, chopped garlic etc., for topping
Calories refers to 100 gr of product
Naan is a favorite bread of many that are served with the rich North Indian curries. It is relished alongside both the vegetarian and non-vegetarian spread of the traditionally prepared butter chicken, mutton korma, daal makhani, panner lababdar, navrattan korma, so on and so forth.
You will be amazed that in India there are several versions of naan as well, plain naan, butter naan, garlic naan that makes every meal a delight to have. So, the next time you plan to treat your guests with a subtly spiced spread of Indian fare, do not forget to plan the naans as well!
To a North Indian, even a simple meal of dal tadka and matar mushroom seems like a party, if it is served with naans!
Instructions:
In a large bowl, add the flour, powdered sugar, salt, baking powder, and mix the dry ingredients well. Add the milk and vegetable oil to the flour mixture and knead it in to a soft dough for 5 minutes.
Add a little more flour or milk, if required. Place the dough on a greased bowl and cover it with a lamp cloth.
Keep it in a warm place for 20 minutes. Preheat the oven on grill mode and brush the baking tray with oil. Divide the dough in to 4 equal parts and then lightly dust a clean rolling surface with flour.
Roll each dough ball in to elongated shape or oval and then place it over the prepared baking tray. Lightly grease the rolled dough on top and sprinkle topping of your choice on it.
Slightly press the topping in to the dough. Grill the naans in the oven for 2 to 3 minutes or until you see some brown patches on top of it.
Rub butter over the naans and serve them hot!
Tips
You must knead the dough very soft and smooth. You may replace white flour with the whole wheat flour to make a healthier version of naan, this naan may not be as soft. However, if you mix half of each then you will get a slightly healthier naan with the same texture as the original. Maintain the baking temperature and you might need to keep a watch on the naan all the time when it is in the oven.
Nutritional information (per serving): 304 Calories, 7.4g Total fat (1g Saturated fat, 0.8g Polyunsaturated fat, 5g Monounsaturated fat), 0.6mg Cholesterol, 365.8mg Sodium, 114.8mg Potassium, 51.1g Total carbohydrates (1.7g Dietary fiber, 3.5g Sugars), 7.5g Protein