ingredients
Potatoes

3 large, peeled

Red onion

1 small, peeled

Egg

1 large

• 130 kcal

Flour

2 tbsps

Salt

1/2 tsp

• 1 kcal

Black pepper powder

1/4 tsp

Full fat milk

1/4 cup

Vegetable Oil

3 tbsps, for frying
Calories refers to 100 gr of product
This potato pancakes recipe is such a simple preparation that you would be tempted to have them for the breakfast almost every day. Not only are these pancakes super quick to prepare but they taste incredible too with the crisp texture and crunch.
Evenly grate the potatoes in a food processor or using a hand grater. Transfer the grated potatoes in to a bowl. Evenly grate the onion in a food processor or using a hand grater. Using a fine mesh or hands squeeze out the excess water from potatoes and onions. Transfer the squeezed out potato and onion in to a dry bowl.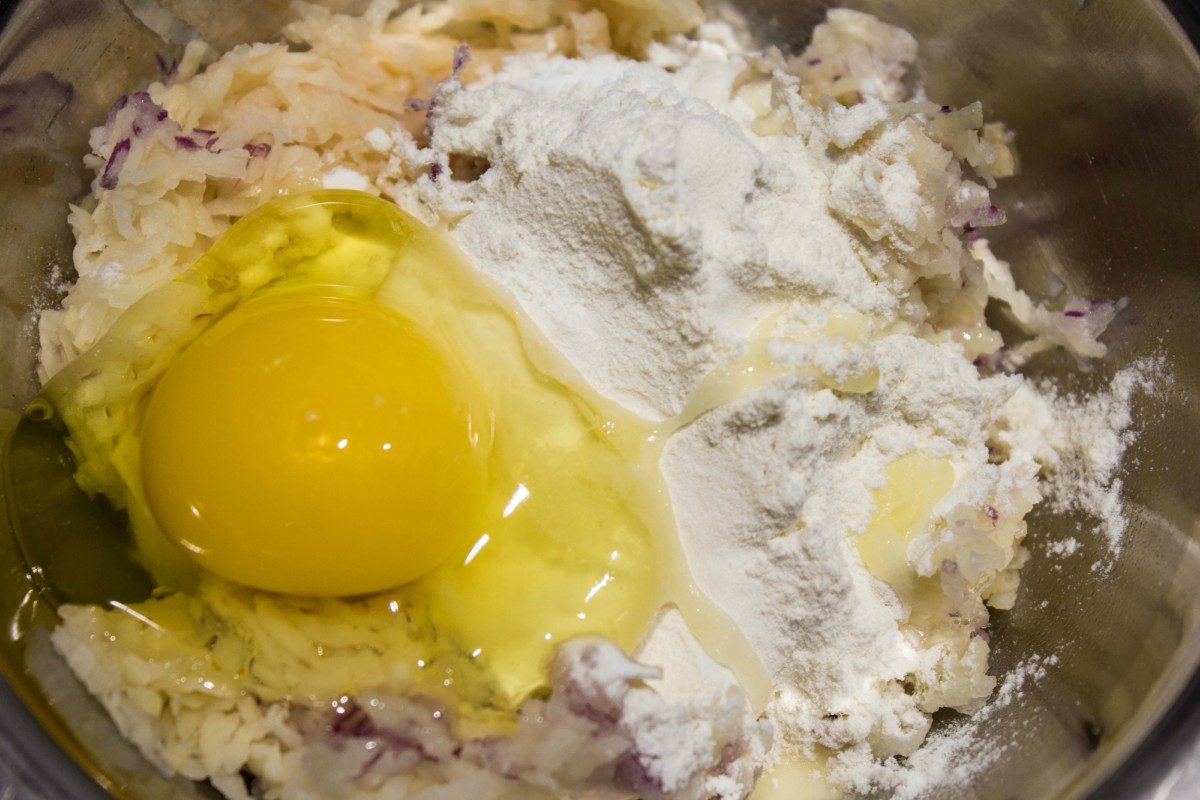 Carefully crack open the egg in to the potato mixture. Add flour, salt, black pepper powder, and milk to the potato mixture. Mix all the ingredients together until well combined.
Heat the oil in a non stick pan. Take a heaped ladleful of the potato mixture and pour it in to the hot oil so that you get a roughly circular shaped pancake of about 3 inch diameter.
Pour a couple more ladleful at a distance of about an inch apart from each other. Cook the pancakes until light brown in color on one side.
Flip the pancakes and cook the other side to light brown in color. Flip the potato pancakes again until it turns brown and crisp on both sides. Repeat the process with rest of the potato mixture. Serve the hot potato pancakes and enjoy!
Tips
The vegetables should be grated really fine and there should not be any big potato or onion piece else the pancakes might break while cooking. Crack open the egg very carefully in to the mixture so that no piece of shell is added to the mixture. If you are not too sure of breaking it open perfectly then you may consider breaking the egg open in to another bowl first and then transferring it to the potato mixture. You may even prepare this recipe until step 8 up to a day in advance and then resume from step 9 before you plan to serve. In doing so, just not add salt to the recipe and add it to the potato mixture before you plan to prepare the potato pancakes. Potato pancakes taste best when served really hot!
Nutritional information (per serving): 162 Calories, 8g Total fat (1.4g Saturated fat, 0.8g Polyunsaturated fat, 5.4g Monounsaturated fat), 32mg Cholesterol, 227.1mg Sodium, 480.8mg Potassium, 19.6g Total carbohydrates (2.8g Dietary fiber, 1.9g Sugars), 3.5g Protein