ingredients
small pumpkin

500 g

olive oil, for roasting

Garlic cloves, peeled

2

juice of 1/2 lemon

Tahini paste

2 tbsp

chickpeas, drained and rinsed

1 can

breadsticks for serving
Preparing hummus is always a good idea, so what about adding a roasted pumpkin? Pumpkin hummus is an easy, vegan recipe you can enjoy as savory appetizer or even as dipping sauce. The result will be the perfect seasonal dish you can not longer do without thanks to its fall flavors and bright orange color.
Pumpkin hummus is a creamy recipe that you can serve instead of the classic hummus. It is a healthy dish made up of few ingredients. You just need a roasted pumpkin, chickpeas, tahini, olive oil, garlic, and lemon juice to whip up this flavorful hummus recipe that's even cheaper than the store-bought one.
How to make Pumpkin Hummus
Making the pumpkin hummus is easier than you may think. Simply wash, cut the top off the pumpkin, then remove the seeds, scoop out the flesh and set aside as you will need the hallowed pumpkin for serving. Next, roast the pumpkin flesh with garlic and oil at 180°C/400°F for about 45 minutes or until tender.
When ready, place the pumpkin, tahini, lemon juice and chickpeas in a food processor. Season and mix until smooth. Add the pumpkin hummus in the hallowed pumpkin and serve with breadsticks.
Tips for Easy Pumpkin Hummus
You can leave out tahini and substitute it with other nut butters such as peanut butter.
You can make pumpkin hummus without chickpeas. In that case, double the pumpkin amount.
For a shortcut, you can also use about 2/3 cup of pumpkin puree.
For a healthier dish, serve it up with sliced red and yellow peppers instead of breadsticks.
How to serve Pumpkin Hummus
Pumpkin hummus is a delicious seasonal dish that you can serve in many different ways. Try it as appetizer or dip with raw vegetables, pita bread or tortilla chips.
Another option is to serve pumpkin hummus as spread in your toast and sandwich to dampen the salty flavors.
How to store Pumpkin Hummus
Pumpkin hummus can be stored in an airtight container in the fridge for a week.
Instructions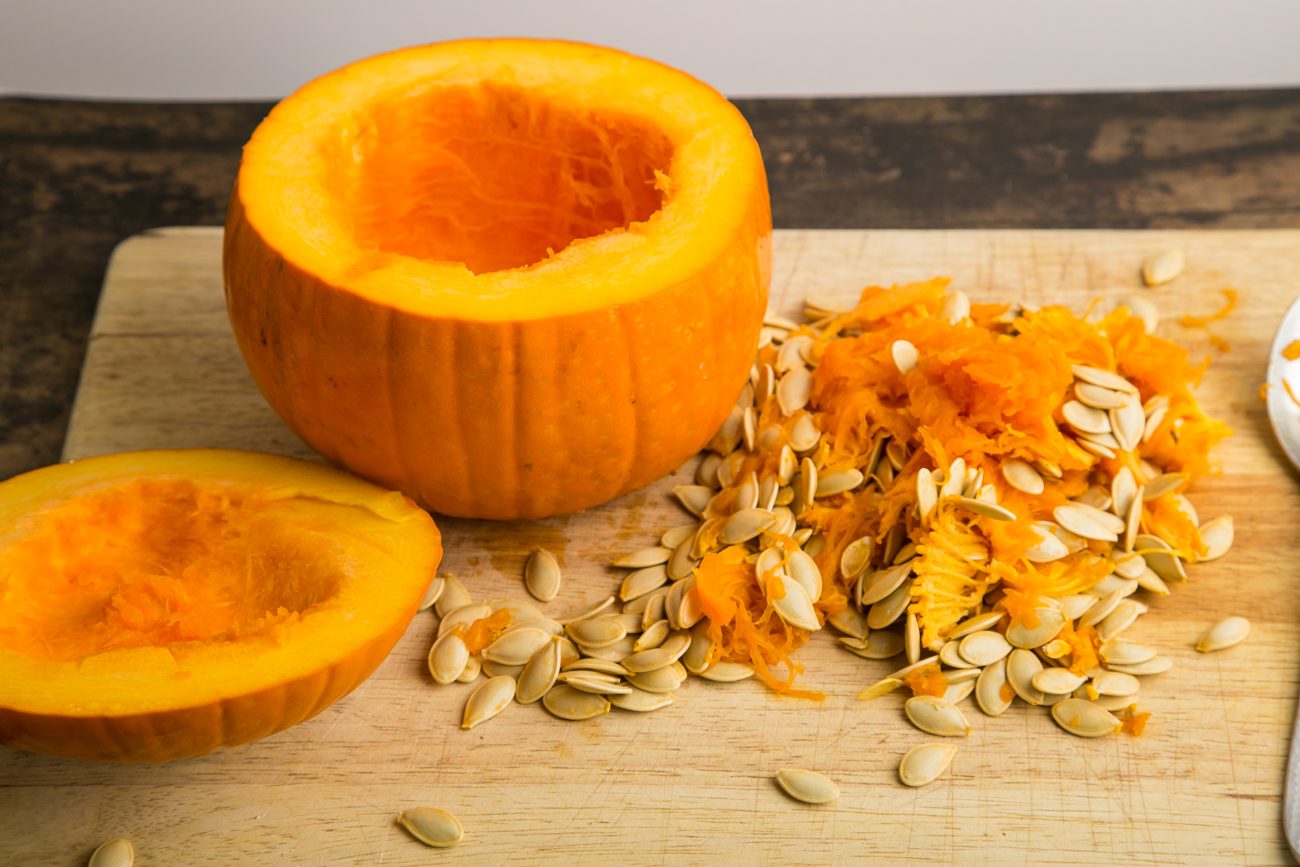 Cut the top off the pumpkin about 2/3 of the way up using a sharp and big knife. Remove the pumpkin seeds, then scoop out the flesh and set aside.
Preheat oven to 400°F/180°C fan/gas mark 6. Chop the pumpkin flesh and roast it with garlic and oil. Season, then bake for 45 minutes until tender, then leave to cool.
Place these ingredients in a food processor and add lemon juice, tahini and chickpeas. Season with salt and mix until smooth.
Scoop the hummus back into the hallowed pumpkin and serve with the breadsticks. Enjoy!