ingredients
Pumpkin

1 small (about 500g)

• 250 kcal

olive oil, for roasting

Garlic cloves

2, peeled

Lemon

½ , juiced

Tahini paste

2 tbsp

Chickpeas

400g can , drained

Mini breadsticks/pitta chips, to serve
Calories refers to 100 gr of product
Hummus is great at any time of year, but as pumpkins are only in season for such a short time, it would be a waste not to turn one into this delicious seasonal hummus.
All you need to do is buy a cooking pumpkin, de-seed it and remove the flesh to roast until tender with garlic and oil. Then it's a case of blitzing the pumpkin up with chickpeas and tahini to make a gorgeous-tasting (and beautiful orange-coloured) hummus.
For added effect, pile the hummus back into the pumpkin shell and serve with breadsticks and pitta pieces for everyone to dip in with.
Instructions
Cut the top off the pumpkin, about two-thirds of the way up – you'll need a very sharp and big knife, so take care when cutting. Remove the pumpkin seeds, then scoop the flesh out of the bottom and put aside.
Do the same with the seeds and flesh in the lid. Discard the seeds or keep them for another recipe.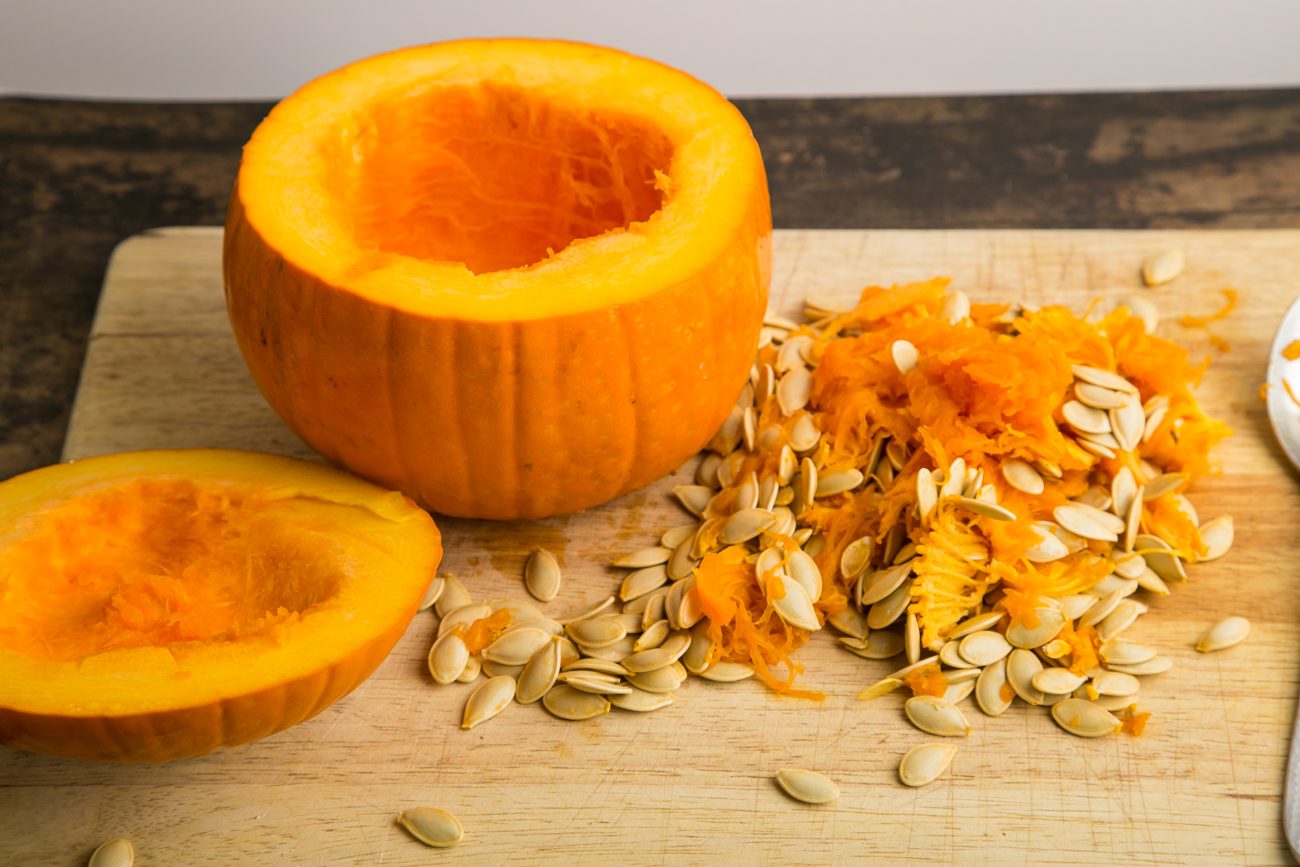 Heat oven to 400F/180C fan/gas mark 6. Chop the pumpkin flesh you removed into pieces and put in a roasting tin with the peeled garlic cloves and a good splash of oil.
Season, then bake for 45 mins until very tender, then leave to cool.
Once cool, tip the pumpkin into a food processor with any juices from the roasting tin along with the garlic. Add the lemon juice, tahini paste and chickpeas.
Season with salt and blend to a paste. You can add a little more oil if it's too thick, or have a more chunky hummus if you prefer.
Scoop the hummus back into the pumpkin and serve with the breadsticks and pitta chips or whatever you are using for dipping.
Notes:
You can make this hummus with butternut squash instead of pumpkin if you prefer.
Serve with sliced red and yellow peppers if you want a healthier option.