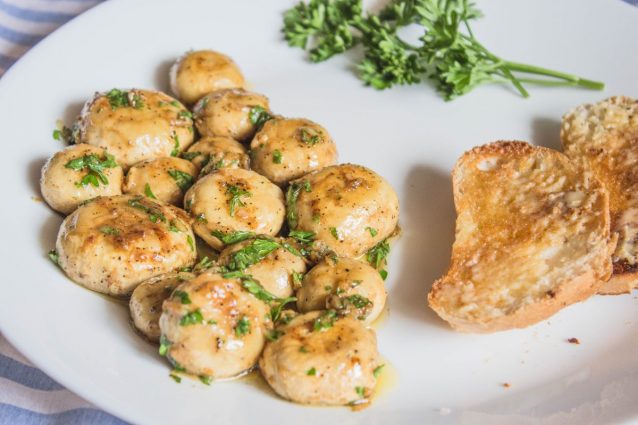 ingredients
Extra-virgin olive oil

1 tablespoon

Salted butter

1 tablespoon

button or cremini mushrooms

250g

Salt

¼ teaspoon

• 1 kcal

Black pepper powder

¼ teaspoon

Cloves Garlic

2 large, grated

White wine vinegar

¼ cup

Fresh lemon juice

1 teaspoon

fresh parsley, chopped

2 tablespoons
Calories refers to 100 gr of product
This sauteed mushrooms is so full of flavors and a lovely tang. It is a really quick preparation and can be served with bread, rice, or even eaten as such.
Instructions
Heat oil and butter in a pan until the butter melts. Add mushrooms and cook it for 2 minutes without stirring anything.
Season it with salt, pepper, garlic, and cook for another 5 to 7 minutes on medium heat. Pour vinegar and lemon juice to the pan and cook everything for another 2 minutes.
Add parsley to mushrooms and turn off the heat. Serve and enjoy!
Tips
You can also use dried herbs to prepare this dish. Double the quantity of lemon juice in case you are planning to replace vinegar with chicken or vegetable broth.
Nutrition Facts
Nutritional information (per serving): 149 Calories, 13.2g Total fat (4.7g Saturated fat, 1.1g Polyunsaturated fat, 6.5g Monounsaturated fat), 15.5mg Cholesterol, 339.6mg Sodium, 462.1mg Potassium, 7.4g Total carbohydrates (1.7g Dietary fiber, 2.8g Sugars), 4.3g Protein