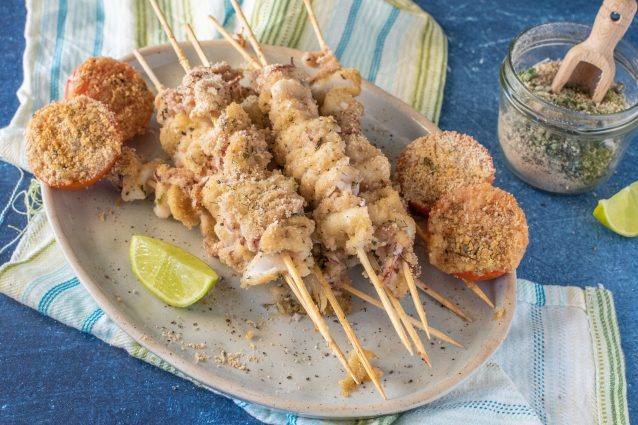 ingredients
Squid

800 grams

Breadcrumbs

6 spoons

Parmesan cheese

3 spoons

Aromatic herbs

as much as is needed

Extra virgin olive oil

Salt

• 1 kcal
Calories refers to 100 gr of product
Squid skewers are a very quick and surprisingly good second course. After proceeding with the cleaning, the squid must be cut into strips and passed in breadcrumbs flavored with various herbs which, depending on the choice, will allow you to obtain an always different final result. Baking in the oven, simple and light, will make this preparation golden and tender, ideal to combine with a side dish au gratin or a fresh seasonal salad to make any meal of the day special.
How to prepare squid skewers
Clean the squid, dividing the body from the tentacles and extracting the internal bone (1), then rinse them thoroughly under cold running water.
Cut the squid body into strips about 1.5 cm wide (2).
Soak the wooden skewers in water for a few minutes (3).
Form the skewers by alternately skewering tentacles and a strip of squid (4).
Chop the aromatic herbs and then mix them with the breadcrumbs and grated cheese (5).
Gently pass the fish skewers in the breadcrumbs making it stick on all sides (6).
Arrange the skewers on a pan lined with a sheet of parchment paper (7), and sprinkle them with a drizzle of oil, then bake them in a preheated oven at 190 degrees C for 15 minutes (fan mode), turning them halfway through cooking to brown them from all sides.
After the cooking time has elapsed, take the skewers out of the oven and add salt. Transfer them to a serving dish and serve hot (8).
Preservation
To savor all the taste of this preparation, it is good to bake the squid skewers in the oven and enjoy them hot at the moment. In case there are some squid skewers left, place them in a hermetically sealed container and preserve them in the refrigerator for a maximum of 1-2 days.