ingredients
Ground beef

1 ½ pounds

Bread crumbs

1/3 cup

Milk

1/3 cup

• 49 kcal

Tomato sauce

1 cup

Egg

1

• 130 kcal

Ham

5 slices

Mozzarella cheese

5 slices

fresh parsley, chopped

2 tbsp

Dried oregano

1/2 tsp

Garlic powder

1/4 tsp

Onion powder

1/4 tsp

Red pepper flakes

1/4 tsp

salt and pepper to taste

• 1 kcal
Calories refers to 100 gr of product
Stuffed meatloaf might be one of the great all-time comfort foods. This cozy, hearty dish has so much flavor thanks to the combination of beef, ham, cheese, and tomato, and will give you a moist, tender meatloaf that doesn't fall apart. This Italian stuffed meatloaf is perfectly seasoned with parsley, oregano, garlic, and onion powder, plus a little heat from a dash of red pepper flakes. Making the perfect stuffed meatloaf is easier than it seems. Mix the ingredients, spread out the meat, assemble, and bake. That's it! If you want an even more intense flavor, you can also wrap the meatloaf in bacon. With very little work involved for such seriously delicious results, it's no wonder this stuffed meatloaf recipe is so popular.
Types of Stuffing to Use for Italian Stuffed Meatloaf
You can use a variety of cured meats in this recipe. Add prosciutto for a more gourmet flavor, or substitute ham for thick-cut bacon. Mortadella is delicious, or do a combination of your favorite cold cuts.
Use a mixture of different cheeses. While mozzarella is always a favorite, cheeses like provolone, cheddar, Swiss, and parmesan are all fantastic.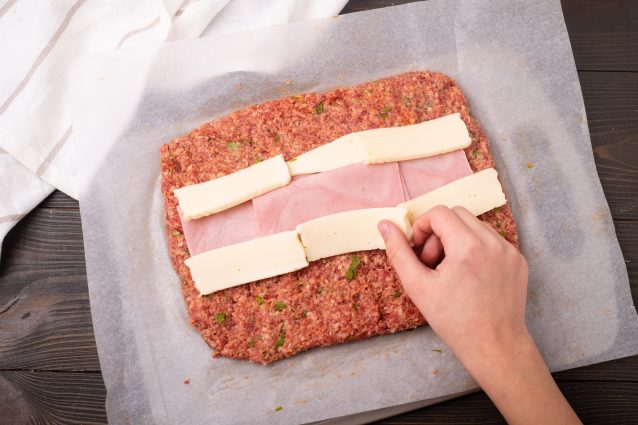 Why Stuffed Meatloaf Falls Apart and How to Prevent It
The biggest culprit behind why your stuffed meatloaf falls apart is not having enough binding agents like egg and breadcrumbs.
However, an overcooked, dried out meatloaf is also likely to fall apart. Keep an eye on your Italian stuffed meatloaf while it's cooking. Use an instant-read thermometer. When the internal temperature reaches 160°F, it's time to take it out of the oven.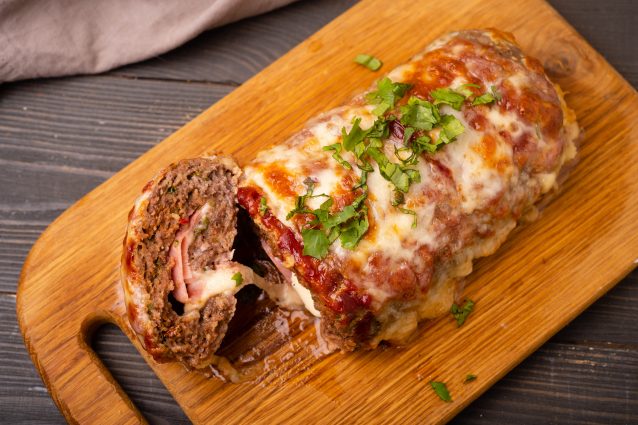 How to Make Stuffed Meatloaf Moist
– Making the breadcrumb mixture first and allowing it to sit for several minutes lets the milk and egg saturate the crumbs and will help keep your meatloaf moist.
– Don't use ground beef with low fat content. Fat helps keep the meatloaf succulent, so aim for 25 to 30 percent fat content.
– If you're worried about your meatloaf drying out, you can add a dollop of mustard, ketchup, or a splash of Worcestershire sauce to the recipe.
– Don't skip the resting step! Resting the meatloaf before cutting it helps it to stay moist.
Tips for Making the Best Stuffed Meatloaf
– Use good quality ham for stuffing your meatloaf. You can also try flavored options like smoked, honey-roasted, or ale cured ham.
– You don't need to stick with beef for this recipe. Pork and lamb are delicious as well, as is Italian sausage meat.
– Handle the meatloaf gently and don't overmix the ingredients.
How to Make Stuffed Meatloaf
Preheat the oven to 350ºF. Whisk breadcrumbs, milk, and egg in a small bowl.
Mix ground beef, parsley, oregano, garlic powder, onion powder, red pepper flakes, salt, and pepper in a large bowl until just combined.
Add breadcrumb mixture and mix until just combined.
Spread the meat into an 8 x 10-inch rectangle on some parchment paper.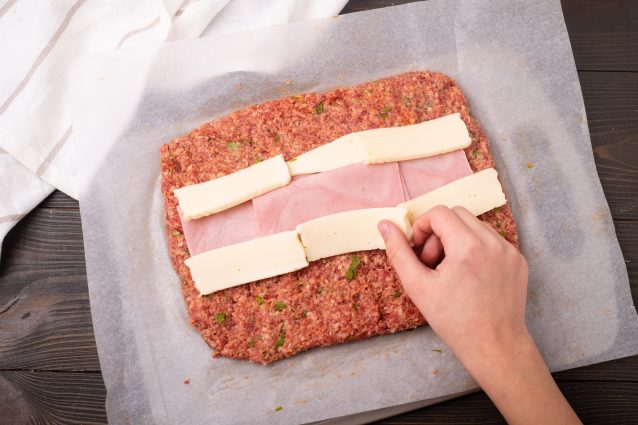 Layer with the ham slices, followed by the slices of cheese.
Gently roll up the meat.
Seal the edges.
Place meatloaf into a baking dish, seam side down.
Top with tomato sauce.
Bake for 45-60 minutes. Take the meatloaf out of the oven and top with extra cheese slices. Turn on your oven's broiler. Broil the meatloaf until the cheese is melted.
Remove from oven, cover with tented foil and let the meatloaf rest for 5-10 minutes before serving.
Notes
– You can substitute the individual dried herbs for Italian seasoning.
– Make this recipe dairy-free by substituting milk for chicken or beef stock.