ingredients
Large eggs

3

white chocolate chips

4 ounces

Cream Cheese

4 ounces
Cheesecake with only 3 ingredients? You heard that right! 3 ingredient Japanese cheesecake is the incredible recipe every cheesecake lover should know. Similar to the classic Japanese cheesecake, it's a light and fluffy dessert with a spongy texture but with all that rich creaminess of the traditional cheesecake. This airy cake melts in your mouth and has a beautiful lightly sweet taste. It's a fantastic dessert when you're in the mood for something simple, elegant, that requires little work.
How to Make 3-Ingredient Japanese Cheesecake
Preheat your oven to 340°F. Grease a springform pan, including the sides, then line it with parchment paper. Crack the eggs and separate the yolks from the whites.
Melt the chocolate in the microwave, using 20-second intervals until completely smooth. Stir occasionally.
Whisk in the cream cheese. Add the eggs, and combine until the mixture is smooth.
Using a handheld electric mixer, beat in the egg whites on High, until they form stiff peaks.
Scoop one-third of the egg whites into the cream cheese mix, folding to just combine. Repeat twice.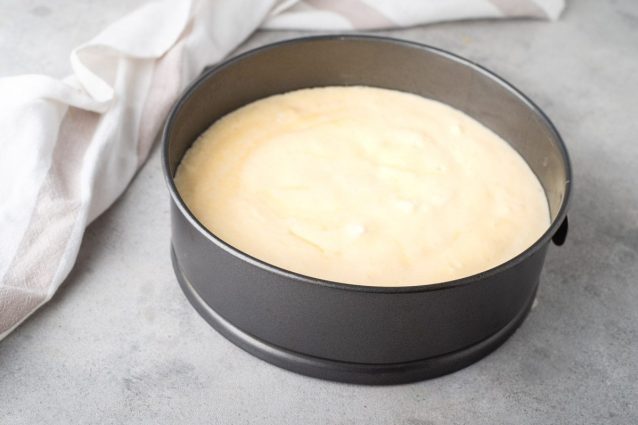 Pour the batter into your springform cake pan. Tap the pan gently but firmly to remove air pockets.
Pour ½-inch of water into a large baking pan. Wrap the bottom of your springform pan with 4 to 5 layers of tin foil, then place in the water bath.
Bake for 15 minutes, then lower the heat to 320°F and bake the cheesecake for another 15 minutes. Remove the pan from the oven and allow the cake to cool completely.
Notes
– Use a 6-inch springform cake pan for this recipe. Because this cake will rise, look for a springform that is at least 3-inches tall.
– Make sure your bowl and utensils are completely clean and oil and grease-free. If there's any residue on your tools, you'll have trouble whipping your egg whites to form a peak.
– To avoid cracking your cheesecake, make sure your pan is well-greased.
– You can add a little lemon juice or flavored extracts like vanilla or almond to put your own spin on the recipe.
– While you can enjoy your 3 ingredient Japanese cheesecake after it has initially cooled, it tastes best when allowed to set in the fridge for a few hours before.