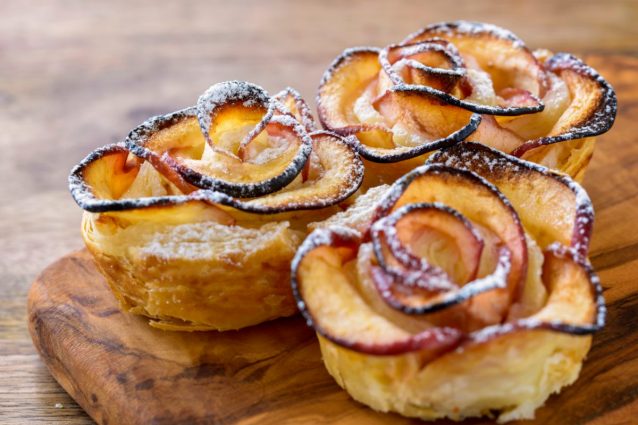 ingredients
Apple

1 large

Sugar

1/4 cup

• 470 kcal

Cinnamon

1 tsp

Melted butter

1/4 cup

Egg

1 whisked

• 130 kcal

Frozen Puff Pastry

1 sheet, thawed
Calories refers to 100 gr of product
Not only is this dessert delicious but it is also incredibly beautiful! These perfect pastries taste similar to eating an apple pie yet without the work of making pie crust. Shaped like a picturesque rose, you will be surprised at how easy they actually are to make. This dessert is sure to be a show stopper at your next get together or bring a few of them to a friend rather than purchasing real flowers- dessert flowers are so much better than inedible flowers!
Directions
Cut and thinly slice the apples.
Place on a microwavable plate and heat in the microwave for about 45 seconds to soften the apples. Cover the plate with plastic wrap to keep the apples warm and soft an set aside.
On a floured work surface, roll out the thawed sheet of puff pastry until it is about 1/8th of an inch thick.
Trim the edges of the puff pastry and cut into 4 even strips.
In a small bowl, combine the cinnamon and sugar
Brush the puff pastry sheet with the whisked egg and sprinkle with about half of the cinnamon and sugar.
On the top of one of the puff pastry strips. Line up the apple slices, slightly overlapping each other
Fold the bottom of the puff pastry in half, over the apples and press down to seal.
Beginning at the end of the puff pastry sheet, tightly roll the dough. Roll the whole sheet into a spiral and seal the end with a little of the egg wash.
Place the rolled dough rose into a buttered ramekin and repeat with the remaining puff pastry sheets until all four roses are rolled and in the ramekins. Sprinkle them all with the remaining cinnamon and sugar
Bake the roses in a 350 ̊F oven for about 45 minutes or until the tops of the apples are golden brown.
Remove from the ramekins once cool and enjoy!
Tips
-Choose a good hearty baking apple with a lot of flavor for this recipe such as Honeycrips, Jonagolds or Granny Smiths
-Try serving these roses with ice cream on the side while the roses are still warm
-You can make these several days ahead of time and store them in the fridge, covered tightly. Simple return them to the oven for a few minutes before eating to freshen them up.