ingredients
For the dough

Flour 00

500 grams (4 cups)

Warm water

260 ml (1 cup)

Fresh brewer's yeast

10 grams (¾ tablespoon)

Butter

60 grams (4 tablespoons and ¼)

• 717 kcal

Salt

10 grams (½ tablespoon)

• 1 kcal

Granulated sugar

20 grams (1 tablespoon and ½)
You will also need

Water

1,5 liter (6 cups and ⅓)

Baking soda

90 grams (½ cup)

Salt

15 grams (almost 1 tablespoon)

• 1 kcal
Calories refers to 100 gr of product
Maybe you have seen these Bretzel buns with a slightly oval shape, in the old animated series Heidi, girl of the Alps. They are the famous Laugenbröt, a leavened specialty with Nordic origins, typical of South Tyrol. They are characterized by a thin, crunchy and slightly salty crust – obtained from a quick pre-cooking in water and baking soda, before being baked – and they are irresistibly soft and fluffy inside. Very simple to prepare, you can stuff the Bretzel buns with cured meats and cheeses with spun paste, for a quick and practical meal, or serve them in the bread basket to accompany any main dish of meat or fish. For a delicious sweet version, heat them slightly, spread them with butter and jam and enjoy them hot for breakfast or a snack, sipping a cup of hot tea. Your children will love them too. So let's find out how to prepare the Bretzel buns to perfection by following our recipe step by step.
How to make the Bretzel Buns
In a bowl, pour the water and the fresh brewer's yeast, then add the sugar (1) and mix well.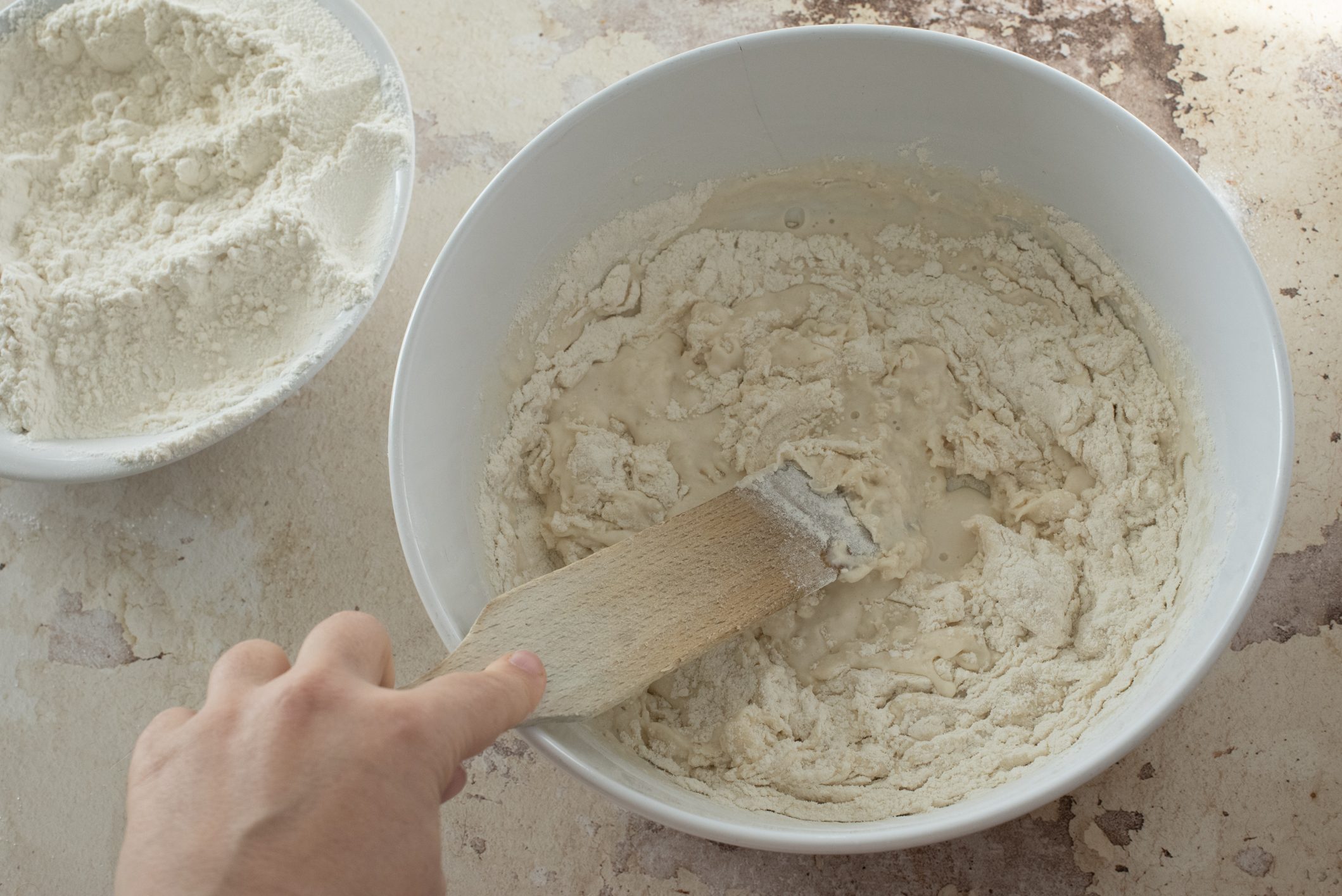 Pour 100 grams of flour, taken from the total and mix (2); cover with a cloth and leave to rest for about 30 minutes, in the heat.
When you see the first bubbles, add the rest of the flour (3) and the salt, starting to knead.
When the dough begins to take shape, add the soft butter and knead everything until you will get a smooth and soft ball. Then transfer it to a bowl (4), cover it and let it rise until it doubles its initial volume (the time will depend on the home temperature).
After this time, take the dough again, divide it into small pieces of about 40 grams and give it an oval shape (5). Cover them and let them rest for another 20 minutes, always warm.
Bring the water to a boil and add the salt and baking soda. Dip the sandwiches in the water (6) and cook them for 30 seconds, then drain and arrange them on a baking sheet lined with parchment paper.
Incise the surface of the buns with a razor blade or a small knife and make the two classic oblique and parallel cuts (7). Bake the Bretzel buns in a static oven at 220 degrees C for about 15-20 minutes, or in any case until they will be golden brown.
After cooking time will be elapsed, take the Bretzel buns out of the oven, let them cool and serve (8).
How to store the Bretzel Buns
It is preferable to eat the Bretzel buns during the day, especially if they are still warm. In case there is something left, the best way to enjoy the Bretzel buns is to reheat them in the oven. You can also freeze them and take them out of the freezer when necessary.