ingredients
Butter

140g

• 717 kcal

Icing sugar

100 g

Egg

1

• 130 kcal

flour (you can use all-purpose, cake, or plain flour)

200g

Milk

10mL

• 49 kcal

Vanilla Extract
Calories refers to 100 gr of product
With Christmas rapidly approaching, it's the perfect time to fill up the cookie jar with homemade cookies. In fact, if you're not sure what gifts to buy this year, why not make jars of cookies for your friends and family? These Danish Butter Cookies will make the perfect melt-in-the-mouth gift. While you need only six ingredients for this recipe, there are many variations (see below).
The cookies, with their characteristic swirl, are not just pretty to look at. They're tasty too – light, with a delicate crisp that melts in the mouth. You won't believe that these delicious buttery cookies are made with only a handful of ingredients. If you want them to be even tastier, dip them in chocolate!
Directions
With a hand mixer, beat the butter until smooth (at least 5 minutes).
Add the icing sugar and beat again, until smooth.
Add the egg and continue beating.
Add milk and vanilla extract and continue beating.
Sift in the flour.
Beat with a hand mixer until a wet, sticky dough forms. Add up to 2 tsp of milk if the dough is too stiff or
dry.
Pour the dough mixture into a piping bag.
Form spiral shapes with the mixture on a baking sheet.
Bake for 12 minutes at 170°C (350°F) until golden. Cool for 10 minutes, and store in an airtight container for up to one week. They're so tasty, we don't think they will last that long, though!
Variations
For a chocolate variation, dip the baked cookies in melted chocolate and leave to cool. To make them
more fun, top with rainbow sprinkles.
For a speckled look, use an equal amount of vanilla bean paste instead of vanilla extract. The cookies
will have a rich vanilla flavor.
Experiment with different shapes, by using a cookie press.
Make your own cookie sandwiches – use Nutella, or melted chocolate (dark or white) as a filling.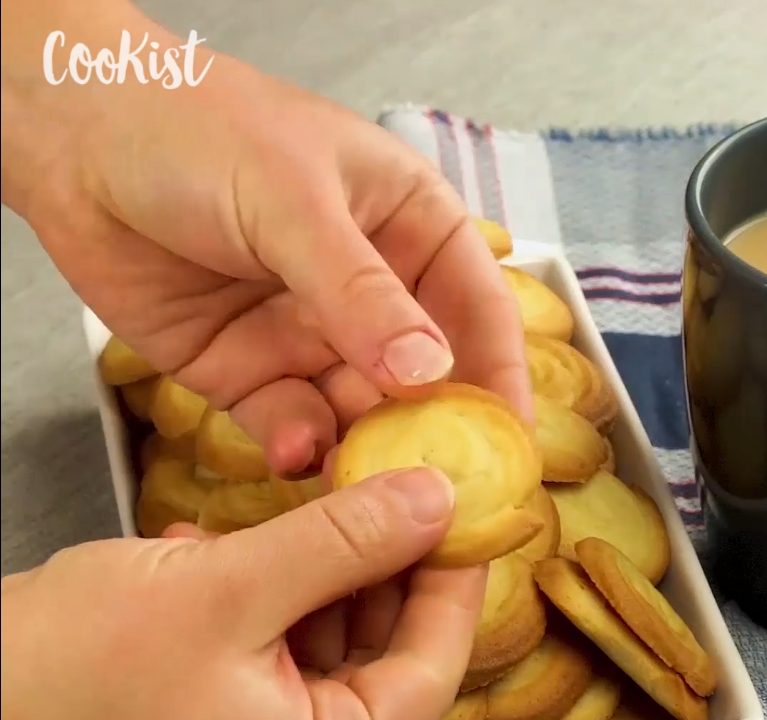 Recipe Notes
Because these are butter cookies, it goes without saying that you should use the best quality butter you
can find. Do not use margarine!
Make sure to cream the butter and sugar properly, by beating it for at least 5 minutes. The creamed
mixture should be light yellow and fluffy – this will ensure that the cookies are light and crispy (as
opposed to dense).
Piping the shapes can be tricky. Don't fill up your piping bag completely. This will make it more difficult
to manage. Rather do the piping in two batches. If you don't have a piping bag, you can also use a cookie
press.
Sometimes the cookies spread too much in the oven, causing it to lose its shape. To prevent this, place
the baking sheet with piped cookies in the refrigerator for about half an hour before baking.
Baked cookies can be frozen for up to three months.