ingredients
Flour

180g / 1.44 cups

Cocoa powder

25g / 0.16 cup

Sugar

200g / 1 cup

• 470 kcal

Baking powder

1 tsp

• 156 kcal

Salt

¼ tsp

• 1 kcal

Oil

80ml / 2.7oz

Vanilla Extract

½ tsp

hot water

240ml / 8.1oz

White vinegar

1 tbsp

hot water

80ml / 2.7oz

Cocoa

1 tbsp

Sugar

2 tbsp

• 470 kcal

Vanilla Extract

½ tsp

Powdered sugar

45g / 0.37 cup

Cocoa

2 tbsp

Peanut butter

240g
Calories refers to 100 gr of product
This is the densest and creamiest recipe for chocolate cake without butter. Replace butter with canola oil, chocolate syrup and a three-ingredient peanut butter-chocolate frosting.
It's hard to believe that this fudgy chocolate cake is butterless. It has all the dense texture and rich, chocolaty moisture of a good homemade chocolate cake. And yet: no butter needed!
How to Prepare Chocolate Cake Without Butter
In a mixing bowl, place 180 grams of all-purpose flour.
Add 200 grams of white granulated sugar.
And 25 grams of unsweetened cocoa powder.
Add a teaspoon of baking soda.
And ¼ teaspoon of salt.
Stir together the dry ingredients. Then add ½ teaspoon of vanilla extract.
And 1 tablespoon of white distilled vinegar.
Pour in 80 ml of canola oil.
And 240 ml of water.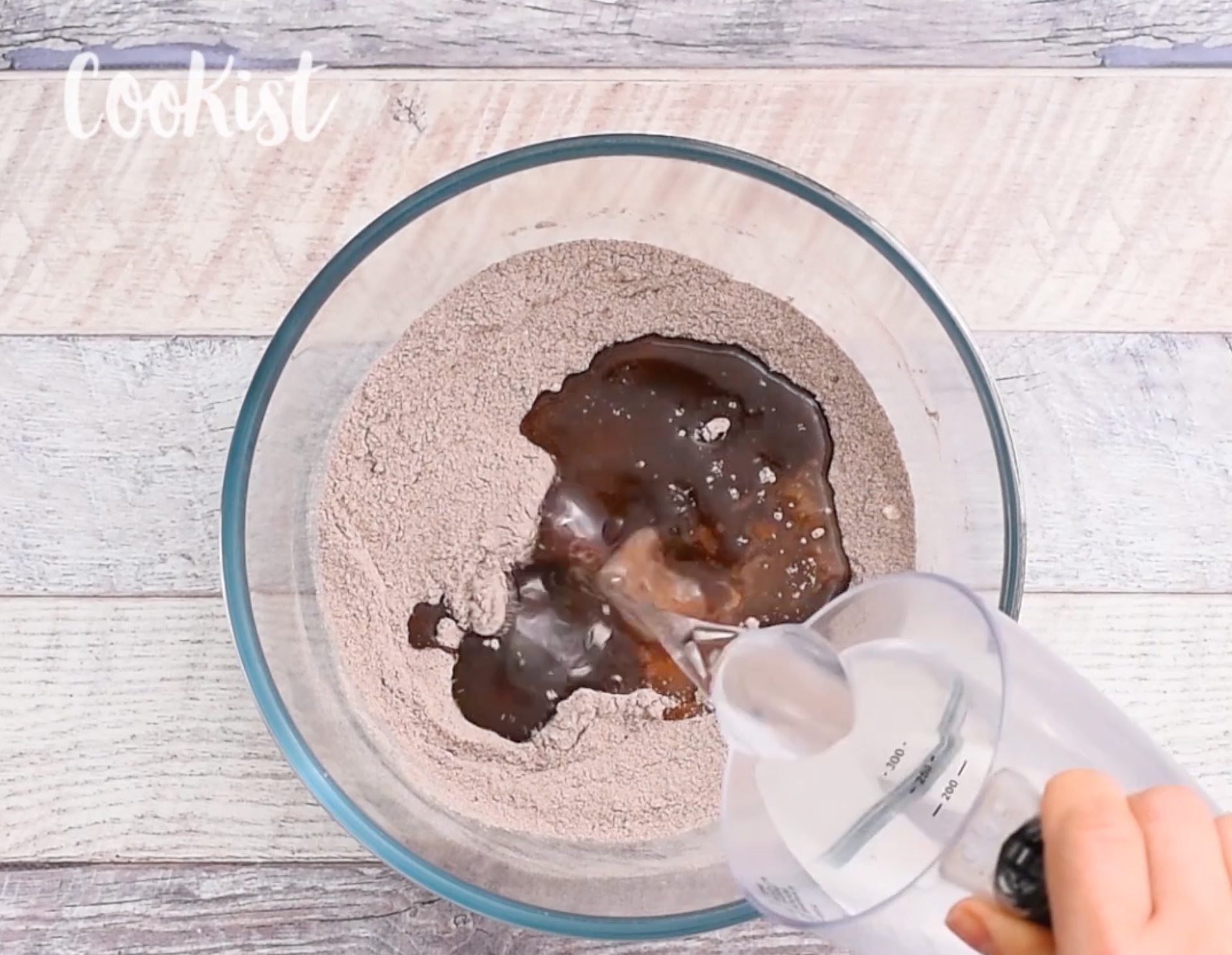 Whisk to combine well.
Pour the batter into a rectangular cake pan lined with parchment paper.
Bake in a 180°C oven for 25 minutes, until the center is set and a toothpick inserted into the middle comes out clean.
Use a chopstick to poke holes in the top of the cake.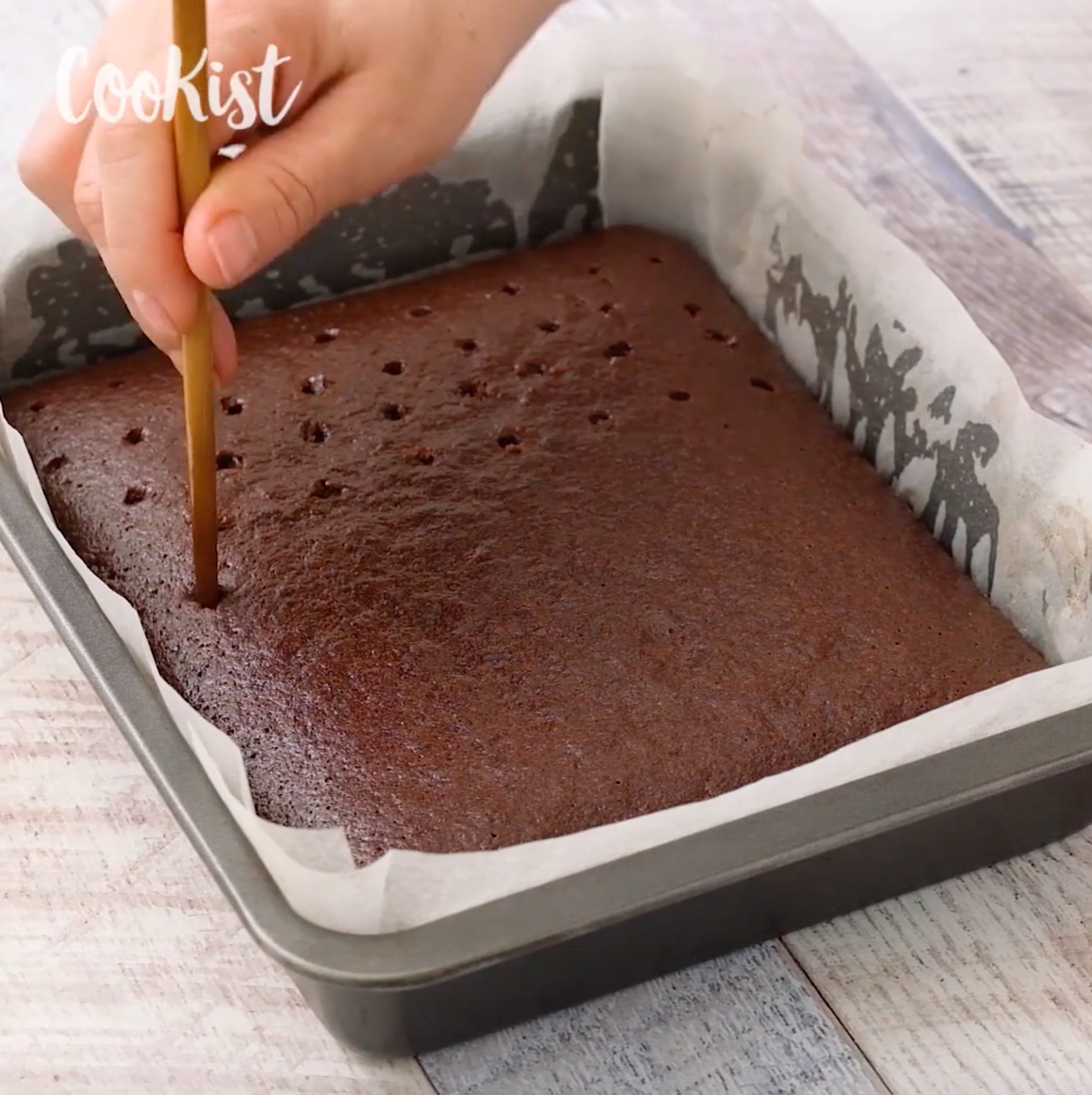 Measure out 80 ml of hot water in a liquid measuring cup.
Add in 2 tablespoons of white granulated sugar.
And ½ teaspoon vanilla extract.
Add 1 tablespoon of unsweetened cocoa powder.
Whisk the cocoa powder mixture together, and pour over the top of the cake, still in the cake pan. Let this sit for 1 hour. The cake will absorb the liquid as it cools.
Set a sieve over a bowl, and add 2 tablespoons of unsweetened cocoa powder.
And 450 grams of powdered sugar.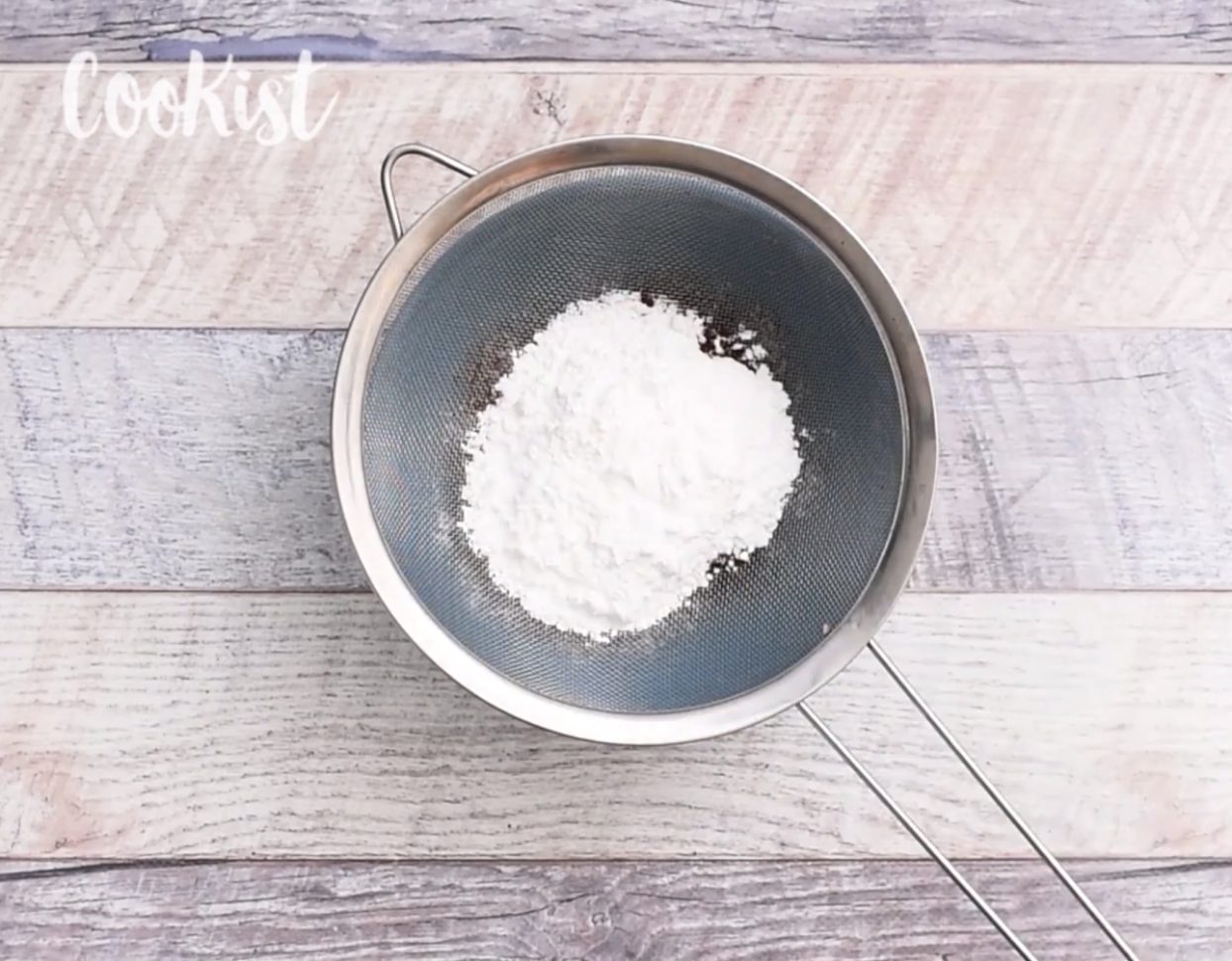 Sift the powdered sugar and cocoa powder into the bowl.
Add 240 grams of peanut butter to the bowl with the powdered sugar and cocoa powder.
Stir to combine thoroughly.
Remove the cake from the pan and spread with the peanut butter cocoa frosting.
Slice the cake into squares and enjoy!
How to Replace Butter in Chocolate Cake
This chocolate cake is just as moist and dense as any other, without any butter. We substitute butter with a few key ingredients. In the cake batter, you'll use canola oil in place of melted butter. And for a rich and creamy frosting way better than buttercream, use peanut butter, cocoa powder and powdered sugar to make a chocolate cake frosting without butter.
Plus there's a fudgy surprise inside of this butterless cake: a creamy cocoa syrup that you'll pour into the cake for extra moisture.
Cocoa Syrup for Chocolate Cake
The cocoa syrup itself is quite simple: just unsweetened cocoa powder, hot water, sugar and a dash of vanilla extract. Whisked together, it becomes a rich and sweet chocolate sauce.
Use a chopstick to poke holes in the cake while it's still warm, just out of the oven. Then drizzle the chocolate syrup all over the top of the cake. Let this sit for about an hour, and return to a dense, rich and fudgy chocolate cake–you won't miss the butter.
Three Ingredient Peanut Butter Frosting
The final step to this cake recipe is a quick three-ingredient frosting that uses peanut butter instead of dairy butter. All you need is cocoa powder, powdered sugar and your favorite jar of peanut butter. Mix everything together into a smooth, spreadable cream and frost your cake!
It's best to use creamy peanut butter for this frosting instead of chunky, for a smooth finish to your cake.