ingredients
Pork sausages

6

Slices of bacon

4

Onion

1, large

Potatoes

4, large

Parsley

1 bunch

Chicken broth

3 cups

Salt

• 1 kcal

Pepper
Calories refers to 100 gr of product
It is an Irish tradition to celebrate Saint Patrick day. Usually many people wear green. There are also people who prefer to cook something traditional from the Irish lands and if you are one of these, Dublin Coddles is for you. You can also cook it anytime but if you want a reason, Saint Patrick day could be the perfect occasion. As a traditional Irish food, this recipe's main ingredient is sausage. Choosing your favorites will make the result more satisfying and you can have it for lunch or dinner. It is suggested, if you invite some friends to eat this coddle, to prepare double the recipe, because they will ask for another portion for sure. Serve your Dublin coddle with some Irish soda bread, to make the meal more traditional or whatever you want. Either way you and your guests will enjoy it. 
Instructions
To begin prepare all the ingredients. Cut the sausages into large pieces and set aside. Peel and chop the onion and set aside. Now peel and cut the potatoes. The pieces should be medium size, but not necessarily uniform.
Set aside. Then cut the bacon slices into small squares and set aside. Chop the parsley finely. Set aside. Put a medium cooking pot on the heat. Add the onions, sausages, bacon and the parsley. Pour chicken broth enough to cover all the ingredients previously added. Proceed to season with salt and pepper to taste. Bring the mixture to a boil. When it begins to boil, proceed to incorporate the potatoes.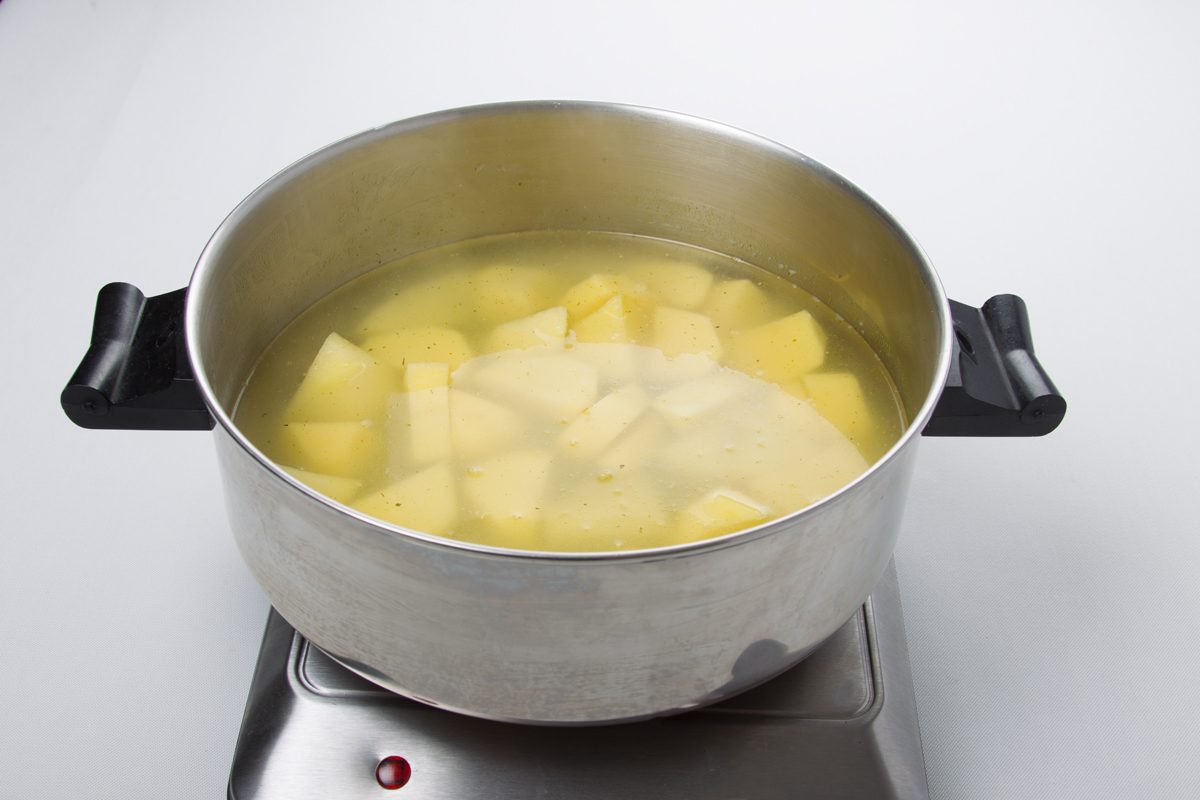 Add more water if it is necessary, to maintain all the ingredients submerged in the broth. Proceed to cover the cooking pot and keep on the fire until it boils again. Once it boils, turn heat on low. Cook for about 1 hour. Once everything is well cooked, remove from the heat. Allow to cool. When it is at room temperature, place it in the refrigerator and leave until the next day. When ready to serve, reheat your Dublin coddle. Serve it hot. It is suggested to garnish with chopped fresh parsley to taste.
Nutrition Facts
Nutrition Facts Servings: 4 Amount per serving   Calories 405 % Daily Value* Total Fat 16.1g 21% Saturated Fat 5.2g 26% Cholesterol 44mg 15% Sodium 721mg 31% Total Carbohydrate 48.1g 18% Dietary Fiber 8.3g 30% Total Sugars 6.5g   Protein 17.8g