ingredients
Potatoes

10 pounds, peeled and diced

Butter

½ cup

• 717 kcal

Heavy Cream

⅓ cup

Salt

1 tablespoon

• 1 kcal

White sugar

1 tablespoon

• 392 kcal

All-purpose flour

2 ½ cups
Calories refers to 100 gr of product
Norwegian potato lefse is often similar to naan or other potato breads, but with the addition of flour. Try it as a base for a savory meal or as a sweet snack with cinnamon and sugar.
What is Lefse?
Lefse is a traditional Norweign flatbread, always soft and comforting for those who've grown up with the bread. Lefse starts with a potato-based mixture, plus flour and is cooked on a griddle. Norwegian potato lefse is traditional to the culture and can be made differently depending on the specific region or family/historical ties. This recipe utilizes basic russet potatoes, plus butter, cream, salt, and sugar for a simple dough with few and inexpensive ingredients.
How to make basic Lefse
Basic lefse is made by first cooking potatoes just right.
After boiling until fork-tender, they're drained and dried before ricing in a potato ricer.  Then, add the butter, cream, salt, and sugar and beat well.
It becomes a dough after the addition of flour.
You'll make balls with the dough, then roll flat into about 1/8 inch thick.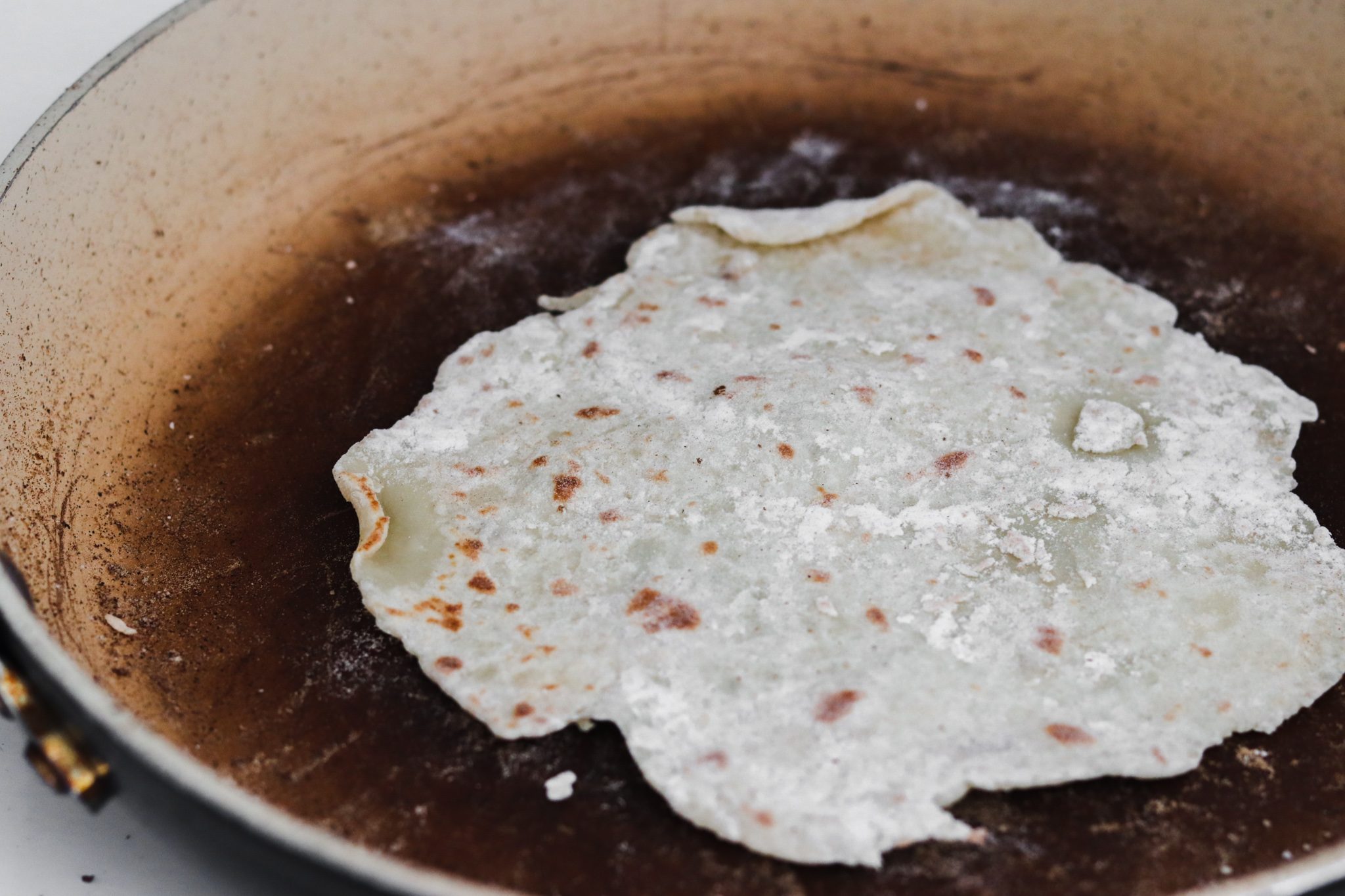 A hot griddle is necessary for a soft but well-cooked Norwegian lefse. They will be light brown and flighty bubbly when ready for flipping.
How to store homemade Lefse
Store this homemade Norweign lefse by sticking it in the fridge in an air-tight container. Place towels between each piece so they don't stick and stay dry. You can freeze the lefse in the same way.
Instructions
In a large pot, cover diced potatoes with cool water and cook until tender. Drain potatoes.
Run hot potatoes through a potato ricer and place in a large bowl.
Add butter, cream, salt, and sugar to the riced potatoes and beat. Let cool to room temperature.
Stir flour into the potato mixture. Pull off pieces of dough and form into small, pecan sized pieces, Lightly flour a pastry cloth and roll the pieces flat to ⅛ inch thickness.
Heat griddle to 400 degrees F.
Cook lefse on the hot griddle until bubbles form and each side is golden brown. Remove and place on a damp towel to cool slightly. Cover with a damp towel until ready to serve.
Notes
Any frying pan or griddle will do, as long as it's large enough for your rolled out dough.
If you don't have a potato ricer, just mash your potatoes with a potato masher like you would otherwise. A plain fork will work in a pinch, but make sure to eliminate every lump.