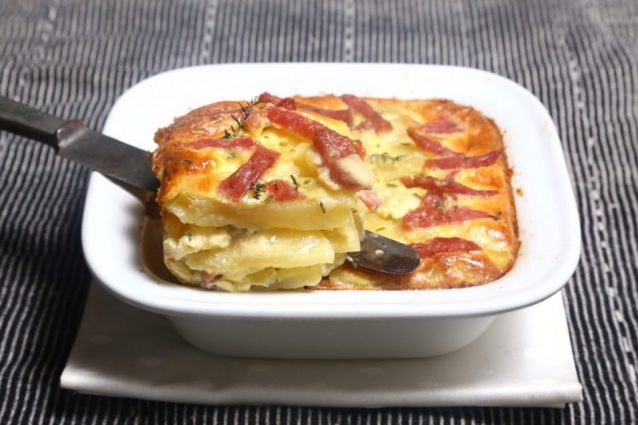 ingredients
Potatoes

800 grams (4 ½ cups)

Eggs

3

• 130 kcal

Fresh cream

100 grams (½ cup)

Grated Pecorino cheese

80 grams

Hungarian salami

80 grams

Breadcrumbs

as much as needed

Fresh thyme

3 springs

Extra virgin olive oil

as much as needed

salt to taste

Pepper to taste

Butter

as much as needed

• 717 kcal
Calories refers to 100 gr of product
The potato and salami pie is a simple and savory dish everyone loves. It's a very easy and versatile recipe which can be enriched with other cured meats, different types of cheese and vegetables. The sweetness of the potatoes goes perfectly with the strong taste of the grated pecorino cheese and the savory flavor of Hungarian salami, for a delicious and balanced dish. Baking in the oven creates a golden and irresistible crust that makes this pie crunchy on the outside and very soft on the inside. It's a dish appreciated by the whole family and perfect to serve as a main course with a side dish of vegetables. So let's find out how to prepare the potato and salami pie following our recipe step by step.
How to make Potato and Salami Pie
Peel the potatoes, cut them into thin slices and steam them for a few minutes (1).
Break the eggs into a bowl, beat them and then pour the cream (2).
Add the grated pecorino cheese (3) and then a pinch of salt and pepper.
Beat well with a hand whisk until you will get a homogeneous batter (4).
Grease an oven dish from about 20 cm on each side and then sprinkle it with a little breadcrumbs (5).
Arrange a layer of potatoes on the bottom of the pan (6).
Sprinkle with the egg and cream mixture (7).
Add the Hungarian salami, cut into strips, and some thyme leaves (8); continue in this way until all the ingredients will be used up, ending with the Hungarian salami and thyme.
Bake the pie at 180 degrees C and cook for about 30 minutes until golden brown. Then take the pie out of the oven and serve immediately (9). Enjoy!
How to store Potato and Salami Pie
The potato and salami pie can be stored in the refrigerator for 2 days, closed in a special airtight container.