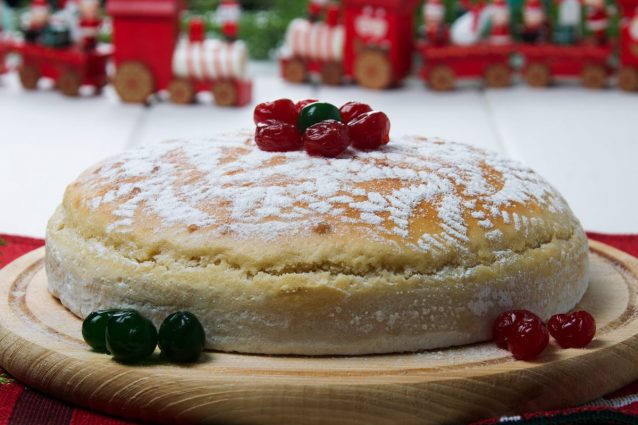 ingredients
Flour

3 cups

Cold butter

175 gr

Yeast

1 tbsp

Cream tartar

1 tsp

Brandy

1 tbsp

Milk

4 tbsps

• 49 kcal

Liquid vanilla

1 tbsp

Eggs

2 large

• 130 kcal

Icing sugar

1 1/4 cups

Egg

1 yolk

• 130 kcal

Coin

1 wrapped in aluminum foil (optional)
Calories refers to 100 gr of product
It is a traditional bread or cake in Greece that is eaten in the new year, and like the roscon de reyes, it contains inside a surprise (a coin). The legend says that St. Basil returned to the citizens of Caesarea the coins that had been taken from him by the enemy; As he (St. Basil) did not know how much the contribution of each family had been, he decided to randomly distribute sweetbreads with coins inside, and the miracle occurred when everyone received exactly what each one had contributed. Today the head of the house is the one who cuts the bread at midnight and the person who has the happiness of getting the coin in his piece of Vaselopita, will be considered blessed with very good fortune all year round. Let's see who will be the lucky one!
Mix half of the milk with the yeast and a teaspoon of sugar. Let it rest for fifteen minutes. In a large mixing bowl, sift all the wheat flour and mix it with the butter cut into cubes. Knead with your fingers until you get a mixture similar to breadcrumbs. In another bowl, smaller, mix the activated yeast, the tartar cream and the brandy. Then add the rest of the milk, the liquid vanilla, the eggs and the sugar. To integrate this mixture to the flour, to knead with smoothness and to mix with a spatula or the mixer, until obtaining a fine mass. Try not to knead it excessively because otherwise the butter can be undone in excess.
In a mold, lightly greased and floured put the dough and introduce the coin wrapped in aluminum foil. We introduce the mold in the oven (in the first slot starting from the base), which we have preheated to 180º beforehand. Bake about 30 or 35 minutes at 170º, until golden brown.
We remove, and we leave the sweet bread on a grate until it cools. Unmold and place on a tray. To decorate can sprinkle with confectioner's sugar. For this Vasilopita, we use a woven cloth and create a pattern with sugar.
Nutrition Facts Servings: 12 Amount per serving   Calories 292 % Daily Value* Total Fat 13.1g 17% Saturated Fat 7.8g 39% Cholesterol 79mg 26% Sodium 97mg 4% Total Carbohydrate 37.2g 14% Dietary Fiber 1.1g 4% Total Sugars 12.7g   Protein 5.2g