ingredients
potatoes, boiled and peeled

1 kg/2.2lbs

carrots, cooked

200 g/0.5lb

fresh or frozen peas

200 g/0.5lb

fresh or frozen green beans

200 g/0.5lb

Chopped Parsley

1/4 cup

Parmesan

100 g

eggs, beaten

3-4

Breadcrumbs

2 cups

Eggs

2

• 130 kcal

salt and pepper to taste
Calories refers to 100 gr of product
Who doesn't love a good vegetable croquette—crispy, crunchy, and full of veg! Veggie croquettes are a great way to use leftover vegetables and also an easy way to sneak in veggies for your kids. It's actually super versatile too. You can add almost any vegetable, and even meat. As long as you coat them with breadcrumbs and bake or fry.
The star ingredient in the veggie croquettes are the potatoes, but we also add carrots and peas. It's essentially a potato croquette with veggies! Feel free to use any other cooked vegetables you have on hand. For this recipe we fried them, but they are also delicious when baked in the oven!
Get ready for a delicious, satisfying veggie croquette: crispy on the outside, soft on the inside and with all the potato flavor you'd expect. Because they are so filling, they are great on their own, as a snack, or eaten as a side.
Instructions
Chop the carrots.
Quarter the peeled potatoes and add to a large bowl.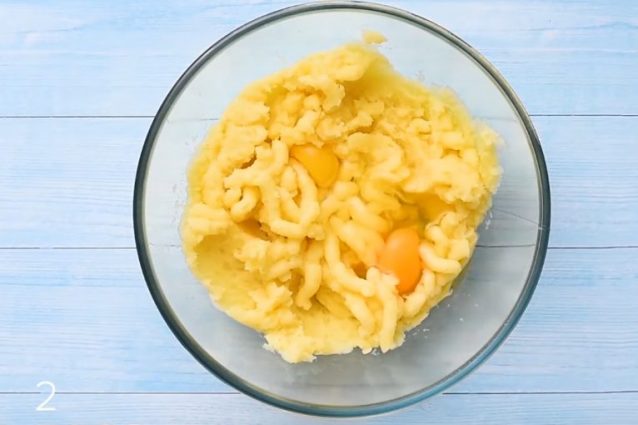 Use a potato masher to mash the potatoes. Add the two eggs.
Add salt, pepper, Parmesan, and the remaining ingredients.
Use your hands to form balls from the vegetable mix.
Add the balls to a baking tray lined with parchment paper.
Use the bottom of a glass to flatten the balls slightly.
Prepare a breading station with 3-4 beaten eggs and 2 cups of breadcrumbs.
Dip the vegetable croquette first in the beaten egg, then in the breadcrumbs.
Fry the vegetable croquettes until golden brown.
Recipe Notes
– Instead of potatoes, you can also use sweet potatoes. To cook them, you can either boil them on the stove or roast them in the oven.
– Serve these with your favorite sauce: garlic mayonnaise, ranch dressing, or sweet chili sauce.
– These vegetable croquettes are suitable for freezing. You can freeze them (for up to 3 months) either after forming the croquettes (before baking or frying) or after they are cooked. They can also be stored in the refrigerator for up to 5 days.
– To bake the veggie croquettes, place them on a baking tray lined with parchment paper and bake at 425°F/220°C for 15 minutes. Flip and bake another 5 minutes.
– These veggie croquettes are vegetarian, but if you're a meat eater, feel free to add some crispy chopped bacon, or smoked chicken morsels.
– To measure out equal amounts of batter, you can use an ice cream scoop.
– To make gooey, cheesy center, place small cubes of mozzarella in the middle of the croquettes.
– For a crispier crumb, use Panko breadcrumbs.
– To prevent sogginess when reheating the veggie croquettes, you can bake them in the oven. Place them on a baking tray lined with parchment paper, and bake at 400°F/200°C until heated through.