ingredients
Cake base

Chocolate biscuits

330 g (11.6 oz)

unsalted butter, melted

120 g (4.2 oz)

Milk

40 ml (1.4 fl.oz)

• 49 kcal

Cream for cakes

Whipped cream

380 ml (12.8 fl.oz)

Greek Yogurt

800 ml (27 fl.oz)

Condensed milk

250 ml (8.5 fl.oz)

Milk

300 ml (10.1 fl.oz)

• 49 kcal

Cocoa powder

70 g (2.5 oz)

vanilla sugar

30 g (1 oz)

Gelatin

25 g (0.9 oz)
Calories refers to 100 gr of product
If you don't have an oven and are looking for an easy dessert recipe, then we have just the right one for you. This Zebra Cake gets its name from the chocolate and vanilla web design (or black and white "stripes"). It looks complicated, but the pattern is actually very easy to make. You simply layer the chocolate and vanilla filling on top of each other, alternating between each other. (see more photos below). Want to impress you friends with a moist dessert? Then make the Zebra Cake!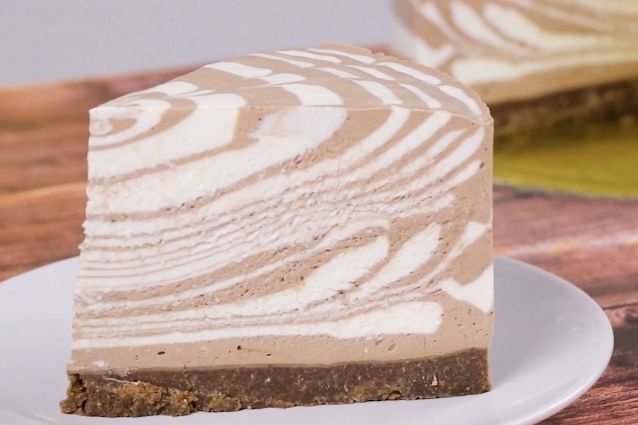 What Is Zebra Cake
While the Zebra Cake gets its name from the zebra with its black and white stripes, it can actually be any color. This recipe is chocolate and vanilla, but you also get other recipes made with raspberry or strawberry, which makes pink and white stripes.
How to Make Two Colors from One Batter
The Zebra Cake is quite impressive with its complicated looking web design. But your guests won't know how easy it actually is! You simply make one batter and divide them in two. You add the cocoa powder to one half, and vanilla to the other half. You then simply add the batter to the cookie base, one spoonful at a time, alternating between the two different colors.
What frosting to use for Zebra Cake
Because the filling is quite rich and heavy (not to mention sweet), it's good to add a tart topping. Use a lemon curd or make your own raspberry jelly: Simply 1 teaspoon gelatin powder in dissolve 1 tablespoon water, and allow to sit for 5 minutes. In the meanwhile, boil 5oz of raspberries in 2 tablespoons of sugar, and cook for 2 minutes. Sieve the strawberries and add the gelatin. Smooth over the refrigerated cake and return to the refrigerator to set another few hours.
Instructions
Add the melted butter to the crushed biscuits and stir. Add the milk and stir until all the ingredients are combined. Add the biscuit mixture into the cake pan, and use a rubber spatula to press to form a base. Cover with plastic wrap and set aside.
Add the condensed milk to the Greek yogurt and whisk to combine.
Stir the gelatin into the milk, leave it to swell for 10 minutes, then heat.
Whisk together the condensed milk mixture and the gelatin mixture. Whisk the cream to form peaks. Add to the condensed milk and gelatin mixture and mix through.
Add cocoa powder to half of the cream and vanilla sugar to the other half. Mix through.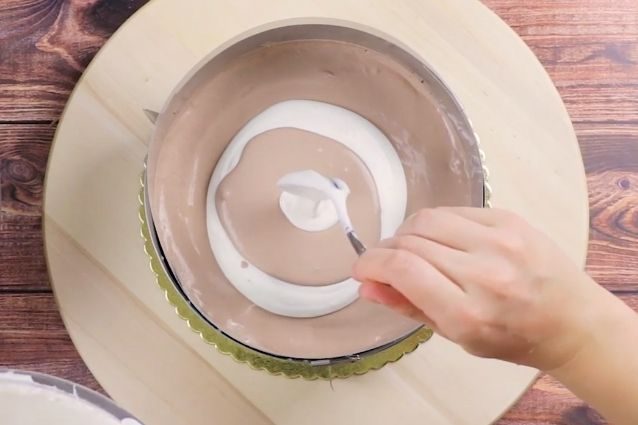 Add a bit of the cocoa mixture on the cookie base. Add a small amount of the vanilla mixture. Continue to add the two mixtures by alternating between cocoa and vanilla.
Use a wooden skewer to add a web pattern.
Refrigerate for at least 4 hours.
Recipe Tips and Notes
The Zebra Cake can be stored in the refrigerator for up to 5 days. It's not suitable for freezing.