ingredients
Flour

500 g (4 cups)

water, room temperature

60 ml (4 tbsp)

Yeast

14 g

Fine salt

12 g (2 tsp)

Tomato sauce

2 tbsp

Olive oil

50 ml (3 tbsp)

Garlic powder

3 g (1 tsp)

Oregano

2 g (2 tsp)

Parmesan

Basil leaves
Whether you're looking for a tasty snack, a quick lunch, or a guest-pleasing appetizer for a party—these easy Air Fryer Mini Pizzas are just what you need. The homemade dough is packed with flavor, while the topping of tomato sauce, herbs, and parmesan adds just the right amount of pizza flavor you'd expect from a traditional pizza. Best of all, these mini pizzas are made in the air fryer, which means less time spent behind a hot oven.
They're easy to customize as you want, so make sure to check out our yummy tips below! We even have a few more shortcuts… your guests will never know how easy these delicious bites were to make!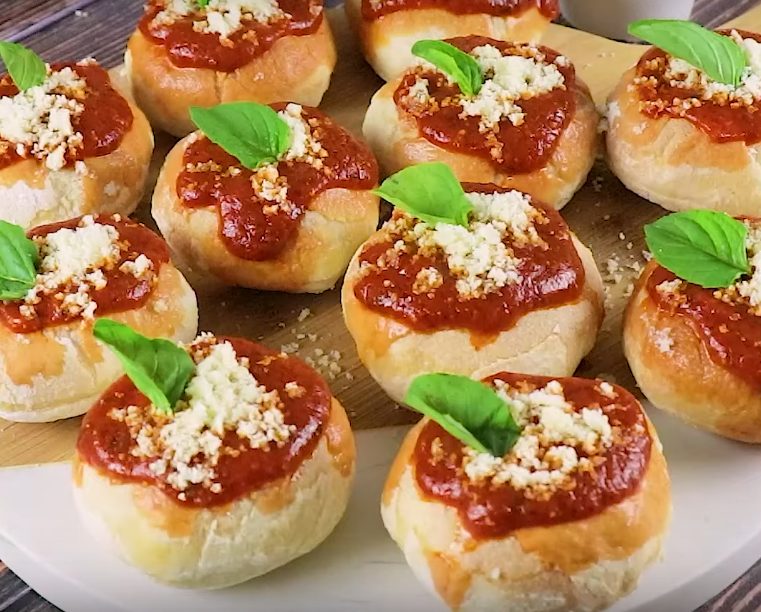 Mini Pizza Ingredients
Dough ingredients – for this recipe, you only need flour, yeast, salt, and water for the dough. A few simple ingredients to make a flavorful dough!
Tomato sauce – use store-bought or make your own (see below for a homemade recipe).
Parmesan – adds a nice cheesy flavor without being too rich.
Herbs – can you even call it a pizza without fresh basil? Feel free to add additional oregano for added flavor.
How To Make Air Fryer Mini Pizzas
The exact cooking time will depend on the size of your mini pizzas. Preheat the Airfryer to 400°F. Cook the pizzas for about 5-7 minutes until they are nice and golden, and fully cooked through.
Tips For Making Easy Air Fryer Pizza
It's well worth making your own dough for these mini pizzas, but you can easily substitute it with store-bought dough. Canned biscuit dough (Pillsbury or Grands) will work, as will premade pizza bases (look in the frozen food aisle for these).
To make your own homemade pizza sauce, cook together: 1 can chopped tomato, 1 tbsp olive oil, 2 crushed garlic cloves, 2 tbsp tomato paste, 3 tbsp fresh basil, 2 tsp dried oregano (or 2 tbsp fresh oregano), salt and pepper to taste. If the sauce is a bit too acidic to your taste, you can add a tsp of sugar.
Mini Pizza Topping Ideas
These mini pizzas are made without meat, but feel free to add some for your carnivorous friends: pepperoni, ham, cooked bacon, or Italian sausage will all work.
Add mozzarella cheese (or any other pizza cheese blend) for a traditional cheesy pizza.
Other delicious additions include olives, bell peppers, pineapple, sliced mushrooms, smoked chicken, basil pesto, sundried tomato, and fresh herbs.
How To Store Air Fryer Mini Pizzas
Store the leftover mini pizzas in an airtight container (in the fridge) for up to 3 days. Reheat them in the Airfryer (to maintain crispiness) for 2 minutes at 350°F. You can also warm them in the microwave for 30 seconds. Just note they won't be as crispy!
More Recipes You'll Like
Air Fryer Bacon Wrapped Scallops
Instructions 
Place the yeast in a small bowl and add warm water. Whisk to combine.
Working in another large mixing bowl, add the flour, salt, whisked yeast, and a little bit of water (just enough to form a sticky dough). Knead until smooth and slightly sticky.
Transfer the dough to a floured work surface and place, then place in a bowl and cover to rise.
After 15 minutes, transfer the dough to the work surface and return it to the bowl, and cover for another 15 minutes. Divide the dough into two parts.
Flour your bench and spread the dough out in two large circles.
Leave the dough circles on the work surface for about 8 hours, when bubbles start to form, it is ready.
Brush a cookie/biscuit cutter (or glass rim) with a bit of oil, and use it to cut rounds from the dough.
Place the dough rounds into the Airfryer basket, close at cook for 5-7 minutes at 400°F.
Meanwhile, cook the tomato sauce with herbs and spices.
Add a spoonful of sauce on each dough bun once baked.
Sprinkle with parmesan.
Add a few basil leaves to garnish and enjoy!
Notes
To make sure the dough doesn't stick to the Airfryer basket, you can brush it with a bit of oil or melted butter.