ingredients
sweetened coconut flakes

1 14-ounce bag

semi-sweet chocolate chips

2 cups

lightly salted almonds, chopped

2/3 cup

Condensed milk

1 14-ounce can
If you're a coconut lover, you need to jump into your kitchen and make a batch of mouthwatering almond joy cookies. Their name comes from their similarity to the Almond Joy candy bar. These amazing cookies only call for 4 ingredients, making them a perfect last-minute treat you can throw together in under 20 minutes. All you need are coconut flakes, chocolate chips, almonds, and condensed milk – no flour, butter, eggs, or oil here! A little soft, a little crunchy, with the perfect amount of sweetness, they're a naturally gluten-free treat that are perfect for snack time or with a cup of tea in the afternoon.
How to Make Almond Joy Cookies
Making almond joy cookies is a cinch. Grab a large bowl and stir the ingredients together to form a dough. Scoop out the dough onto a baking sheet lined with parchment paper then pop it into a preheated oven until the edges of the cookies begin to turn golden brown. This should take 12 to 14 minutes, depending on your oven. Take them out of the oven and leave them to cool before tucking in.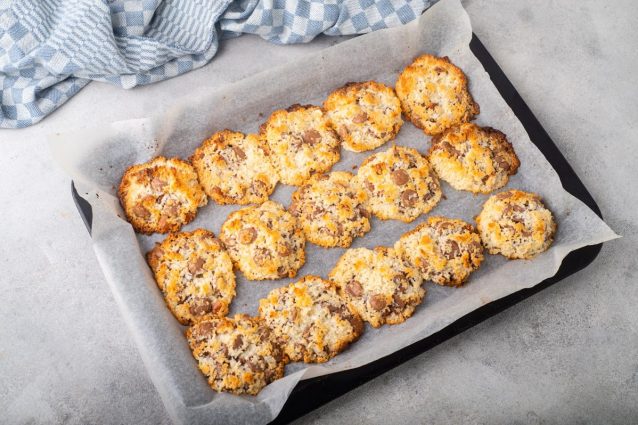 Expert Tips for Making the Best Homemade Almond Joy Cookies
– To make vegan almond joy cookies, use sweetened coconut milk or coconut cream instead of evaporated milk and swap in vegan chocolate chips for regular. For healthier almond joy cookies, use unsweetened coconut flakes and dark chocolate instead of semi-sweet.
– To make no-bake almond joy cookies, you'll need to make a few tweaks to the recipe. Melt 4 tablespoons of butter, then whisk in 1 cup of powdered sugar, 1 cup of coconut, and a dash of salt. Roll the dough into balls and press an almond into each ball. Refrigerate the cookies for at least 2 hours, and enjoy!
– If you don't have condensed milk, combine milk powder, sugar, butter, and water to make a simple substitute.
– Make delicious gluten-free almond joy cookies with almond flour. Add ¼ cup of almond flour to the dough and follow the recipe as written below.
Almond Joy Cookie Variations to Try
There are so many fantastic variations of almond joy cookies to make. Melt a little chocolate and drizzle it over your cookies for even more chocolatey goodness. Or try a little salted caramel. Add in some toasted chopped pecans or stir in a combination of milk and dark chocolate chips.
How to Store 4-Ingredient Almond Joy Cookies
Keep your almond joy cookies their freshest by storing them in an airtight container at room temperature for up to 1 week.
Can I Freeze Almond Joy Cookies?
Absolutely! To freeze almond joy cookies, pop them in a freezer-safe bag and enjoy them within 6 months.
Instructions
Preheat your oven to 325F. Line a baking tray with parchment paper.
Combine coconut and condensed milk.
Add in chocolate chips.
Add in chopped almonds, stirring until well mixed.
Scoop the dough out into balls and arrange them on the baking tray.
Dampen your fingertips and shape the balls into discs.
Bake the cookies for 12 to 14 minutes or until the coconut flakes begin to brown.
Transfer the cookies to a cooling rack.
Notes
Use an ice cream scooper to scoop out the dough. This will give you evenly sized cookies.