ingredients
Flour type 00

500 gr

Milk

240 gr

• 49 kcal

Granulated sugar

50 gr

Lard

30 gr

• 982 kcal

Fresh brewer's yeast

12 grams (almost 1 cup)

Eggs

1

• 130 kcal

egg yolk

1

Powdered sugar

to taste
For the stuffing

Cow's milk ricotta cheese

350 gr

Granulated sugar

80 gr

Dark chocolate chips

50 gr
Calories refers to 100 gr of product
Baked iris are an equally delicious variant of the Sicilian desserts with the same name. Typical of the Palermo tradition, in particular, these desserts of leavened dough crowd the windows of every pastry shop and deli of Palermo city, and resisting them is practically impossible. In this version there is a difference with the original recipe, in fact these types of iris do not have external breading and they are baked in the oven instead of fried in boiling oil. Inside they welcome a delicate cream based on cow's milk ricotta cheese (which you can replace with sheep's milk ricotta cheese, for a more authentic flavor), sugar and chocolate chips. A delicacy that is simple to prepare and that is also light, ideal to be enjoyed in the morning, as a delicious breakfast to combine with a cappuccino or a coffee slush, or to be served at the end of a meal for a Sunday family lunch. So let's find out how to prepare them by following our recipe step by step.
How to make baked chocolate iris
Collect the flour, sugar and egg in the bowl of a planetary mixer. Dissolve the fresh brewer's yeast in the warm milk, pour it over the other ingredients  and begin to mix; add the lard and continue to knead until the mixture will be firm and homogeneous.
Shape it into a ball and transfer it to a bowl, then cover it with a sheet of cling film and let it rise in a protected place for about an hour.
Collect the well-drained cow's milk ricotta cheese in a bowl, add the sugar and mix, then also incorporate the chocolate chips (taken cold from the refrigerator). Store in a cool place and let it rest for at least half an hour.
After the rising time will be elapsed, resume the dough and make portions of about 50-60 grams each. Then make them round forming some small balls and arrange them on a lightly floured surface. Cover them with a cloth and let them rest for half an hour.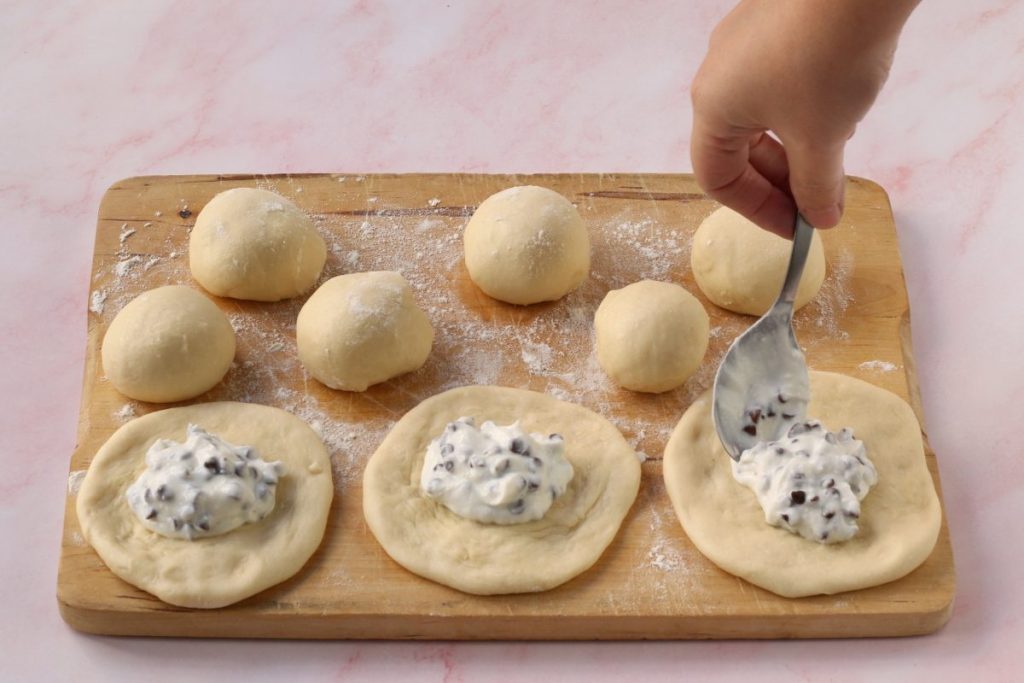 Crush the small balls by spreading them with your fingertips and spread a generous spoonful of filling in the center, then close them by pinching the dough as if it were a bag.
Seal each small ball well, rotate it and arrange it on a baking sheet lined with parchment paper, taking care to place the pinched part down in contact with the paper. Cover the irises with a cloth and let them rise for another 30 minutes.
Beat the egg yolk with a drop of milk and brush this mixture on the surface of the irises. Then, bake the irises in a static oven at 180 degrees C for about 20 minutes, monitoring the level of browning.
Once cooked, take the irises out of the oven and let them cool for a few minutes. Sprinkle them with a little powdered sugar and serve them.
How to store Iris
Baked iris can be preserved at room temperature for a maximum of 1 day, or in the refrigerator, closed in a special hermetically sealed container, for 2-3 days. At the moment of eating them, heat them for a few minutes in the oven.