ingredients
Rigatoni

400 grams

Broccoli

700 grams

Fresh ricotta cheese

200 grams (⅗ cup)

Scamorza cheese

200 grams

Bacon

150 grams, in cube

White onion

1

Extra virgin olive oil

as much as is needed

Salt

as much as is needed

• 1 kcal

Pepper

as much as is needed
Calories refers to 100 gr of product
Baked pasta with broccoli, bacon and scamorza cheese is a rich and sumptuous dish, perfect for a Sunday lunch with the family or for special occasions. This is the white version of the classic baked pasta with tomato sauce, béchamel and mozzarella cheese, one of those classic childhood memories. In our version, the creaminess of the broccoli combines with the delicacy of the ricotta cheese and the sapidity of the bacon, creating an ideal sauce for pasta. Baking in the oven will make the preparation tasty, golden and irresistibly gratinéed, a delicacy that will conquer adults and children and also  a winning idea for letting your children eat vegetables too. So let's find out how to prepare it by following our simple and quick recipe step by step, and serve it as a first course or main course of a quicker meal followed by a simple side dish of vegetables.
How to prepare baked pasta with broccoli, bacon and scamorza cheese
Clean the broccoli and cut the florets. Collect them in a saucepan with high sides, cover them with cold water (1) and then boil them for 10-12 minutes starting from boiling.
In a non-stick pan, sauté the chopped onion with a drizzle of oil, add the bacon (2) and brown it well.
When the bacon will be golden brown, add the boiled broccoli (3) and let them flavor for about ten minutes. Then season with salt and pepper.
Bring plenty of salted water to a boil in a saucepan, then pour the pasta (4) and boil it al dente.
Once cooked, drain the pasta, add it to the broccoli and mix (5).
In another bowl, dilute the ricotta with ½  glass of the pasta cooking water (6).
Add ricotta cheese and scamorza cheese, cut into cubes (7), to the pasta with the broccoli.
Pour the pasta (8) into a lightly oiled ceramic dish and then bake it at 180 degrees C for about 20 minutes.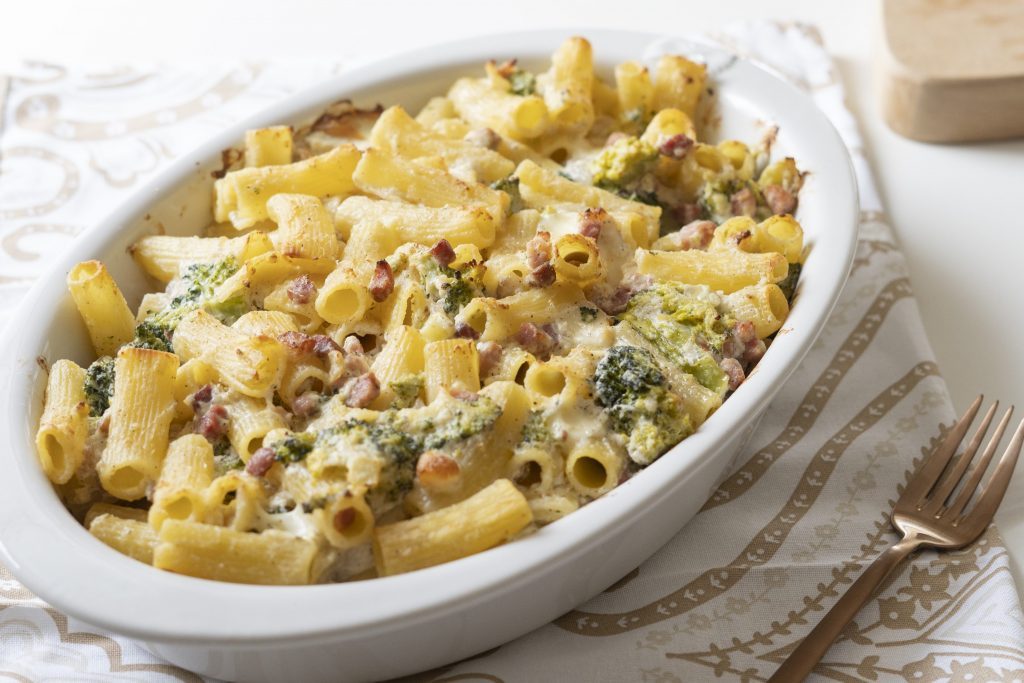 After the baking time has elapsed, take the pasta out of the oven and serve it hot (9).
How to store baked pasta with broccolo, bacon and scamorza cheese
Baked pasta with broccoli, bacon and scamorza cheese can be preserved in an airtight container for a couple of days in the refrigerator. At the time of eating, reheat it in the oven or microwave oven.