These easy banana pancake bites are great for serving at breakfast or even as a snack. Small rounds of banana are baked in a pancake batter, sprinkled with powdered sugar, and drizzled with hazelnut cream. The results? Miniature, small pancakes that are light and fluffy, and melt in your mouth.
With no expensive ingredients (flour, ripe bananas, sugar, milk, and egg), you can have a delicious, sweet breakfast on the table in no time. Just whip up your batter, dip the banana rounds, and baked until golden. It's a family favorite and is especially popular with the kids. It's also a great way to get them to eat more fruit!
Tips For Easy Banana Pancake Bites
Don't make your pan too hot, otherwise, the pancakes will brown too quickly (or even burn) before they're cooked through.
You can use almond flour instead of wheat flour, just make sure to use the superfine variety. The pancakes might just be more dense.
These are a perfect snack for toddlers, if you want to feed them to babies (who are already eating solid foods), remember to mash them up first.
To make them healthier, you can reduce the sugar or use a sugar alternative.
Serving suggestions:
Serve with maple syrup or golden syrupServe with fresh berries and whipped creamServe with lemon curd and blueberries
To make these keto, use almond flour, keto-friendly sweetener instead of sugar, and pumpkin puree instead of banana rounds.
instead of banana rounds, you can chop the banana finely and gently mix it into the batter (don't overmix). Alternatively, use blueberries or strawberries. If you want to make them sweeter, add white or semisweet chocolate chips.
How To Store Banana Pancake Bites
Leftover pancake bites can be stored in the refrigerator, in an airtight container, for up to one week. 
You can also freeze them. Place the small pancake bites pancakes in a Ziploc bag and store them in the freezer for up to 6 months. Allow to thaw them completely, then reheat. You can either reheat them in the microwave or in a skillet.
How To Make Banana Pancake Bites
Slice the peeled bananas into small rounds.
Slice the peeled bananas into small rounds.
Whisk flour with baking powder, salt and sugar.
Add egg and milk. Whisk to combine.
Whisk flour with baking powder, salt and sugar.
Using a fork, dip banana slices into the batter to coat evenly.
Cook for 2 minutes on both sides or until golden and cooked through.
Add egg and milk. Whisk to combine.
Flip halfway cooking.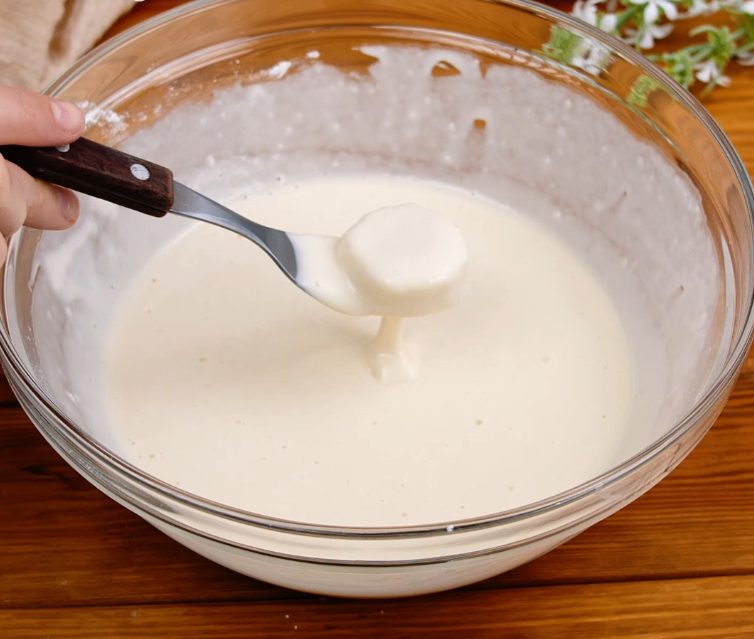 Sprinkle it with powdered sugar and drizzle with Nutella.
Notes
You can also make these easy banana pancake bites in a miniature muffin tin. Place the banana rounds in the muffin holes, top with the batter, and bake at 350°F for 15 minutes until cooked through. It's perfect for times when you want to make pancake bites for a large crowd.