ingredients
biscuits, crushed

200 g (7oz)

Melted butter

80 g (1/3 cup)

blueberries, fresh or frozen

300 g (10.5oz)

Cream Cheese

450 g (2 cups)

Heavy Cream

160 ml (2/3 cup)

Powdered sugar

125 g (1 cup)

Sugar

25 g (2 tbsp)

• 470 kcal

lemon juice (juice from one half a lemon)

1 tbsp

Gelatin powder

10 g (about 1 tbsp)

Water

50 ml (3 tbsp + 1 tsp)

Vanilla Extract

1 tsp

blueberries, fresh on top

150 g
Calories refers to 100 gr of product
There's definitely a time and place for warm baked cheesecakes. But in summer, no-bake desserts are just the thing you need to cool off. Unlike baked cheesecakes that are often cumbersome to make, this no-baked Blueberry Cheesecake is super easy to make. Crushed biscuits and butter make a quick and crunchy crust, while the filling is blended to create a smooth and creamy texture. The blended blueberries create a deep blue color in this cheesecake, so it's a real show stopper. This summer, this will be the only recipe you need. A beautiful Blueberry Cheesecake with all the blueberry flavor!
How Not To Crack My Cheesecake
Cracked cheesecake will be one thing you don't need to worry about with this recipe. Because it's a no-bake dessert, you don't need to worry about cracks appearing during the baking process, cracks usually appear in baked cheesecakes. When you whisk the mixture at a high speed, you are incorporating too much air into the batter. This air contracts during the baking process, causing the dreaded crack which is all too common with cheesecakes. Fortunately, this wont happen with this cheesecake!
How To Make Blueberry Sauce 
The simple blueberry sauce is the secret behind the intense blue color of the Blueberry Cheesecake. Blueberries are simply boiled with sugar and lemon juice. It's then boiled until the mixture thickens.
Tips 
The Blueberry Cheesecake can be stored in the refrigerator (in an airtight container) for up to 5 days. Or you can store it in the freezer (in an airtight container). You can even serve it frozen too! Add the fresh blueberries before serving.
How to make blueberry cheesecake
Add the melted butter to a small bowl, and mix in crushed biscuits.
Transfer the crumb mixture to a springform pan and refrigerate it for at least 1 hour.
Add the blueberries to a small saucepan over medium heat. Add sugar and lemon juice.
Once all the sugar has dissolved, blend the blueberries with a stick blender. Allow to cool.
Add the gelatin to the water and allow to sit for a few minutes.
In a large bowl beat together the cream cheese with powdered sugar, heavy cream, vanilla extract.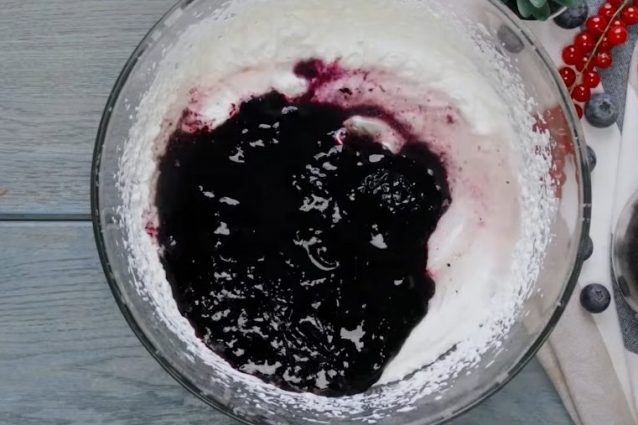 Add the cooled blueberry mixture and mix well.
Add in gelatin and whisk together.
Transfer the mixture to a springform pan.
Use a rubber spatula to smooth the surface. Refrigerate for at least two hours (or overnight).
Decorate with blueberries and flowers.
Recipe Notes
– If you can only find gelatin sheets in your local supermarket, you can still make this recipe. Simply substitute the 4 sheets of gelatin for 1 Tbsp powdered gelatin. Don't let the gelatin sit for too long, it will become more solid as time goes by. So work quickly, and get your cheesecake in the fridge as soon as possible.
– It's important to let the ingredients warm up to room temperature, this will ensure a smooth and silky cheesecake.