ingredients
Plaice fillets

8

Eggs

2

• 130 kcal

Milk

40 ml (⅕ cup)

• 49 kcal

Flour

80 grams (⅗ cup)

Breadcrumbs

80 grams (¾ cup)

Butter

as much as is needed

• 717 kcal

Salt

as much as is needed

• 1 kcal
Calories refers to 100 gr of product
The breaded plaice is a second dish that is very easy to prepare and super tasty. Available in convenient fresh and frozen fillets, this fish, particularly popular with children, is characterized by a delicate flavor. Crunchy on the outside and very soft on the inside, thanks to the rich breading and cooking in the pan, it is perfect for making any summer lunch and dinner special. Served with a delicious portion of chips, they will delight the little ones of the house.
How to prepare breaded plaice
Clean the plaice, making sure there are no residual bones (1).
Beat the eggs with the milk (2).
Pass the plaice fillets in the flour and then in the egg mixture (3).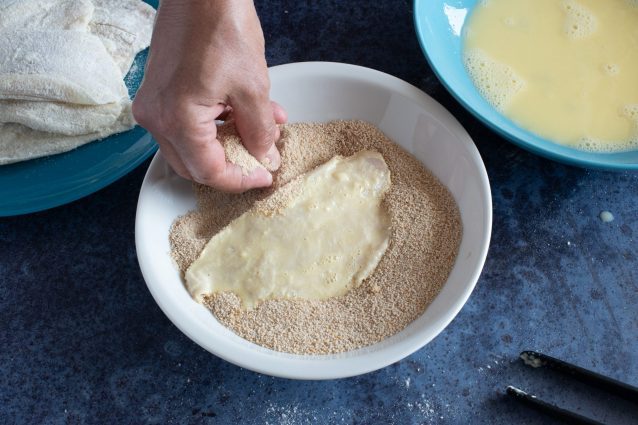 Drain the fillets and then bread them with the breadcrumbs (4).
Melt a generous knob of butter in a pan; when it is hot, arrange the fish fillets (5) and brown them on both sides, turning them gently with a spatula to prevent them from flaking.
Once golden brown, drain the fillets and let them dry on absorbent kitchen paper. Season with a pinch of salt and some aromatic herbs as you wish and serve hot (6).
Preservation
Breaded plaice can be preserved in the refrigerator for a maximum of 1-2 days, closed in a special container with an airtight seal. However, it is advisable to prepare this fast dish and consume it hot at the moment.