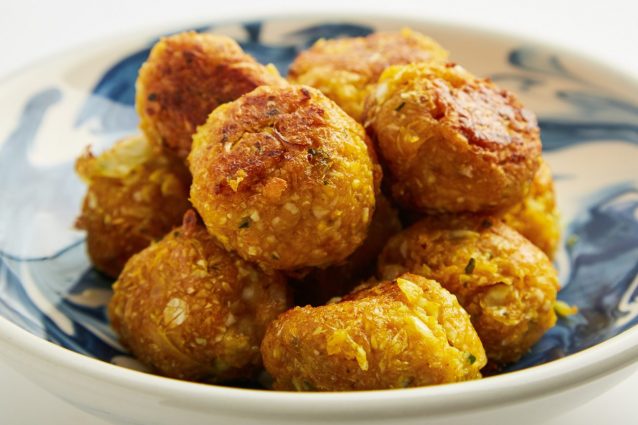 ingredients
Cabbage

½  , grated or finely shredded

Salt

1/8 tsp

• 1 kcal

Red chili powder

¼ tsp

Turmeric powder

¼ tsp

ground coriander

1 tsp

ginger paste

1 tsp

A handful of chopped coriander leaves

Greek Yogurt

1 tbsp

(chickpea) flour

1 cup of gram

Oil for frying
Calories refers to 100 gr of product
These round and crispy cabbage koftas are the perfect vegetarian or vegan snack. They are full of the flavors of cabbage, turmeric, coriander, ginger, and red chili powder. These spices give the koftas a real spicy and warming kick, and shallow frying them makes them crisp and delicious.
Koftas are sometimes cooked in what's called an 'appe pan' which has individual round holes to fry the koftas in, but you can cook them in a regular skillet or frying pan too.
Instructions
Grate the cabbage or blitz it in a food processor until it is finely shredded. Put the cabbage in a bowl with chopped coriander leaves, red chili powder, turmeric powder, coriander powder, yogurt, ginger paste, and salt.
Mix the ingredients together well, and set aside for 30 minutes. Add the gram flour and mix well.
Make small balls of the mixture by rolling them between your palms. Continue until the mixture has been used up. Try to keep the balls the same size so that they will cook evenly.
Heat your appe pan or skillet on medium heat, and add some oil. Fry the kofta balls on low to medium, constantly turning them as they brown.
They burn quite easily, so keep the flame low until they are golden brown and crisp all over.