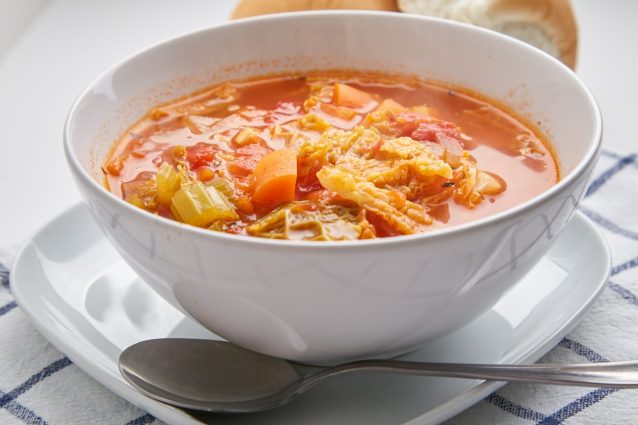 ingredients
Olive oil

3 tablespoons

yellow onion

1/2 , chopped

Cloves Garlic

2, minced

chicken or vegetable broth

8 cups

Salt

1 teaspoon

• 1 kcal

Dried thyme

1/2 teaspoon

black pepper or to taste

1/2 teaspoon

Cabbage

1/2 head , chopped in 1 1/2" chunks

Carrots

4 , peeled and chopped

Celery

2 stalks , sliced thinly

stewed tomatoes

14.5 ounces
Calories refers to 100 gr of product
You may have an idea that cabbage soup is rather bland and tasteless, but wait until you try this recipe!
This is a cabbage soup that is bursting with flavor and packed with veggies – it's low calorie and very economical too.
Cabbage is simmered with tomatoes, carrots, celery, garlic, and chicken broth for 30 minutes, which brings out all the flavors wonderfully. This is a chunky soup, so is very satisfying on a cold day with a hunk of crusty bread. This recipe makes enough to feed a crowd, or for you to keep for another day.
Instructions
Chop the vegetables.
Add the olive oil to a large pot over medium heat. Add in the onions and garlic, and cook until the onions are soft and transparent – about 3-5 minutes.
Add in the broth, salt, pepper, cabbage, carrots, celery, and tomatoes and simmer for 30 minutes.
It's as simple as that!
Notes:
Experiment with the veggies – try adding bell peppers, broccoli, kale, spinach or green beans. If you are going to add leafy greens like spinach, add a few minutes before the cooking time is up or they will go unpleasantly mushy.
You could also add chopped chicken or cooked minced beef to the soup for protein. Or you could add rice or cubed potatoes. If you want a vegetarian or vegan option, use vegetable broth and add white beans or cubed extra firm tofu.
For a spicy kick, add a spoonful of hot sauce or red pepper flakes to the soup.
To save time, use frozen veggies and shredded cabbage.