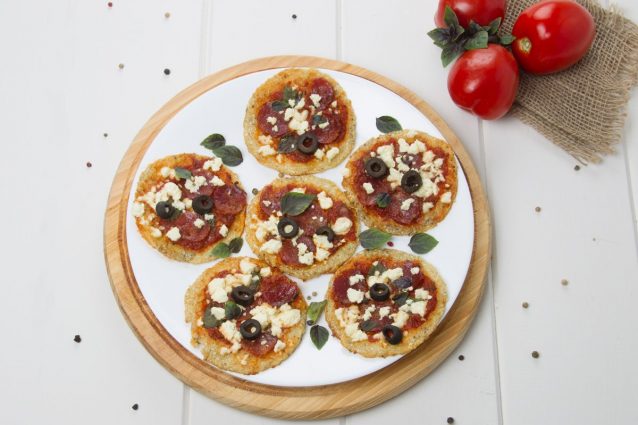 ingredients
Cauliflower

1

Large egg

1

Mozzarella cheese

1/3 cups

Grated Parmesan

2 tbsp

Dried basil

1 tsp

Garlic powder

1/2 tsp

Onion powder

1/4 tsp

Dried oregano

1/2 tsp

Kosher Salt

Black pepper

Marinara sauce

1/3 cup

Mozzarella cheese

1/2 cup, crushed

Pepperoni minis

1/4 cup

Basil leaves

2 tbsps
Pizzas will be always pizzas. Almost everybody eats pizza either for lunch or dinner, for meetings and parties. There are combinations for every tasty and they are all delicious. You only need to think about what you want on a pizza and ask for it in your favorite pizzeria or prepare it by yourself, giving it the special flavor provided for a homemade dish, and adding exotic ingredients and combinations you maybe cannot find at your pizzeria. One of the variations could be in the dough you use to make your pizza, and this recipe provides to you an interesting touch to make your pizza different, and the presentations allows you to prepare them as a snack for any meeting or party.
Instructions
Preheat the oven to 220°C / 425°F. Cover a baking tray, appropriate for pizza, with wax paper. Now take a large microwave bowl and proceed to make the cauliflower dough. Scratch the cauliflower finely and add to the bowl.
Softens the cauliflower using the microwave. To do this, superficially cover the bowl and introduce in the microwave for about 4 or 5 minutes. Retire the bowl from the microwave and let the cauliflower cool. Drain the cooked cauliflower very well. Dismiss as much liquid as possible. Put the cauliflower in a large bowl and proceed to add the egg, mozzarella cheese, Parmesan cheese, basil, oregano, garlic powder and onion powder.
Stir all ingredients until they are well mixed, seasoning with salt and pepper to taste. Now pour the cauliflower mixture on the baking tray, with the help of an ice-cream spoon, until you have used all the dough, taking care on the pizzas shape. Using a cooking spray, sprinkle the pizzas with a little oil. Introduce the tray in the oven and bake until the mini pizzas are golden. It will take about 10 to 12 minutes.
Retire from the oven and proceed to assemble the mini pizzas. Pour some marinara sauce, and add the mozzarella cheese and the mini pepperonis on the pizzas.
Return the tray to the oven and bake until the cheese has melted. It will take about 3 to 4 minutes. Retire from the oven and serve immediately. You can also sprinkle the mini pizzas with basil to serve them.
Nutrition Facts Servings: 8 Amount per serving   Calories  88 Daily Value* Total Fat 4.7g 6% Saturated Fat 2.5g 13% Cholesterol 36mg 12% Sodium 224mg 10% Total Carbohydrate 6g 2% Dietary Fiber 2.1g 8% Total Sugars 2.8g   Protein 6.7g