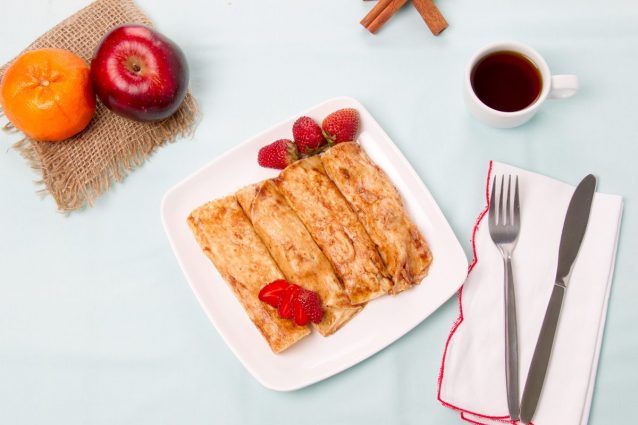 ingredients
Tortillas

8-inch, small flour

Cream Cheese

1 cup

Sour cream

½ cup

Sugar

2 tbsps

• 470 kcal

Vanilla Extract

2 tsps

Butter

½ cup, room temperature

• 717 kcal

Granulated sugar

½ cup

Ground cinnamon

1 tsp

Nutmeg

¼ tsp
Calories refers to 100 gr of product
Alternative ways to enjoy cheesecakes are always interesting, delicious and funny. Being the cheesecakes as delicious as only the can be, they are always welcomed in any meeting, to be shared with family or friend's. Cheesecake taquitos add a crunchy coating made of sugar and cinnamon, without forgetting the soft flavor provided for the cream cheese. These cheese bites taquitos are ideal for be eaten accompanied with your favorite coffee. Dare yourself to prepare this taquitos and when you taste them you can decide if you really want to share or take them all for you.
Instructions
Preheat the oven previously to 180 °C/ 350 °F. Prepare a baking tray greasing it with a little oil or butter, or covering it with wax paper. Before starting make sure the cream cheese is at room temperature.
To prepare the tacos filling, in a large bowl add the cream cheese and the sour cream, and proceed to beat up until the mixture is homogeneous, creamy and soft. Now add the sugar and the vanilla extract and keep beating up until the sugar dissolves. The filling will be ready once the mixture is well creamy and without lumps. Proceed to heat the tortillas for about 10 seconds in the microwave, just to soften them. Now proceed to fill one of the tortillas with the prepared cheese mixture, adding 1/3 cup of the mixture on one end and roll up tightly. Left the two ends of the roll open. Place the roll on a dish. Repeat the process for each tortilla until all of them are filled with the cheese cream mixture and placed in the dish. Now you have your taquitos.
Then proceed to melt the butter in a microwave bowl. Introduce the bowl in the microwave in periods of 15 seconds, until the butter is completely melted. In a flat or shallow dish, mix the sugar, nutmeg and the ground cinnamon. Now take one taquito and immerse it in the butter, and immediately roll it up through the sugar and cinnamon mixture. Place the taquito on the baking tray. Repeat the procedure for all the taquitos. Introduce the tray in the oven and bake until the taquitos begin to brown. It will take about 15 to 20 minutes. Retire the tray from and let cool for 5 minutes. Proceed to serve until they are still warm It is suggested to serve them with some strawberry slices and whipped cream, if you want.
Nutrition Facts Servings: 8 Amount per serving   Calories  391 Daily Value* Total Fat 27.4g 35% Saturated Fat 16.4g 82% Cholesterol 68mg 23% Sodium 573mg 25% Total Carbohydrate 30.2g 11% Dietary Fiber 1.3g 5% Total Sugars 5.2g   Protein 8g