ingredients
French bread dough or pizza dough

2 cans refrigerated premade

Ground beef

1 pound

taco seasoing

1 tablespoon

Beef broth

½ cup

Jack cheese, sliced in half

12 slices pepper

white onion, diced

½

shredded lettuce

1 cup

Tomatoes

2 , sliced into ¼-inch rounds
Cheesy Taco Bundtwich is a giant fluffy sandwich made from a bundt cake! It's a shareable, flavor-packed lunch for a crowd made with french bread, taco meat and shredded cheese. Add crunchy lettuce, onion and tomatoes for a fresh pop to this crowd-pleasing meal.
How to Make Cheesy Taco Beef Bundtwich
To make this giant sandwich, start by coating  a round bundt pan with nonstick cooking spray. Then fill your prepared pan with pre-made French bread dough. Shape the dough around the bundt pan and pinch the ends together to make a complete circle.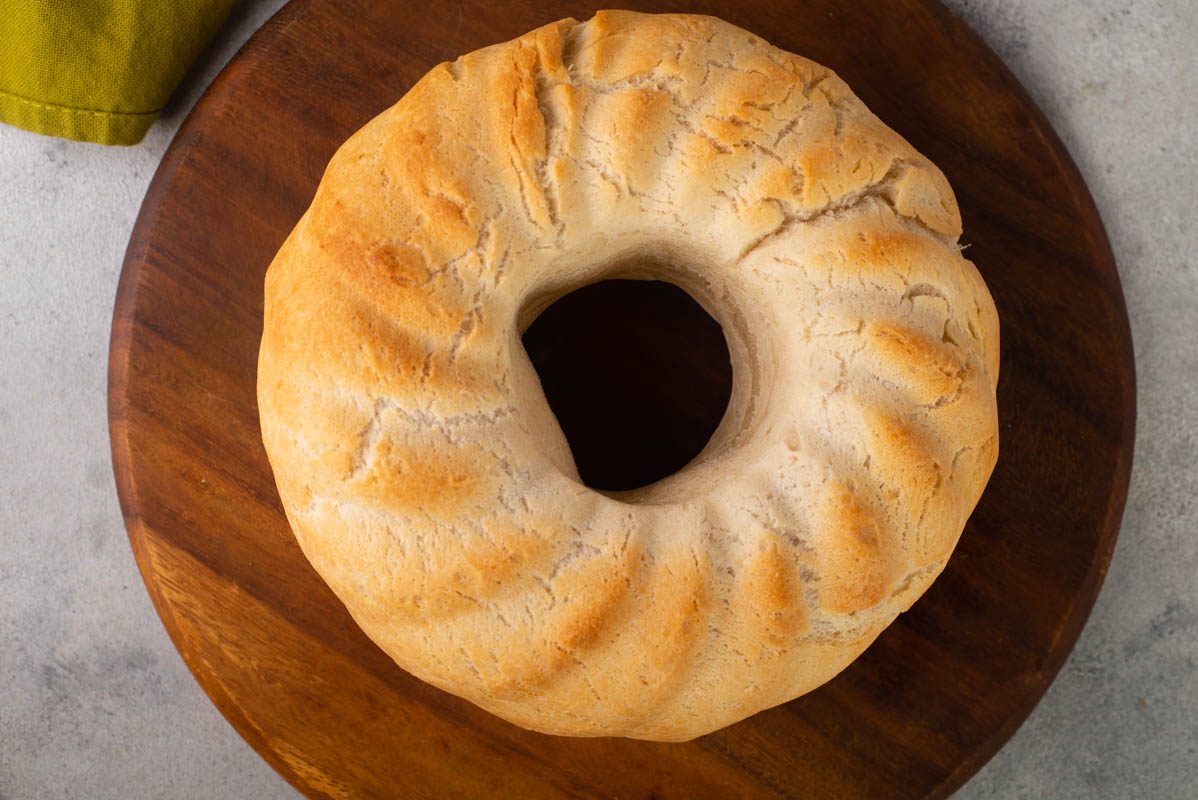 Bake the bread in the bundt pan until golden brown. This only takes about 35 minutes with a pre-made French bread dough. Let the bread cool slightly in the pan before unmolding the cooked bread onto a wire cooling rack. Leave it here to cool fully for about 1 hour.
Meanwhlie, cook the taco meat. Cook the ground beef in a large skilelt until cooked through. There should be no more pink in the meat. Break up any clumps with a wooden spoon as you cook. Stir in a your favorite taco seasoning and stir to coat the meat in the spices. Also add a dash of beef broth and bring the liquid to a simmer. Cook for a few minutes, until the broth is mostly evaporated and you have a thick sauce.
Slice the cooled bundt bread in half lengthwise and place each side cut-side up on a parchment paper-lined baking sheet. Cover each side of bread with slices of cheese. Top one half of the bread with the ground taco beef.
Place the whole thing in the oven to bake unti lthe cheese is totally melted, about 10 minutes. When the bread comes out, top it with the fresh toppings you love on a sandwich, such as lettuce, tomato and onion. Place the other piece of bread on top and serve up your delicious homemade cheesy taco bundtwich.
METHOD
Preheat the oven to 350°F.
Grease a 12-cup bundt cake an with nonstick spray.
Fill the prepared pan with the French bread dough, pressing it into the bottom of the pan and pinch the ends together to make a complete circle.
Bake for 35 minutes, or until the bread is golden and cooked through. Let it cool for 10 minutes before removing from the pan and cooling completely on a wire rack.
Meanwhile, cook the ground beef in a large skillet over medium heat until no longer pink, breaking up with a wooden spoon.
Add the taco seasoning and beef broth, stir and bring to a simmer.
Cook for 5 minutes or until the liquid is evaporated and the sauce is thick. Slice the bread in half horizontally to make two large rounds.
Rip out some of the bread in the middle to make room inside the bread halves for filling. Place them on a parchment paper-lined baking sheet.
Cover both cut sides of the bread with cheese, and cover the cheese on one of the bread rounds with the ground taco beef.
Bake for 10 minutes ,or until the cheese totally melted. Remove from the oven and top with lettuce, tomatoes and onions. Place the other bread piece on top and serve warm.
Recipe Notes
Any sliced cheese will work for this recipe, including cheddar cheese, mozzarella or American cheese. If you don't have beef broth, water will also work. You can make a leaner version of this bundtwich with ground turkey or chicken instead of beef. Pork, lamb or bison will also work. Other topping ideas include avocado, sour cream, cabbage slaw, and pickled jalapeño peppers.