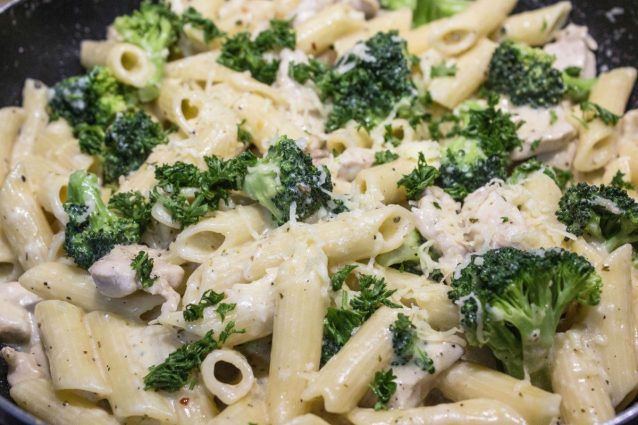 ingredients
Penne rigate pasta

3 cups

Chicken fillet

250g

Olive oil

1 tbsp

Broccoli florets

1 cup

Butter

1 tbsp

• 717 kcal

Heavy Cream

1 cup

Cream Cheese

50 gr, softened to room temperature

Garlic cloves

8, grated

Italian seasoning

2 tsp

Salt

½ tsp

• 1 kcal

Black pepper powder

½ tsp

Parmesan cheese

½ cup, grated

Mozzarella cheese

1 cup, grated

Fresh parsley

2 tbsp, finely chopped
Calories refers to 100 gr of product
What better way to enjoy a cold summer night with a piping hot and excessively cheesy pasta dish! And, the night can get even more exciting if you get to watch a nail biting episode of Game of Thrones… which can take you on an emotional journey within an hour's time.
So, here is an excellent dish with a gooey and cheesy sauce that absolutely no time to prepare and fills you up like you have eaten for two!
Instructions
Boil and cook the pasta of your choice as per the package instructions until al dente. Cut the chicken filet into small thin strips. Add 1 tablespoon oil in a non stick pan and put it over a flame and heat it. Add the chicken and sauté it for 3 to 4 minutes until the chicken cooks while stirring intermittently. Meanwhile, steam broccoli florets in a microwave safe dish and microwave it for about 3 minutes. Add the sautéed chicken over broccoli, cover the dish and keep it aside.
In the same nonstick pan, add butter and let it melt a little for about 30 seconds. Add heavy cream and cream cheese to the melted butter and cook it over low heat and whisk the cream mixture until it is smooth in consistency. Add the grated garlic, Italian seasoning, salt, black pepper powder, and whisk everything until smooth. Stir in grated parmesan and cook the cream mixture for a minute. Stir in the mozzarella cheese and mix it into the cream mixture well. Add the boiled pasta to the cream sauce and toss everything well so that the pasta is evenly covered in the cream sauce. Add the sautéed chicken and steamed broccoli, and mix everything well. Garnish the dish with fresh parsley and serve hot.
Tips
To cook al dente pasta, boil 8 cups of drinking water in a large pot and add 3 cups of pasta to it.
Add a teaspoon of salt and let the pasta cook in boiling water for about 10 to 12 minutes, while stirring intermittently. Drain and use in the recipe.
You may alternatively steam broccoli the traditional way if you are not a big fan of microwave cooking. Top the cooked dish with ¼ cup shredded parmesan or mozzarella before you serve to make it even cheesier. To reduce the calorie content you consider replacing heavy cream with low fat cream and replacing cream cheese with 1 cup of boiled pasta water. In the same context, you may also reduce the mozzarella cheese by half.
Nutritional information (per serving): 656 Calories, 39.5g Total fat (21.6g Saturated fat, 1.8g Polyunsaturated fat, 12.8g Monounsaturated fat), 145.3mg Cholesterol, 631.6mg Sodium, 185.5mg Potassium, 47.1g Total carbohydrates (0.9g Dietary fiber, 2.7g Sugars), 28g Protein