ingredients
Tomato sauce

700 grams

Sliced ​​champignon mushrooms

200 grams

Eggs

4

• 130 kcal

Wholemeal bread

4 slices

Crayfishes (or simple prawns)

4

Chopped whole chicken

1

Garlic

1 clove

Lemon

½

Dry white wine

as much as is needed

Extra virgin olive oil

as much as is needed

Fresh parsley

as much as is needed

Flour

as much as is needed

Salt

as much as is needed

• 1 kcal

Pepper

as much as is needed
Calories refers to 100 gr of product
Chicken Marengo is a very rich French course in which we can find not only meat, but also eggs and crayfishes (or prawns). A recipe with particular flavors, but very easy to make, which will surprise all your guests, especially thanks to its succulent sauce, perfect to eat with some bread. Also perfect to prepare in advance and serve at room temperature, once ready it will literally finish in a few minutes. So let's see how to prepare Marengo chicken step by step.
How to prepare Marengo chicken
Burn the remaining chicken feathers (1), or remove them using tweezers.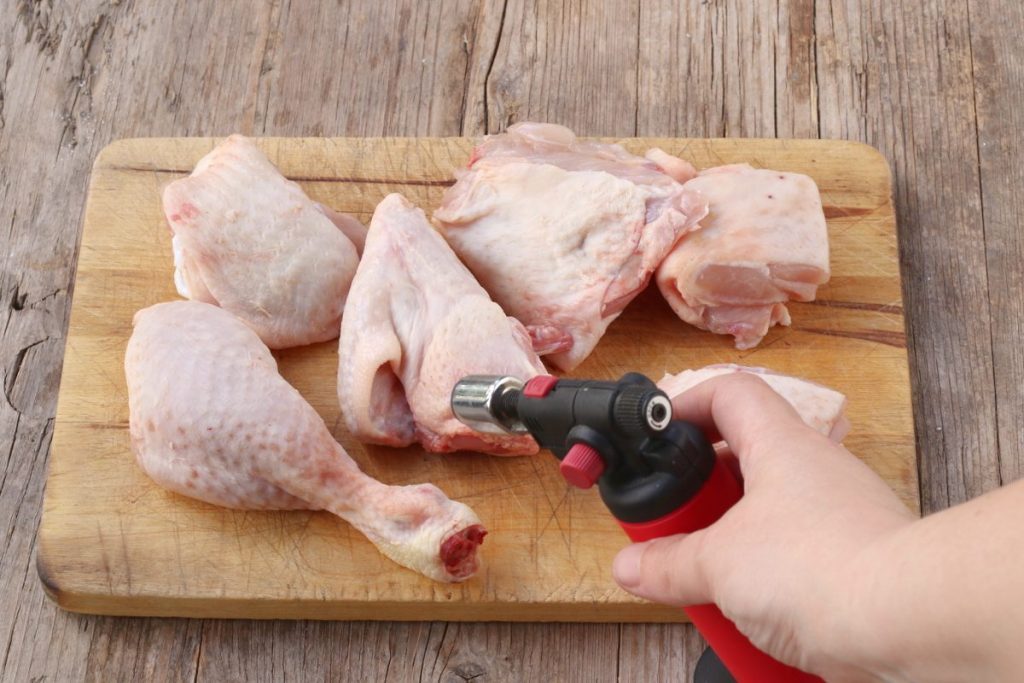 Sprinkle the chicken with some flour and set aside (2).
In a large pan, brown the peeled and chopped garlic in a little oil. Then add the chicken and let it brown  both sides (3). Add the white wine.
Add salt and pepper to the chicken. Then add the tomato sauce (4), put the lid on and cook over low heat for about twenty minutes.
Add the mushrooms (5) together with ½ glass of water. Stir and cook for another 20 minutes on low heat, always with the lid on.
In the meantime, clean the crayfishes (or prawns) by removing the casing, then rinse them under running water. Bring a glass of wine to the boil and blanch the crayfishes (or prawns) for a few minutes (6). Drain them and set aside.
Add the crayfishes (or prawns) to the chicken and mix. Then sprinkle with a generous handful of chopped parsley (7) and cook for about ten minutes. Finally add some lemon juice and turn off.
Meanwhile, take the slices of bread and cut them in the center with a circular pastry cutter. Brown them on both sides in a pan with a bit of oil. When they are golden brown and hot, drop an egg in the center of each one (8). Cover and cook the eggs for a few minutes. Add salt.
Serve the Marengo chicken hot with the toasted bread with fried eggs (9).
Preservation
We suggest you to eat Marengo chicken immediately, or within the day, to avoid losing flavors and compactness. Anyway, you can preserve it in the refrigerator, tightly closed in an airtight container, for 24 hours.