ingredients
Skinless chicken breasts

3

Salt

• 1 kcal

Pepper

All-purpose flour

1/3 cup

Olive oil

2 tbsp

Butter

4 tbsp

• 717 kcal

baby bella mushrooms

8 ounces, sliced

Onion

1/2, chopped

Garlic

2 cloves, minced

White wine

1/4 cup

Chicken broth

1/4 cup

Juice of 1 lemon

Heavy Cream

1/4 cup

Parsley

chopped
Calories refers to 100 gr of product
Chicken Scallopini is a filling and flavorful, easy weeknight entree for the entire family. The italian dish is made with a base of chicken breast and a mushroom cream sauce and goes well with pasta and a side salad. It's a veritable recipe that can be made with many sauces in different ways. This way utilizes baby bella mushrooms, garlic, onion, and white wine for a simply sauced, protein-packed dinner.
Scallopini comes from a French term that refers to the thickness of a cut of meat. In this way, it means thinly sliced cuts of chicken breast. The chicken is pan-seared until crispy but juicy, and topped with a multi-faceted sauce to pair well with any side.
What is Chicken Scallopini?
Chicken Scallopini is often lightly breaded and tossed in a lemon-butter sauce. The thin cutlets are always pan-fried and thinly sliced and pounded.
How do you make Chicken Scallopini
Pound chicken breasts into thin cutlets and cut into two pieces.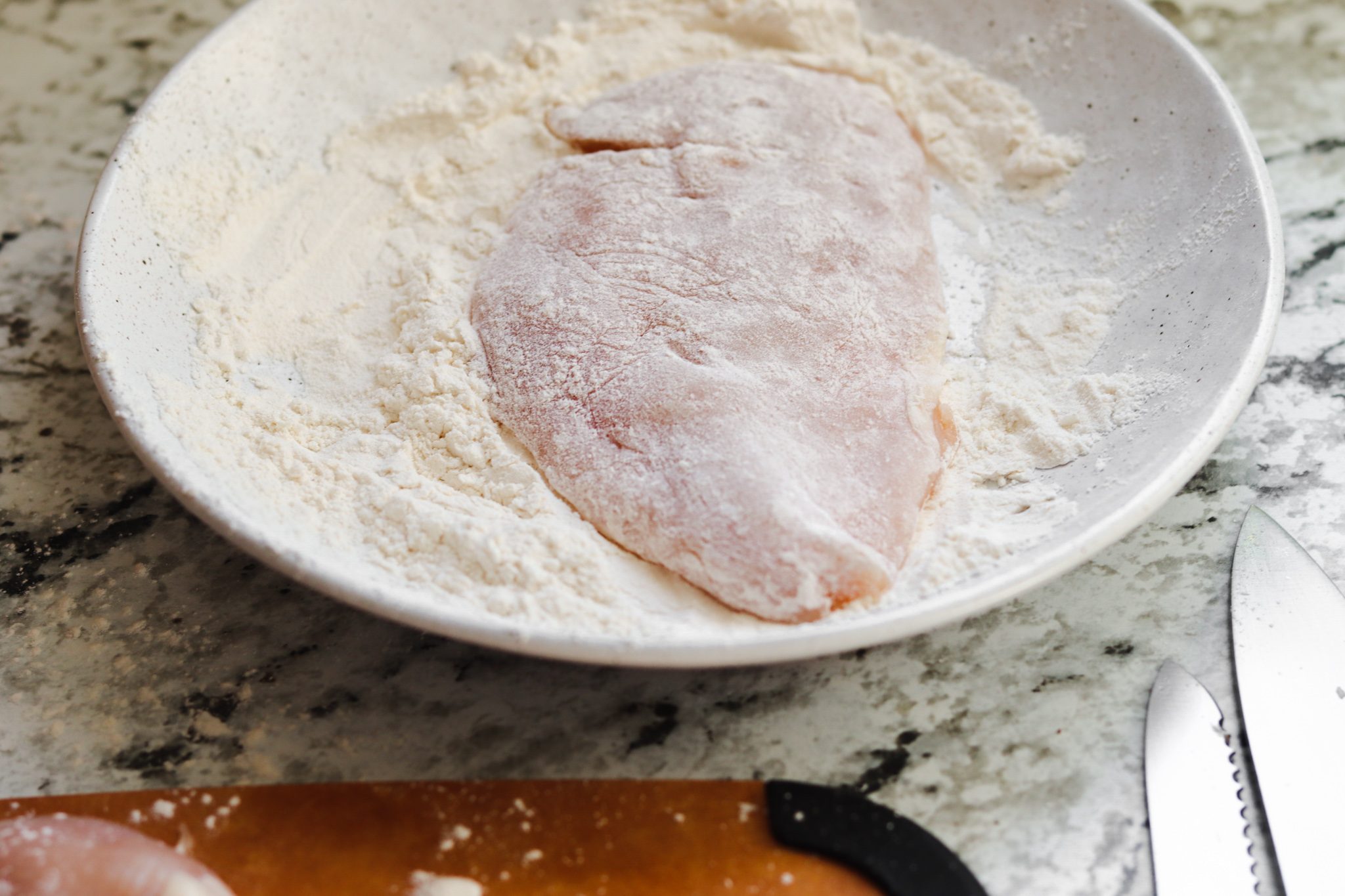 Pan-fry chicken in oil on medium-high heat after coating with flour.
Make cream sauce by adding butter, onion, garlic, and mushroom to a hot pan. Stir in wine, broth, and lemon juice and let simmer. After slightly thickened, stir in cream.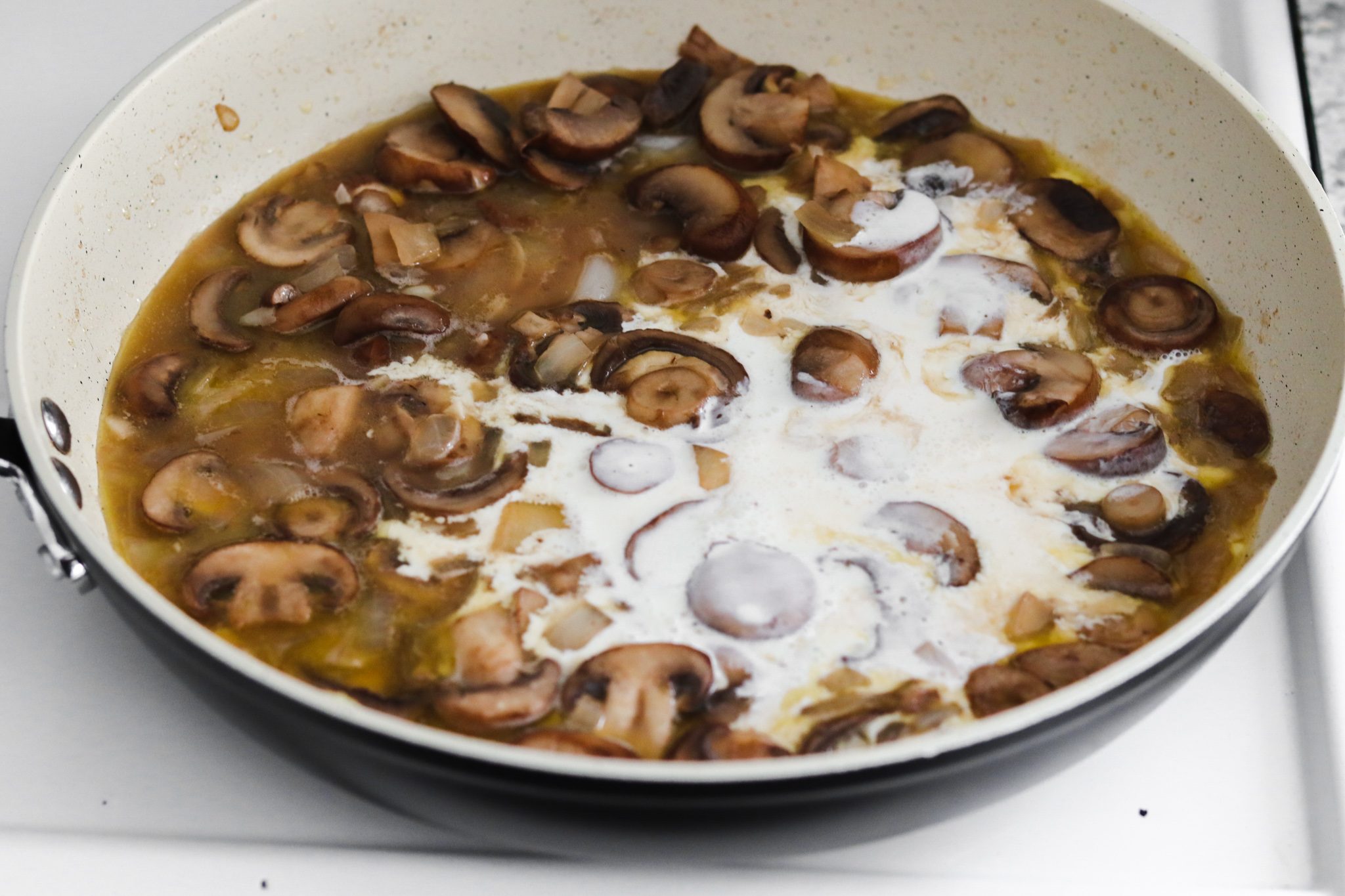 Return chicken breasts to pan and spoon sauce over to coat each thinly sliced piece. Garnish with parsley and serve hot.
What to serve with Chicken Scallopini
An easy addition to serve alongside Chicken Scallopini is a simple plate of pasta: it gives way to a nice base for the main flavors and adds carbohydrates and fullness to a meal.
Chicken Scallopini can be served with just about anything. Another common pairing is creamy polenta, mashed potatoes, crusty bread, or for a lighter fare, steamed or roasted vegetables.
How to store Chicken Scallopini
Store this Chicken Scallopini in a sealed container in the refrigerator for up to three days.
Directions
Put flour in a shallow bowl.
Pat chicken breasts dry and halve horizontally for two thin pieces per breast. Season with salt and pepper.
Dip each piece in flour and shake off excess.
Heat oil in a large skillet over medium-high heat. Add chicken and pan-fry until golden brown, about 2-4 minutes per side.Remove chicken and set aside. Reduce heat in pan to medium.
Add butter, onion, and mushroom to skillet. Cook until golden while stirring occasionally, about 6 minutes. Add garlic and cook for another couple minutes.
Stir in wine, broth, and lemon juice to butter and mushroom mixture. Season with salt and pepper and let simmer until thickened, about 3 minutes. Stir in cream. Return chicken breasts to skillet and spoon sauce over to coat each thinly sliced piece.
Garnish with chopped parsley and serve hot.
Notes
One serving of this dish has 466 calories, 25 grams of protein, and 31 grams of total fat. This recipe makes three servings.
This dish can be reheated and reserved in the oven at 250 degrees F for about 15 minutes.