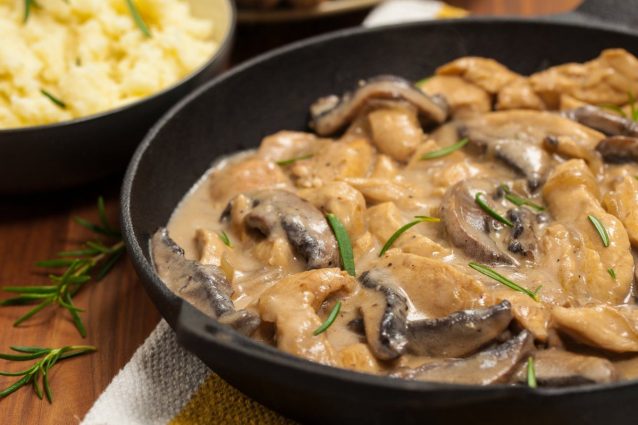 ingredients
Egg noodles

1 large bag cooked

Butter

3 tbsp

• 717 kcal

Chopped mushrooms

1 1/2 cup

Chicken breast

1 pound

Flour

3 tbsp

Paprika

3 tsp

Salt

1/2 tsp

• 1 kcal

Pepper

1/2 tsp

Chicken broth

1 cup

Sour cream

1/2 cup

Worcestershire Sauce

2 tbsp
Calories refers to 100 gr of product
While beef stroganoff is the classic, this new chicken version is simply amazing. Loaded with mushroom flavor and a creamy sauce, this is sure to please even the pickiest eaters! The best part is that this recipe is actually quite simple to make and the entire sauce can be made in one pan. While this recipe shows the stroganoff served with egg noodles, the traditional pasta for a stroganoff, try serving it with other types of pasta as well- rigatoni would be great as would a nice gnocchi. Be sure to add this dish to your weekly dinner rotation and you will be pleased with the results each time!
How to make Chicken Stroganoff
In a large saucepan, melt the butter and then sauté the onions and garlic until they begin to brown.
Add the mushrooms to the pan and cook for about 5 minutes or until the juice from the mushrooms has evaporated and they begin to brown.
Add the chicken, flour, paprika, salt and pepper to the pan and stir together. Cook for about 6 minutes or until the chicken begins to brown. Stir occasionally but keep in mind that it is okay if the bottom of the pan begins to brown itself or food is sticking to the bottom- it will all be incorporated!
Add the chicken broth to the pan and cook, stirring constantly, until the liquid begins to thicken- about 5 minutes.
Add the sour cream and Worcestershire sauce and turn off the heat.
Serve immediately over hot egg noodles!
Tips
The sauce for this recipe freezes very well so if you would like to make a large batch (everything except the egg noodles), you can freeze it and have meals ready to go!
Try adding bell peppers for some extra flavor. Simply add them with the onions at the beginning of the recipe.
Vegetable or beef broth will also work well if you do not have chicken broth on hand.