ingredients
Dark Chocolate

200 g

Flour

150 g

Sugar

130 g

• 470 kcal

Butter

80 g

• 717 kcal

Orange juice

20 ml

Eggs

2

• 130 kcal

Orange zest

Salt

a pinch

• 1 kcal

Oranges

1 to 2
Calories refers to 100 gr of product
Decadent, rich, and very chocolatey…three words that describe this Chocolate Orange Cake. This easy, decadent cake recipe is one you'd want to make over and over again. Chocolate is not only a firm favorite among many, but it's also very impressive with a beautiful orange slice pattern.
This is a moist cake with a light texture, and it's packed with chocolate and orange flavor. What's great about this cake is that all the flavor comes from real ingredients. Dark chocolate is used (instead of cocoa), and fresh oranges are used instead of orange extract (that means real fruit flavor!). This cake will definitely impress! Make sure to bake it next time you're having guests over!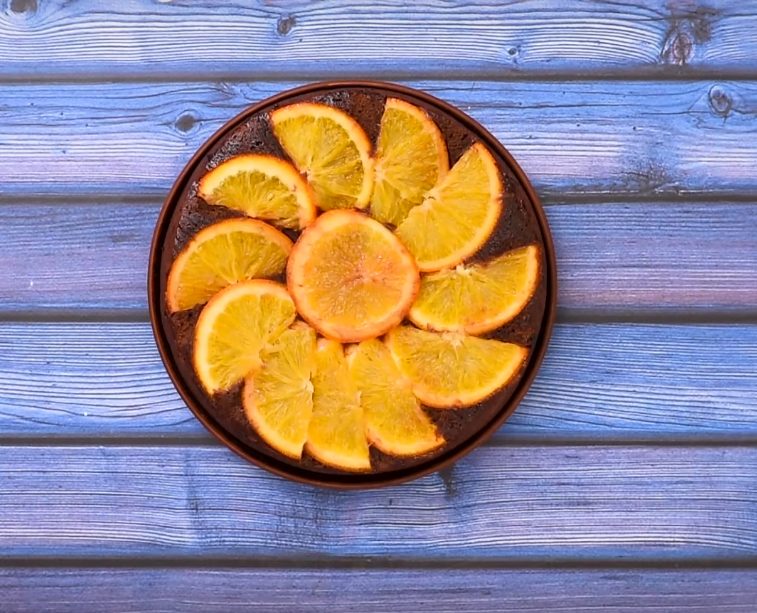 Chocolate Orange Cake Ingredients
Dark chocolate –use chocolate that's 60% or 70% cocoa
Butter – use either salted or unsalted
Flour – use normal cake flour (or, if you're following a gluten-free diet, you can also use a gluten-free flour blend)
Sugar – granulated sugar
Oranges – use ripe, sweet oranges
How To Make Chocolate Orange Cake
Start by whisking together the sugar, eggs, and melted butter. The mixture should be light and frothy. Add the orange zest, orange juice, and salt and whisk to combine. Sift in the flour, and stir with a spatula until all the ingredients are fully combined. Stir in the melted chocolate and mix again.
Prepare the cake tin by lining it first with parchment paper. Sprinkle the base with sugar and then top with orange slices (the sugar will caramelize during the baking process). Bake the cake until fully cooked through.
Can You Add A Frosting For Chocolate Orange Cake?
You can make a traditional frosting for this cake. Try a simple buttercream, a French buttercream, or cream cheese style frosting. A chocolate frosting will also be great.
Tips
You can omit the orange slices, and top the cake with a chocolate ganache instead. Simply melt together dark chocolate and a bit of cream and pour over the cooled cake. Garnish with candied orange slices or fresh orange zest.
When melting the butter, allow it to cool. If it's too hot, it will cook the eggs when you add them.
Make sure to use chocolate that's at least 60% or 70% cocoa. Milk chocolate will make the cake too sweet and overpower the delicate orange flavor.
Make an eggless version by using flax eggs or apple sauce.
How To Store Chocolate Orange Cake
Store the cake in the refrigerator for up to 3 days (make sure to keep it in an airtight container, or wrap individual slices with plastic).
You can also freeze the cake. Allow the cake to cool completely, wrap with plastic wrap, then freeze for up to 3 months.
Instructions
Add the melted butter, eggs, and sugar in a large mixing bowl, and whisk until the mixture is smooth and frothy.
Add orange juice, grated zest, and salt.
Sift in the flour and mix everything using a spatula.
Add the melted chocolate.
Stir until smooth.
Line the baking form with parchment paper and sprinkle the base with sugar.
Place the ​​orange slices on the base.
Pour the chocolate batter on top of the orange slices in the cake form.
Bake at 180°C/350°F for 25-30 minutes.
Remove the cake, and place a plate
Flip it over.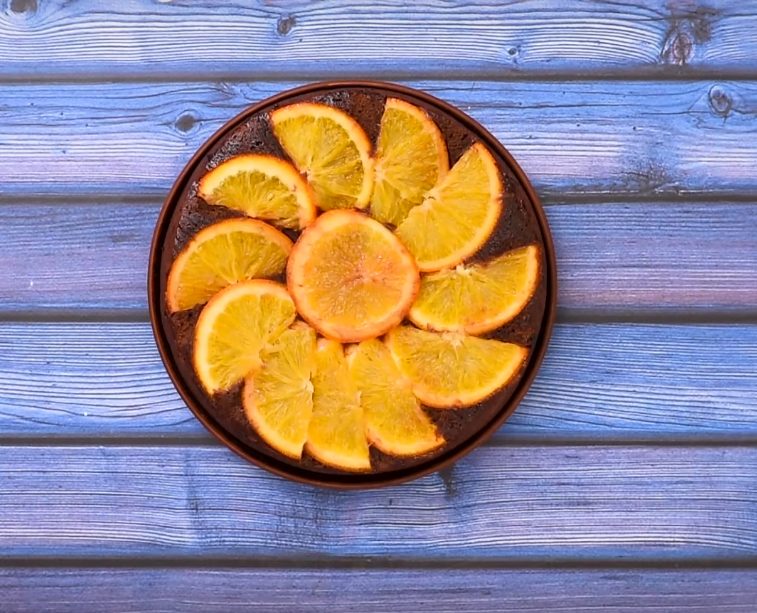 Flip the cake again, then serve and enjoy!
Notes
This recipe can also be transformed into cupcakes. Line a muffin tin with parchment paper, sprinkle sugar on the bottom and add one orange slice.