These squares are addictive! With just a few ingredients, it's impossible to not try them.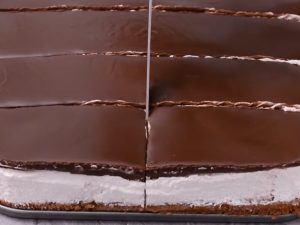 INGREDIENTS
4 eggs
150 gr sugar
1 cup of water
200 gr flour
2 tbsp cocoa
1 tbsp baking powder
300 ml cream
Milk as you need
200 gr chocolate
200 ml cream
METHOD
Whisk the eggs with the sugar, then add the water.
Sift flour, cocoa, baking powder and add to the rest.
Pour the mixture into a rectangular pan and bake at 356°F (180°) for 30 minutes.
Then whip the cream and spread it over, let it cool.
Melt the chocolate in the cream and pour over the cake, let it cool and serve this delight.
Enjoy!