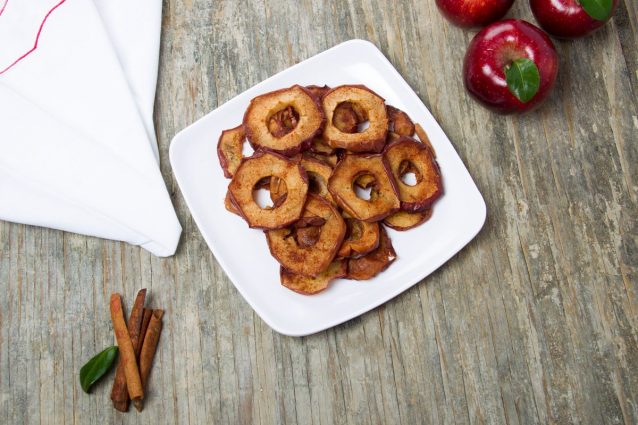 ingredients
Apples

2 large

• 45 kcal

Cinnamon powder

1 tsp

Nutmeg

1 pinch

Lemon

a few drops
Calories refers to 100 gr of product
They are very easy to make and require only two ingredients, in addition to the rich aroma that the apples give off next to the cinnamon that perfumes the whole house. It is a very healthy snack, ideal to give our children without having to resort to snacks with high sugar content that does not help the welfare of the little ones, I am absolutely sure that not only children will enjoy the crispy and delicious of these apple chips with cinnamon, are those snacks that you cannot stop eating, those that you will always want to eat more and more.
The most recommended for this recipe is to use a variety of apple that is sweet enough to not add sugar. I just need to warn you to be very careful because these chips are addictive.
Instructions
Wash the apples very well and remove the stem. For this recipe you need to make 1/4-inch-thick apple slices. There are two ways to do them; If you have an apple disheartened is the first option, remove the heart of apples, seeds and other remains and then cut them into slices. If you do not have the apple discourager, remove the stem and then cut into slices, finally, with a small round cutter similar to those used for cookies, remove the heart of each slice. Sprinkle the slices with a few drops of lemon, cinnamon and nutmeg. Rub each slice and distribute cinnamon very well.
Preheat the oven to 100F and cover a tray with waxed paper or a silicone blanket; put the slices on the tray avoiding sticking. Bake for at least two hours at very low temperature. After an hour, turn the apple slices until they are completely dry. These slices can be stored for several weeks in a cool, dry place.
Servings: 2 Amount per serving   Calories 119 % Daily Value* Total Fat 0.4g 1% Saturated Fat 0g 0% Cholesterol 0mg 0% Sodium 2mg 0% Total Carbohydrate 31.7g 12% Dietary Fiber 6g 21% Total Sugars 23.2g   Protein 0.7g