ingredients
Tangerine

6-8 pcs

Almond milk

1 cup

Apple cider vinegar

1 tbp

Vanilla Extract

1 tsp

Vegetable Oil

1/3 cup

Plain flour

1 & 2/3 cup

Sugar

1 cup

• 470 kcal

melted marmalade

Mint
Calories refers to 100 gr of product
Clementine Upside Down Cake is the perfect comforting wintertime recipe. Use fresh, seasonal clementines to make a beautiful sweet treat that's incredibly moist and packed with zesty citrus flavor.
How to make a Clementine Upside Down Cake
First, peel 6 to 8 ripe clementines and slice them into rounds.
Place the sliced clementines in the bottom of a greased and floured 9-inch springform pan. Fill in any gaps with smaller clementine pieces to evenly cover the bottom of the cake pan.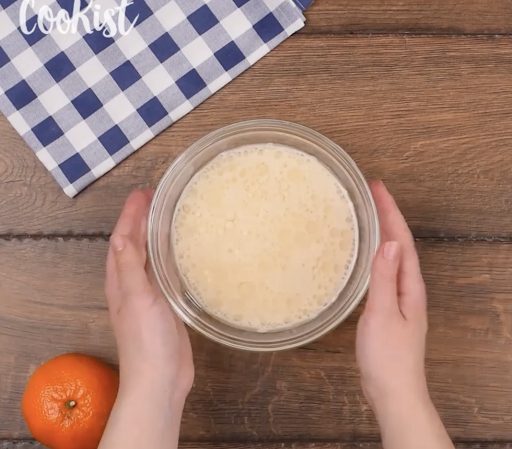 In a mixing bowl, combine the almond milk, apple cider vinegar, and vanilla. Add the vegetable oil and stir to combine.
In a separate bowl, combine the flour, baking powder, salt, and sugar.
Pour the wet ingredients into the dry ingredients and use a rubber spatula to fold together. Pour the batter over the clementines in the prepared pan. Bake for 25 to 30 minutes, until set.
Cool the cake on a wire rack fully. Then remove from the pan and flip so the clementines are facing up. Brush with melted orange marmalade and serve with fresh mint leaves on top.
Tips
Here are some of the best tips to ensure your cake comes out perfectly:
Be sure to grease and flour the inside of your cake pan very thoroughly before adding the clementines or batter. This is the only way to ensure the cake comes out in one piece for the stunning upside-down presentation.
Slice your clementines into pieces of equal thickness for the evenest presentation. Only mix the batter until it comes together. Overmixing can cause the cake to become tough. A few lumps of flour are totally fine.
To check that your cake is done, insert a toothpick into the center. It should come out mostly clean
 Instructions
Cut the tangerines and arrange in butter and sugar coated baking trays. Mix milk, vinegar, vanilla and oil. Combine flour, sugar, salt and baking powder in a mixing bowl. Add pre-prepared liquid ingredients. Mix.
Pour on tangerines and bake for 25-30 minutes at 360°F (180°).
Flip the cake over and coat it with melted marmalade.
Notes
Store leftover clementine cake in an airtight container or tightly wrapped in plastic wrap on the counter for 2 days or in the refrigerator for up to 5 days. You can also freeze the fully cooled cake for up to three months. Be sure to wrap it in several layers of plastic wrap to prevent freezer burn.