ingredients
basmati rice

400 grams

Sliced ​​smoked salmon

200 grams

Red onion

1

Medium ripe avocado

1

Lime

1

Cashews

as much as is needed

Salt

as much as is needed

• 1 kcal

Extra virgin olive oil

as much as is needed
Calories refers to 100 gr of product
Cold salmon rice is a colorful and tasty dish, perfect to eat during summer. It is a healthy, complete and nutritious dish, delicately scented with lime which gives cold rice also a touch of freshness. Here rice is not boiled, as for salads, but it is cooked by absorption for a unique result; a very easy recipe to prepare, which can be cooked in advance and taken to the beach, in the office or as a lunch for an out of town trip. So let's see how to cook cold salmon rice in the best way.
How to prepare cold salmon rice
Collect the rice in a clean bowl and rinse it by rubbing it gently with your fingertips (1). Change the water until it comes out more or less clear, then drain well.
Transfer the rice to a saucepan and add the cold water (2) together with 1 teaspoon of salt. Bring to a boil over medium heat, put the lid on and simmer for about ten minutes, without ever lifting the lid or stirring until the liquid has completely absorbed. Finally turn off and let rest 5 minutes without moving the lid.
In the meantime, peel the onion and cut it into slices. Then brown it on the bottom of a non-stick pan without adding fat and turning it halfway through cooking (3). As soon as the circles appear golden, remove them and keep aside.
Clean the avocado; cut it in half lengthwise and rotate it between your hands so as to detach the stone. Then gently remove the pulp with a spoon (4). Cut each half into slices.
Remove the lid from the rice and divide it with a wooden spoon. Then add the lime juice (5) and a round of raw oil. Mix.
Cut the smoked salmon into strips 1 or 2 cm wide and add them to the rice (6). Mix again.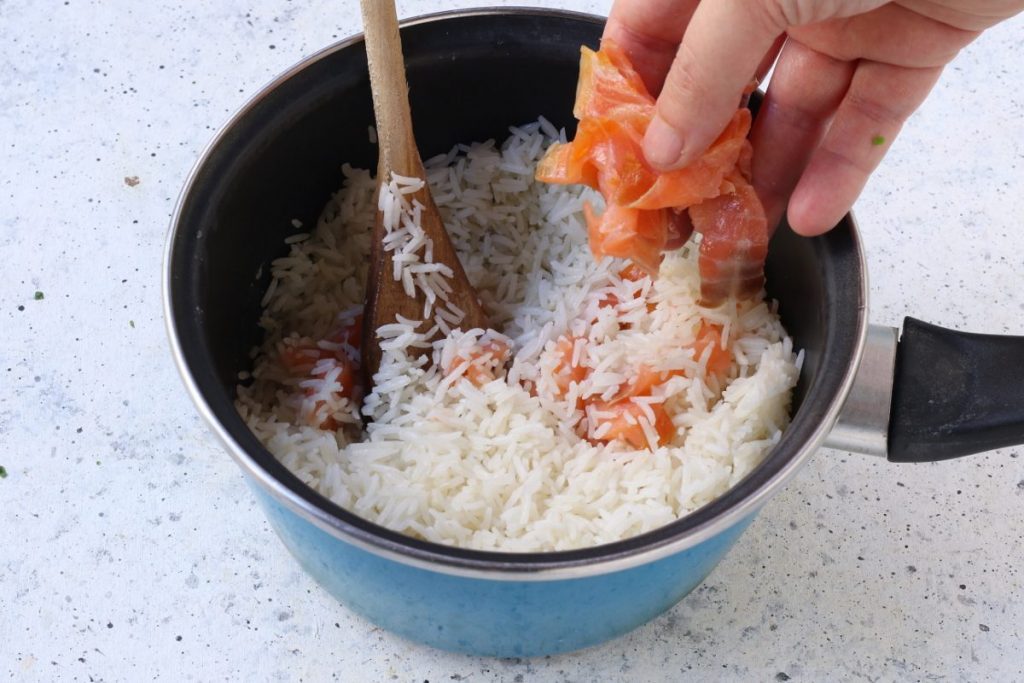 Spread the rice on a serving dish alternating it with avocado slices and grilled onion rings. Finish with a round of raw oil, the coarsely chopped cashews and serve (7).
Preservation
Cold salmon rice can be preserved in the refrigerator for 1-2 days, tightly closed in an airtight container.